Last summer, America's corn fields were plagued by drought. The conditions were dire across the U.S. at historic proportions. From the U.S. Drought Monitor July 25, 2012:
…moderate (D1) to exceptional (D4) drought covers 63.9 % of the contiguous U.S. This compares to 63.5% last week. For the history of the U.S Drought Monitor, which began in 1999, this is largest spatial extent of drought…According to weekly Palmer Drought severity indices, which is a single index but for which we have a long history, drought conditions currently cover 59.6% of the U.S. For the Palmer Drought Severity Index, which has data back to 1895, droughts in 1934, 1939, and 1954 had a larger spatial drought extent at 79.9%, 62.1%, and 60.4% respectively…
At the time, corn prices were soaring in anticipation of a poor harvest. Yet, I recommended buying puts on Teucrium Corn (NYSEARCA:CORN), a fund which tracks "the daily changes in percentage terms of a weighted average of the closing settlement prices for three futures contracts for corn that are traded on the CBOT." Conditions were so extreme that the chances of things getting at least marginally better seemed very high. In a little over two months, CORN went from an 18-month low near the end of June to a 48% gain and all-time high for the (NOW) 3-year old index.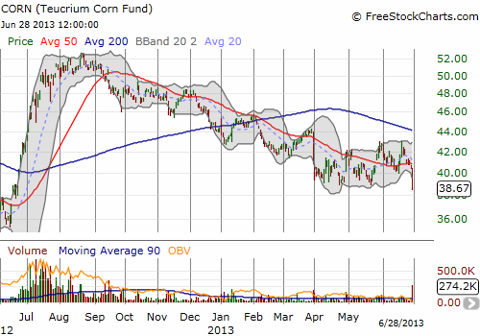 CORN has almost made a roundtrip from last summer's massive rally
Source: FreeStockCharts.com
Now, fast-forward a year later, and the U.S. seems on the verge of producing another bumper crop. From the United States Department of Agriculture, National Agricultural Statistics Service (USDA's NASS):
U.S. farmers successfully overcame a cold and wet early spring this year, planting 97.4 million acres of corn, up slightly from 2012…This is the highest acreage planted to corn since 1936 and marks a fifth year in a row of corn acreage increases in the United States.
Droughts are now a distant memory. While weather (cold and wet) still produced the slowest start to a corn growing season since 1984, farmers kicked up their pace to record-setting levels the week of May 19th with 43% of the crop planted.
In other words, America's corn farmers are capable of amazing feats.
The latest news on the size of the planted corn crop sent CORN plunging 4.5% to a new one-year low. While the selling continues a downtrend that is well-established from last year's drought-driven highs, I am now thinking it is time to consider buying CORN. This is mostly speculation, but after watching this cycle swing over and over again, I think the trade presents reasonable risk/reward.
In June, 2010, CORN started a 15-month rally from its inception. On the way to the final peak, CORN dropped over 8% in the last two weeks of June. CORN peaked in September of the last two years and has rallied from the end of June in the last three years. My guess is that traders will soon sync with the seasonal patterns. I will wait until some new upward momentum emerges from CORN before trying this trade.
Be careful out there!
Disclosure: I have no positions in any stocks mentioned, but may initiate a long position in CORN over the next 72 hours. I wrote this article myself, and it expresses my own opinions. I am not receiving compensation for it (other than from Seeking Alpha). I have no business relationship with any company whose stock is mentioned in this article.