Gold has declined 28% since the beginning of 2013 and touched a fresh three-year low of $1,180 an ounce last week. The scale of the shift away from gold has been dramatic, with exchange-traded funds selling over 540 tones of their holdings so far this year. Hedge funds, inspired by a strengthening U.S. dollar and declining inflation expectations, placed their bets against gold. High net worth individuals and some pension fund managers, traditionally long-term holders of the metal, have also divested part of their gold investment.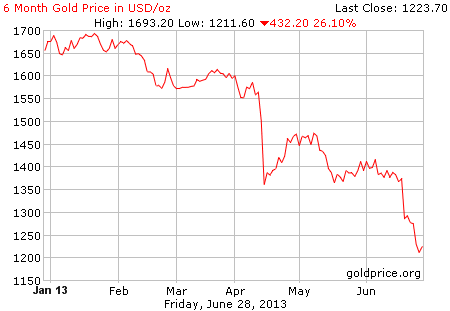 Looking at the extent of the movement in gold prices, some argue that we may have reached a bottom and prices are unlikely to fall much further. On Friday, Market Vectors Gold Miners ETF (NYSEARCA:GDX), which has plunged by 48% since the beginning of the year, reversed direction and gained over 7% in just one day.
Market Vectors ETF Trust Market Vectors Gold Miners
Click to enlarge images.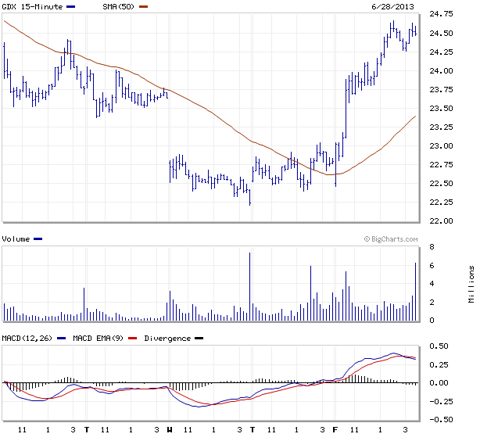 Click to enlarge
However, analysts attributed the trend reversal to the World Gold Council issuing new guidelines that would allow for more transparency in financial reporting, rather than to fundamental changes to gold miners cost structure.
What Would Prevent Gold Prices From Declining Further?
According to analysts, at a price of $1,200 an ounce, roughly half the gold mining industry will be losing money. When you add the fact that many of these companies are loaded with debt that limits their maneuverability, you can understand why some hedge fund managers believe that a rally could be imminent at lows of about $1,150-$1,200 an ounce.
However, primary gold production is completely inelastic. Mines take time to close and miners are likely to find ways to reduce costs. So we are looking at a slow dynamic. Even if some mines do close down, the amount of supply affected is likely to be small relative to potential sales by investors. Since above-the-ground scrap supply and investors holdings are much more price elastic, they could be considered the primary movers in the gold supply and demand curve.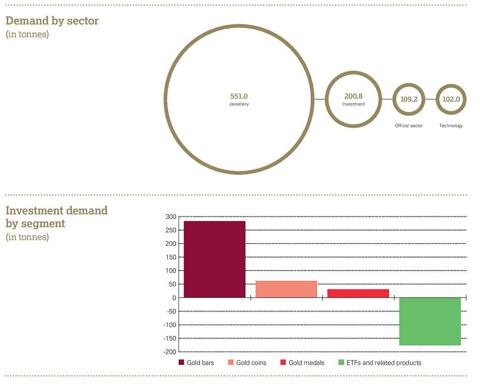 Click to enlarge
World Gold Council Demand Statistics -- Q1 2013
Until recent years, the scrap metal industry was considered to be insignificant in the gold market. However, the combination of the recent surge in the price of gold to completely unprecedented levels, coupled with challenging economic conditions, has led to a surge in scrap metal growth and availability. According to insiders, the scrap metal industry has moved from shady backstreets to high streets in London, New York, and other world major cities. Scrap gold has gone mainstream and posh, and, according to insiders, last year it accounted for 35% of global supply. The scrap market is very price-elastic, so I think that if prices continue on a downward trajectory, we might see a decline in scrap gold supply.
Exchange-traded gold funds, the second largest main player in the secondary gold supply market, might also reverse sentiment at a certain predetermined price point and regain their position as net buyers -- as opposed to another contributor to the gold supply glut. A continued decline in gold prices will also stimulate a recovery in jewelry demand, which has fallen 30% since 2005 on the back of the sharp rise in gold prices.
The Key Question Is: How Low Can Gold Prices Go?
Sentiment toward gold remains negative. Asian buyers have been quiet as prices slid in recent weeks and Asians' appetite for gold seems to have disappeared. Indian demand has been tempered by government moves to restrict gold imports, and Chinese investors appear to be waiting it out after buying when prices fell in April -- only to see them plunge even further.
In my opinion, nothing short of a reversal in the Fed tapering the quantitative easing program -- which is highly unlikely -- could reverse the current decline in gold prices. Given the prospects of rising yields and continued economic slowdown, gold has still a ways to go before it is a buy. Gold is a commodity that is only worth what someone else is willing to pay for it.
So I emailed a small, non-representative sample of gold traders with my question just to get a feel for a bottom. Most of the responses were bearish and the consensus congregated around the nicely rounded $1,000 per ounce price. Given the lack of transparency in the commodities trading sector at large and the candid justifications I received, together with the recommended price target, I feel mostly comfortable with that gold bottom.
However, given the many open-ended variables and the extreme volatility we are currently witnessing, I would recommend that you do your own research before jumping to conclusions based on my own ad hoc exercise.
Disclosure: I have no positions in any stocks mentioned, and no plans to initiate any positions within the next 72 hours. I wrote this article myself, and it expresses my own opinions. I am not receiving compensation for it (other than from Seeking Alpha). I have no business relationship with any company whose stock is mentioned in this article.