In the midst of the recent downward pressure on the markets associated with an increase in interest rates, I would like to focus attention on BP p.l.c. (NYSE:BP). The stock went down more than 4% during the last 4 weeks and presents and effective dividend yield of a little over 5%. At this point in time this is quite an average yield for integrated oil companies with a market cap of $100B and over: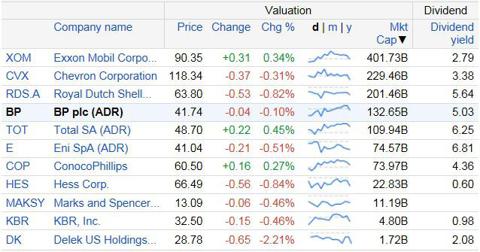 Click to enlarge
The reason why I chose BP is that I had a chance to read the 2013 first quarter presentation [pdf] made by the company's management. In spite of the ongoing lawsuits filed by victims of the notorious spill in the Gulf of Mexico, BP's management is comfortable with the balance sheet and remains optimistic about short-term projections. In light of this, I shall reflect on the key points made in the presentation.
Sale of TNK-BP
Sale of interest in TNK-BP to Rosneft boosted the company's cash holdings by $12.5B. This helped bring the net debt ratio down from over 20% to below 12%: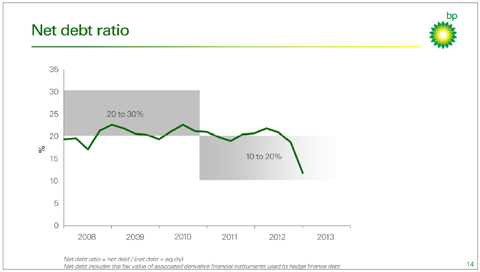 Click to enlarge
Management believes this is a rational decision "while uncertainties remain." Part of the money was allocated to the $8B share buyback program, which is planned to be completed in the next 12 to 18 months.
Growth of Sustainable Cash Flow
Assuming that the price of oil remains at levels close to $100/bbl and the price of gas pushes up to around $5/mmbtu, BP expects to achieve a mark of $30-31B in operating cash flows by the end of 2014. Now, this is a bold projection as it represents an increase of over 50% compared to figures from 2011: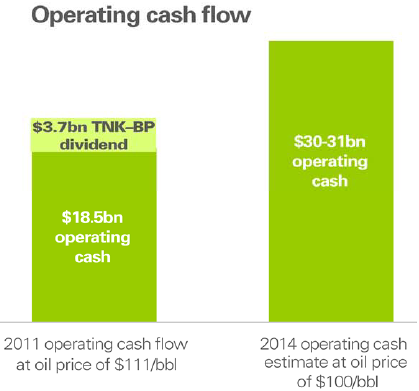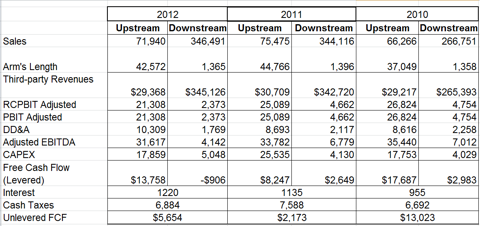 Click to enlarge
In terms of investing cash flow, BP's management will spend $24-$25B this year and will keep a range of $24-$27B until 2020. BP operates in two major segments: Upstream and Downstream. Divestments ranging from $2-$3B are expected to be made annually. Since BP tries to leverage its Downstream business to achieve set goals ("World class Downstream generating free cash flow"), I assume sales of assets will be made primarily in the Upstream segment, while it will also be nourished with newer high-margin projects.
Effective taxes were higher in Q1 2013: 39% versus the previous year quarter's 36%: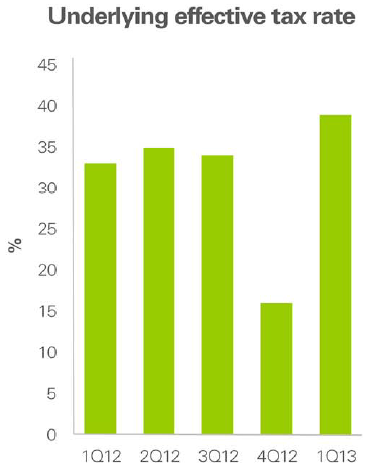 BP's management issued guidance in the range of 36%-38% until year-end.
Upstream
BP prides itself in having 45 long-term projects across the globe, with around half of them in high-margin regions. These are supposed to progress through the end of the 2010s. A lot of rigs in the Gulf of Mexico and North Sea are under special maintenance to improve "safety and reliability." Overall, BP is confident about its Upstream operations until 2014 and beyond.
Downstream
BP's Downstream is the presumed driver of the company's projected achievements in operating income in 2014. BP is betting on Downstream's ability to contribute and grow Free Cash Flows (FCF) until 2014 and beyond. A little bit of trimming (e.g. divestment of the Carson refinery) and deal-making (e.g. lubricants partnership agreement with Husky) is to be taking place in 2013. To summarize, BP is trying to turn its Downstream around to start generating FCFs after the last year's FCF drain of almost $1B.
Summary
BP is optimistic about 2013 and plans to keep it that way in years to come. The company's longer-term strategies include growth of Free Cash Flows, progressive dividend policy, capped CAPEX, and other value-adding plans.
What about the claims? BP hired an engineer, who calculated that the total spill was almost half of the estimated one by the government (2.46 million barrels vs 4.9 million, as first thought). BP has over $20B in a trust set up for payouts to plaintiffs. More than half of it is still there. On the other hand, BP started a defensive program against "non-existent" losses last week, claiming that "it is not fair" to people who suffered real losses to share BP's claims trust. On top of that, BP is described to have "buyer's remorse" for overestimating the amount of payable damages.
Valuation
From IFRS perspective I do not need to account for contingent liabilities (in this case, showing any dollars on top of the $20 billion fund). However, for the purpose of showing the impact of an increase in settlements, I added extra $10B to reduce terminal value of equity. In the workbook available here I received the following results:
1) Total Equity Value/Price per Share as of now:

Click to enlarge

Click to enlarge
2) Total Equity Value/Price per Share Including Hypothetical $10B Extra Claims Payouts:

Click to enlarge

Click to enlarge
Here are the key drivers for the stock's appreciation: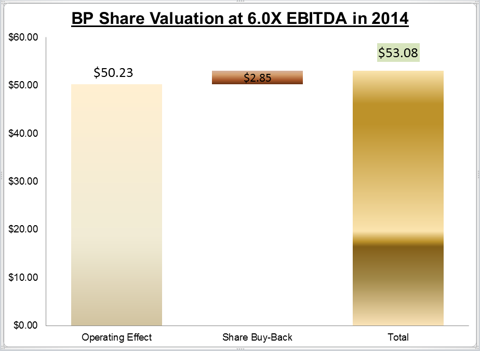 Click to enlarge
Conclusion
BP is not exactly that type of stock [unlike Coca-Cola (NYSE:KO)] one accumulates during negative swings in the market, but the company's management tries to persuade existing shareholders as well as prospects that there is still value on the table, and the 10-point-plan is there to deliver it. Investors with risk appetite should consider BP to include in their holdings. Existing dividend investors are to hold on the stock and enjoy (at least until the picture with the claims becomes clearer) ever-increasing dividends.
Disclosure: I have no positions in any stocks mentioned, and no plans to initiate any positions within the next 72 hours. I wrote this article myself, and it expresses my own opinions. I am not receiving compensation for it (other than from Seeking Alpha). I have no business relationship with any company whose stock is mentioned in this article.