By the right measures, Arena's (NASDAQ:ARNA) anti-obesity drug Belviq did very well in its second week on the market. Prescriptions per doctor workday doubled and prescriptions filled per pharmacy workday increased by 20%. As sometimes happens, shares dropped on the good news. Yet, this time nobody knew it and instead they thought the weekly prescription channel check for Belviq was bad. Upon finishing this article, you will understand that people have been improperly evaluating prescription channel checks for far too long and will not repeat the problem.
If I have you confused, it is because everything about Arena and its anti-obesity drug Belviq initially seems confusing, as I have long tried to explain. A year after Belviq's approval by the FDA, people still argue about the proper measure of its efficacy. After three months on Belviq, about half will lose less than 5% of their weight. They will be taken off Belviq for being "non-responders." The FDA labels the other half "responders." About 50% of the non-diabetic and 36% of the diabetic responders will lose more than 10% of their weight after a year. As a result, the average weight loss for those who remain on Belviq will be far greater than if everyone did, as was the case during drug trials prior to FDA approval. The most recent example of a major entity failing to understand this concept is Consumer Reports. They have two recent articles (here and here) presenting an argument as if doctors will forget to discontinue the "non-responders" because they claim the average weight new patients can expect to lose from Belviq in the first year will be the placebo-adjusted combined average for non-responders and responders. Also, in the real world, there are no placebo adjustments.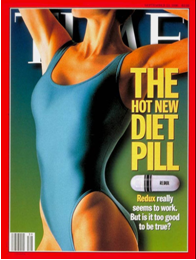 The share price is equally confusing since it is trading 10% above its one-year low of $6.95 and 36% below its one-year high of $12.07. Arena even trended lower this year as Belviq's sales date approached. Yet, absent any post-marketing issues, Belviq and its future formulations may eventually sell as well as Fen-Phen, as discussed here. Fen-Phen was so good at shedding fat it made the cover of Time Magazine in 1996. If you add in Belviq's potential in fighting diabetes and addictions (i.e., nicotine), one could argue Belviq will do much better than Fen-Phen. Although all new drugs carry a risk that some terrible side effect can surface to cause the drug to be withdrawn in subsequent years, that fear of the unknown generally does not control a stock's price at this stage.
Error #1: Investors Misread IMS data by using Pharmacy Workdays Instead of Doctor Workdays
If IMS supplied data on candy sales, investor analyses of the data would be correct. We could divide the amount of candy sold by the number of days the store is open and have the average amount of candy sold per day. We could then compare candy sales between normal and shortened workweeks.
But, drugs are not candy and pharmacies only reflect events at the doctor's office not consumer whims while food shopping. If pharmacies were open just one day per week, people would fill their prescriptions on that day or wait another week. In contrast, if doctors worked one day a week, pharmacies would have 80% fewer scripts to fill even if the pharmacies were open 24/7.
When doctors prescribe drugs the workweek before sales begin, IMS data will overestimate the number of prescriptions doctors are writing. The IMS data is for a seven-day pharmacy week for scripts written during a five-day doctor workweek. In the case of Belviq, doctors had an extra day of writing scripts in the week before patients could actually buy it. The first week of IMS data for Belviq thus reflects at least six days of script writing and probably more since some doctors were writing and postdating prescriptions weeks before patients could fill them.
Error #2. Arena Longs Believed a False Rumor
A rumor circulated Thursday afternoon that someone leaked IMS data on Belviq showing pharmacies filled over 6,000 prescriptions in the second week of sales. In response, shares closed up 33 cents (4%). When the real numbers were released shares fell 77 cents (9.1%). Have short sellers ever had it so easy? Rumor and miscalculation give them 9.1% on good or great results.
Let this be a lesson for all investors relying on IMS data. Unless they have evidence that IMS habitually leaks data, do not believe the rumors. Leakers can make more money leaking data about big pharmaceutical companies than for Arena. Besides, why would someone tell you, when it can be sold to someone with deeper pockets?
Script Counts - Good to Great Numbers with Positive Trends
Because IMS data is only 73% accurate, I adjusted it to estimate actual number of scripts and based my analysis on the adjusted number (Table 1, Rows 1-2). However you look at the data (even if it were not adjusted), it is extremely favorable for Belviq and Arena investors. The overall number of scripts grew 68%. The number of scripts per day doctors could prescribe Belviq grew by 102% (Figure 1). The results were partially affected by the first week having an extra day to prescribe Belviq (Friday, June 7). The scripts per doctor-sales rep meeting increased by 46%, yet we do not know if doctor education or reps are driving sales.
Table 1. This table shows that Belviq scripts increased in every way they were measured: based on the number written (Rows 1-2), number of days doctors had to prescribe Belviq (Row 3), by the estimated number of sales rep visits to doctors (Row 5). The estimated number of sales rep - doctor contacts comes from Eisai (OTCPK:ESALY) which predicts contact with 20,000 high value targets in the first month.
Week One

Week Two

Percent Change

IMS Prescriptions (73% Actual Number)

1,087

1,829

68%

Estimated Number of Prescriptions ("Adjusted")

1,489

2,505

68%

Prescriptions Per Day Doctors-Prescribed Belviq (Adjusted)

248

501

102%

Total of All Meetings Between Doctors and Sales Reps (Based on Eisai's Goals)

6,000

11,000

83%

Scripts per Meeting or Scripts per Targeted Doctor (Cumulative)

0.248

(1,489 scripts/ 6,000)

0.363

(3,995 scripts/ 11,000)

46%
Figure 1. This shows how Belviq prescriptions increased by 68% and more than doubled on a per doctor workday basis.
Future Predictions and Dreams
A linear growth rate based on the second week's 501 scripts per workday suggests pharmacies will fill about 9,000 scripts the first month. Although that is about 30% below my predicted initial estimate, two data points are inadequate for making predictions. However, we are seeing growth close to my lowest estimate. Scripts increased from .25 scripts per Eisai targeted doctor to 0.36 per week. My low estimate has a month-to-month increase of 0.5.
Figure 2. Possible prescription growth from "Sales estimates for Arena's Belviq are too low and shares are undervalued."
Dreamers will take these results and think growth will continue at the 102% rate until 19,279 scripts are filled in the first month and we will have a blockbuster by year's end. Similarly, if you think sales rep education of doctors is most important, you can believe growth will continue at 46% per week until we finish the month with about 13,000 scripts.
Short sellers will believe this analysis is wrong. They are also betting we will see Qsymia-like results in coming months due to stories like those from Consumer Reports.
I wish the stock market had a "reset" button to give Arena shareholders some justice by returning them to Thursday's closing price. Yet, they deserve more since Arena shares should have increased with the good to great results. Considering the stock dropped 9.1% on belief there were 27% fewer scripts filled when in fact scripts increased 20% to 102%, depending on your index of choice. Share should at least be 9% above Thursday's close ($9.24). But based on all factors, I think there are plenty of arguments for shares to be above $11 at this point.
Conclusion
Investors confronted with holidays or natural disasters that may shorten workweeks will face problems similar to those in the healthcare sector. My methods allow investors to correctly evaluate prescription channel checks so they can make proper investment decisions unlike those made by Arena investors.
Investors must learn to question authorities and evaluate claims. They should be careful to react to rumors when there is such a large short interest betting against them. Tactics used by short sellers are discussed in this classic Jon Stewart interview.
Investors should also remember, that Qsymia scripts increased for several weeks before stagnating. Although I do not see that happening, if it does, Arena share price will be far less than today.
Meanwhile Vivus (NASDAQ:VVUS) had to mortgage the house to keep afloat in hopes it can turn sales around. While I do not believe Qsymia is a serious competitor to Belviq, Vivus' survival may hinge on getting some of the Belviq's non-responders in future months.
Arena does not have the luxury if sales tank. Instead, it will need to rely upon formulations presently planned or being tested, such as Belviq in combination with phentermine or in combination with metformin. These could give Arena more muscle competing in the anti-obesity and anti-diabetes fields.
If Belviq has a competitor it is Orlistat by GlaxoSmithKline (NYSE:GSK) , and maybe someday Contrave being developed by Orexigen (NASDAQ:OREX). They may get greater attention with increased news coverage of Belviq and Qsymia, the new AACE algorithm, and the AMA classifying obesity as a disease. However, presently they have more to gain than Arena has to lose and their shareholders would be wise to pay close attention to how Belviq fairs.
Disclosure: I am long ARNA. I wrote this article myself, and it expresses my own opinions. I am not receiving compensation for it (other than from Seeking Alpha). I have no business relationship with any company whose stock is mentioned in this article. I am not a registered investment advisor and do not provide specific investment advice. The information contained herein is for informational purposes only. Nothing in this article should be taken as a solicitation to purchase or sell securities. Before buying or selling any stock you should do your own research and reach your own conclusion. It is up to investors to make the correct decision after necessary research. Investing includes risks, including loss of principal.