Bristol-Myers Squibb (NYSE:BMY) has soared since the announcement of recent data on Yervoy and nivolumab, and is now up 24.3% over the past year, beating the market by 5%.
I recently took a position on BMY in my Synthetic Dividend Growth Portfolio. Because the portfolio was constructed on the basis of a screen that backtests very well against the market, the presumption is that it's a good pick. However, it's richly valued based on historical earnings, and as such I decided to do my own estimate of valuation. This article presents my thinking, which leads to the conclusion that the stock is fairly valued at recent prices in the $45 area.
Analyst Coverage
There are a host of professionals providing coverage here, many of them well-informed on industry trends, and enjoying access to management. Morningstar rates BMY at 2 stars, while S&P sees 4. Both operate on a 5 star scale, with 5 the best. The average price target, per FinViz, is $45.69, slightly more than Friday's close of $44.69. Analytical opinion seems cautious here, and price action over the past few weeks is nervous.
What's Happening
BMY is implementing a strategy that it refers to as the "string-of-pearls." Here's an excerpt from the most recent 10-K:
Over the last few years, we executed our strategy to transform into a next generation biopharmaceutical company. This transformation encompassed all areas of our business and operations. As part of this strategy, we have divested our non-pharmaceutical businesses, implemented our acquisition and licensing strategy known as the "string-of-pearls", and executed our productivity transformation initiative "PTI". Our divestitures included Medical Imaging in January 2008, ConvaTec in August 2008, and Mead Johnson in December 2009. Our acquisition and licensing transactions included Kosan Biosciences, Inc. in June 2008, Medarex, Inc. (Medarex) in September 2009, ZymoGenetics, Inc. (ZymoGenetics) in October 2010, Amira Pharmaceuticals, Inc. (Amira) in September 2011, Inhibitex, Inc. (Inhibitex) in February 2012, and Amylin Pharmaceuticals, Inc. (Amylin) in August 2012 as well as several license and other collaboration arrangements. We continue to review our cost structure with the intent to maintain a modernized, efficient, and robust balance between building competitive advantages, securing innovative products and planning for the future.
The kickoff date was in 2007. Since then, the market has endured a devastating financial crisis, during which many companies lost 50% or more of their value. Here's a five-year chart for BMY, with the S&P 500 (NYSEARCA:SPY) as a comparison:

The market has been giving a thumbs up to the transformation.
Valuation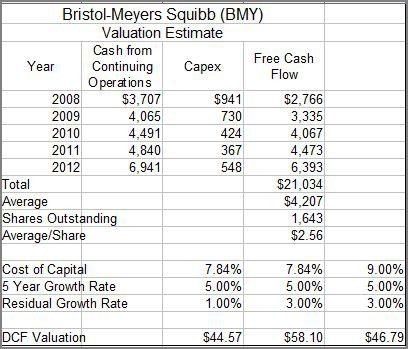 The company doesn't provide pro forma information on any of its acquisitions, on the grounds they weren't material. Divestitures are addressed in the financials by reporting earnings from continuing operations, and the earnings from discontinued operations are clearly identified in the statements.
Using a five-year average of historical cash flow from continuing operations, and forward estimates of 5% growth for five years and 1% residual, I apply a 7.84% cost of capital, taken from a spreadsheet published by Aswath Damodaran. It should be noted that patents have a life of 17 years, so that projections for perpetual growth should be held to modest levels.
In any event, the DCF analysis finds logical support for a mid-40s price. Shares closed at $44.69 on 6/28/2013. The estimate is very sensitive to residual growth assumptions. Morningstar recently reduced its cost of equity capital for the industry to 8% (from 10%), providing a concurring opinion for the 7.84% used above.
R&D expense is $2.39 per share, while the dividend is $1.40. Capitalizing R&D at 15%, and the dividend at 5%, a value of $44 is obtained.
Buybacks
The company repurchased its shares very aggressively during 2012, buying a total of 74 million shares (4% of outstanding) at monthly average prices between $32.09 and $35.30, substantially less than current market prices.
Buybacks continued during the first quarter, at prices between $34.25 and $38.45, still less than current.
The Pipeline
The last leg up was ignited by the company's 5/15/2013 announcement that it would present data on Yervoy and nivolumab at the 2013 American Society of Clinical Oncology (OTC:ASCO) Annual Meeting from 5/31 to 6/4/2013. An investor presentation of the same material was made on 6/2/2013.
Peter Geschek did an article here on Seeking Alpha, explaining the significance of the new information.
Patent Expirations
From the most recent 10-K: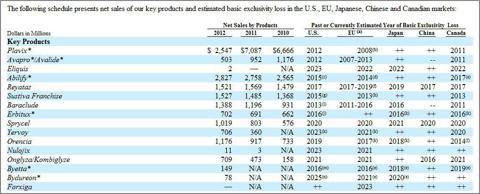 Clearly the company needs excellent results from the pipeline to offset loss of exclusivity for Plavix in 2012 and Abilify in 2015. Judging from price action, the market believes in the pipeline.
Investment Rationale
Buying at today's prices, an investor has a reasonable expectation of receiving a continuing flow of dividend payments. He will also participate in the long-term results created by a management team that has been adroit at creating value, as evidenced by the five-year price history and the promising gurgles from the pipeline.
Price action may be volatile going forward, as new factual information on the pipeline is presented, analyzed and priced in. Drug development is inherently time consuming, costly and unpredictable. It's hard to pick winners. Success is amply rewarded.
Logically, it's difficult to earn above-average returns buying a stock at or above fair value. BMY's pipeline prospects are attractive: however, the final outcome is uncertain and an investor should not overpay for this speculative commodity. Future dividends and increases require blockbuster drugs - homeruns.
For my own purposes, I plan to use the back-of-the-envelope value described above by capitalizing R&D expense at 15% and the dividend at 5%, looking to buy at a 10% discount to that figure: I would consider adding to my existing position at $40. I sold calls at the 50 strike, and would be comfortable called away at that level.
Digression - Defending a Very Simple Model
The two variable model mentioned above is a simplistic way of looking at some very complicated businesses. As a way of testing my assumptions, I developed the following data and put it through an MLR (multiple linear regression).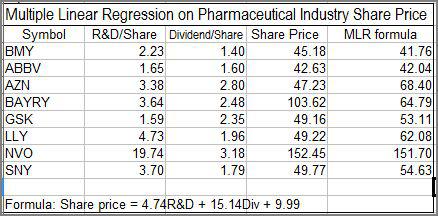 The formula developed by the software is similar to my guesstimates: 4.74 inverts to 21%, compared to 15% on the R&D; 15.14 inverts to 6.6%, compared to 5% on the dividend. The correlation between the actual share price and the model results is 0.89, suggesting the two variables account for most of the valuation.
Bayer (OTCPK:BAYRY) has substantial non-pharmaceutical businesses. AstraZeneca (NYSE:AZN) is believed to suffer from the double whammy - patent cliffs and weak pipeline.
Bristol-Myers Squibb has successfully transitioned to a biopharmaceutical company, with a pipeline that is very promising, and recently repurchased shares at attractive prices.
While a large DCF spreadsheet, with a line item for every important drug and drug prospect, extending out 17 years or more into the future, would no doubt be comforting to investors wishing to establish the value of the companies involved, the accuracy would not be improved. After all, the WACC assumption and the residual growth assumption drive a large part of the computed value.
Disclosure: I am long BMY. I wrote this article myself, and it expresses my own opinions. I am not receiving compensation for it (other than from Seeking Alpha). I have no business relationship with any company whose stock is mentioned in this article.
Additional disclosure: Long BMY Jan 2015 35 calls, short BMY Dec 2013 50 calls