During J.C. Penney's (NYSE:JCP) marketing changes and store overhaul customers fled JCP for other similar discount retailers. By taking a page out of Peter Lynch's book "One Up on Wall Street" I learned about JCP and TJX by visiting malls, and watching customer trends. I noticed that whenever I visited a JCP store it was predominately empty, and many of the displays and mannequins were poorly done. However, when I visited a Marshalls store or a TJ Maxx store, they were always flooded with people, and people tended to be spending a lot of money there. JCP has now reverted back to having sales, but some wonder whether or not its customers have already been stolen by TJX and other similar retailers.
TJMaxx has performed well in comparison to its competitors Target (NYSE:TGT) and Kohl's (NYSE:KSS).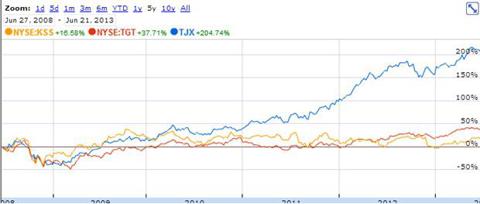 Chart Courtesy of Google Finance
Market Catalysts
TJ Maxx is planning a website launch in order to capitalize on e-commerce sales, which may prove to be a huge catalyst for the stock. TJ Maxx and Marshalls stores are also planning on increasing the men's selections, to help diversify. TJ Maxx is currently predominately a women's store, with about 10% of the store being men's clothing. It is unclear as to whether or not men would be willing to shop at TJ Maxx, or whether they would rather pay the higher price at Macy's (NYSE:M) for better selection and ease.
According to TJX's management, its competitive advantage is quite strong. Over the course of TJX's history, annual comparable-store sales have only declined once. TJX has delivered solid earnings growth and some of the highest financial returns in retail over the last 36 years. TJX has expanded to six countries, and sees growth in both the U.S. and across the globe.
Breakdown of the Numbers
TJX has seen growth in the past 3 years. Earnings per share have grown at an annual rate of around 3%, and sales have grown around 2.25%. Expectations show earnings per share growth of around 6% annually. Revenues have increased to $23.2 billion in 2012, compared to just $20.3 billion in 2010. Net income has also increased from $1.2 billion to $1.5 billion in the same time frame. Return on investment has been 33.19%, compared to an industry average of just 15.29. TJX's sales growth rate is higher than the industry average as well. Profitability ratios also look promising; with a 5-year average of ROI of 30.09%. TJX currently has a beta of .67, which ranks it a safe stock with low volatility.
TJX currently trades at 17 times earnings (industry average 25.89). Its P/E in relation to its growth ratio values TJX with a PEG (Price to Earnings to Growth) of about 1, which means TJX is trading at a P/E equal to its growth rate. Currently TJX pays a 1.2% dividend yield.
Risks?
1.) Competition - As mentioned in the beginning of the article, it is possible that J.C. Penney could make a comeback. This could potentially hurt TJX, as bargain minded shoppers shift from Marshalls and TJ Maxx back to J.C. Penney stores. Increased competition from similar stores such as Burlington Coat Factory could also play a factor. Kohl's and Target have been outperformed by TJX in the past, but both companies tend to be increasing in popularity among savvy consumers.
2.) Over expansion - You've of course heard of companies that have expanded too fast, and ultimately led to the demise of the company. Although I don't see this happening with TJX, expanding too fast, or too many acquisitions could hurt its bottom line, at least temporarily. Although acquisitions and opening up new stores is generally good for business, doing it too rapidly or too soon without proper market research can be dangerous.
Summary
The stock is already up 17% on the year, but does it have more room to run? Many analysts believe so, as the majority of recommendations are to buy. Personally, I think TJX may be a buy. Just from observing trends in shoppers, TJX's stores tend to be much busier than the department stores, especially JCP. The fundamentals and growth prospects make TJX a stock to consider, and a market pullback could mean bargain hunters could get this stock on "sale."
Disclosure: I have no positions in any stocks mentioned, and no plans to initiate any positions within the next 72 hours. I wrote this article myself, and it expresses my own opinions. I am not receiving compensation for it (other than from Seeking Alpha). I have no business relationship with any company whose stock is mentioned in this article.