I probably will get some heat by writing my opinion on Netflix (NASDAQ:NFLX) being a short, rather than a long, opportunity. Most of my readership knows that I hit nearly a three bagger with NFLX not too long ago, within the Young And Restless Portfolio. I suggested selling the stock and booking profits, which at the time made complete sense.
What seems to make complete sense to me now, is that Netflix has been spending plenty of money going after proprietary programming, like House of Cards, and has been quite successful. I believe that the only way for NFLX to grow is to continue on this path. The problem is that I do not believe the company has enough money to keep this ball moving. Especially since the "barrier to entry" into this business makes it an easy target to go after. Especially if another company sees the benefits of what Netflix is doing, and wants to toss a bunch of money simply to copy or "steal" whatever it is that Netflix is trying to do.
Netflix Under Attack
There are a bunch of companies who have taken steps to grab the core of NFLX business as detailed here: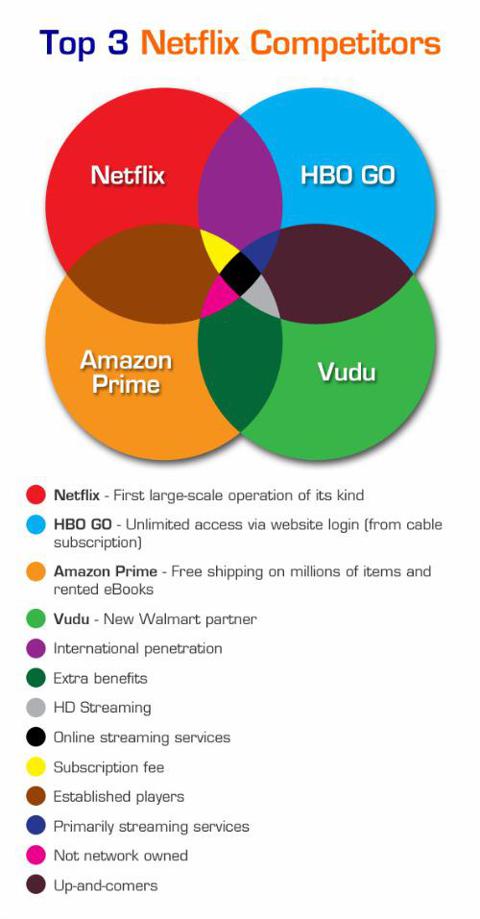 Of the 3 competitors, the question is; who wants it enough and who has the money to actually make it happen.
As this article points out, it might not be a walk in the park for any of them to outflank Netflix, however any battle worth fighting is fought to be won. Amazon appears to have the fire power.
As outlined in the article, Amazon has its pros and cons of course:
Amazon.com (Nasdaq: AMZN) has taken several steps to set itself up as a direct competitor of Netflix.

Pros

In addition to instant video streaming, an Amazon Prime account comes with other services such as free two-day shipping on millions of items and a free Kindle book to borrow each month.
The website allows anyone, regardless of whether or not they have an Amazon Prime membership or a cable subscription, to stream a TV show or video for a fee.
Amazon records every purchase made by an account holder; thus, if someone loses an e-book or digital album, they can prove they've bought it and download it again, free of cost.
The company's September deal with Epix will go a long way toward helping Amazon bulk up its catalog of titles, which is currently much smaller than Netflix's.

Like any relatively new initiative (or any initiative, for that matter), there are also drawbacks to Amazon Prime.

Cons

Even with the new Epix deal, the service offers a significantly fewer number of titles than its predecessor.
Amazon does not provide a DVD mail-order service such as the one that made Netflix famous.
For those without an Amazon Prime account, renting a movie costs at least $2.99-only $5 less than a monthly Netflix subscription.
Here is what has been stated about HBO GO:
HBO Go is a smaller service than both Netflix and Amazon.com, but it is challenging Netflix in new territory-literally.

Pros

The service has announced plans to expand its service to Sweden, Finland, Denmark and Norway as a new service: HBO Nordic. Although the company has delayed its launch in the area, it will still be one of the first Netflix competitors to take on the giant in the international market.
HBO Go's Nordic service is available as an over-the-top (OTT) video-on-demand (VOD) service, meaning subscribers can purchase HBO's online content without a cable subscription.
The service streams in HD, so consumers are less likely to encounter grainy video quality or interruptions due to slow buffering.

Cons

HBO had originally planned to launch its Nordic service before Netflix, which began streaming in Scandinavia on Oct. 15. On Oct. 26, however, HBO announced it would "slightly" delay its launch date without giving further details. This could turn potential customers off, especially since Netflix is already available in the area.
For those who want to enjoy HBO Go on its newest platform, the Xbox 360, there is an extra requirement: an Xbox 360 Live Gold subscription. While this may only affect a small subset of subscribers, those few may rate the service negatively-and pass the word on.
Finally, Vudu:
This online video streaming newcomer recently inked a deal with Walmart that allows subscribers to stream instantly on Walmart.com.

Pros

A Vudu subscription is free, and subscribers pay only for the content they watch- unlike with Amazon Prime and Netflix, there is no monthly fee.
Like HBO Go, Vudu streams many of its movies in its proprietary HDX. The service also employs Dolby Digital Plus 7.1 surround sound for many of its titles.
In a direct comparison to Netflix, Vudu boasts that it offers many titles the same day they're out on DVD, whereas Netflix only releases them 28 days later.
Walmart allows Vudu users to bring their DVDs to a store and transfer them to the cloud. This allows consumers to watch their content on a variety of devices from any location.

Cons

Since the Vudu/Walmart deal is relatively new, the two companies will likely confront some glitches or difficulties getting subscribers.
Though there are no subscription fees, not all Vudu movies are cheap. New titles such as The Amazing Spiderman cost $5.99 to rent in HDX. This price almost negates the advantage of a no subscription fee.
Subscribers can only watch movies in HD on TV sets; for desktop and iOS, the only option is standard definition video (SD). For those who want to use Vudu to stream on-the-go, this is a significant disadvantage.
While all of this information is duly noted, I believe the main disadvantage that Netflix has, especially against Amazon, is MONEY. I also believe that Amazon poses the greatest threat to NFLX's entire business.
Cash Speaks Louder Than Words
Netflix has a good business but not a great one. A company like Amazon, which sees that it can add online streaming video with relative ease, and can afford a heck of a lot more than Netflix can.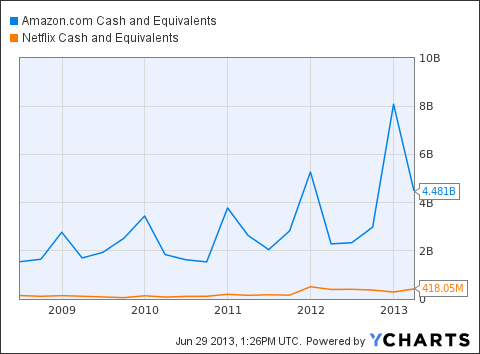 With 10 times the available cash resources that NFLX has, AMZN can literally gobble up whatever business they want to, and it appears that NFLX has something that AMZN wants.
Amazon Prime offers basically the same service now, that Netflix has, and while it is never easy just to bust into another business, AMZN seems to have done it rather easily. With the amount of cash and sheer size, it seems to me that if Amazon wants to take the business from NFLX, they simply will. Actually, they are, as this chart clearly shows: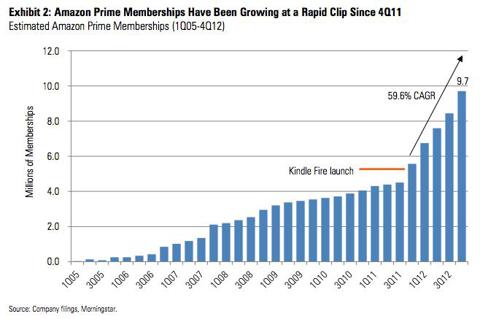 Rapidly growing membership is coming from somewhere. My guess is that plenty of it is coming from Netflix.
As noted in this article as well:
"The reality is that Amazon Prime (which provides the same shows and program offerings) is going to begin eroding Netflix's market share in online streaming. Though the barriers to entry were high in terms of licensing and service agreements (which took years to register), a company like Amazon had the technical scale to move into this marketplace with relative ease and compete based on value."

"Netflix will have to innovate, likely taking on its own television shows to compete with the likes of HBO, Showtime, and Amazon (which is also exploring its own television options.) This will not be cheap, and it could lead to the new "technology war" of the decade, as two rivals duke it out. The reality is that the one that offers the best product with the most value-added in addition to the best marginal returns will be the victor, and I think Amazon will be the king of online streaming in the end."
I completely agree. Would you want to battle a company that spends like it has a money tree? The size of Amazon and the cash resources at its disposal are overwhelming. With Amazon Prime, it seems to me that the Netflix business has a big bulls-eye on its back, and Amazon is taking dead aim.
This spells trouble for the core business of Netflix, and it cannot do anything about it. For Amazon, it is just another part of its vast eco-system, and the business fits nicely with the rest of the operation.
The Equation Is Simple To Me
Netflix has a good business and Amazon wants it. With ten times the resources and the ability to do whatever it takes, it does not take a brain surgeon to figure out that unless Netflix is taken over (by the likes of a Google (NASDAQ:GOOG), or even Apple (NASDAQ:AAPL)) it will only be a matter of time that the entire business of Netflix will deteriorate, as will the share price.
Not to mention that with a competitor like Amazon, the price will head upwards in obtaining premium shows. Netflix simply cannot compete in my opinion.
Just take a look at how the blockbuster show "Mad Men" has increased in value (and content costs) since it began in 2006: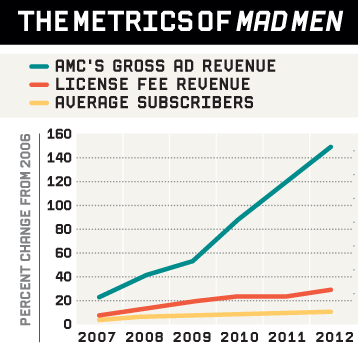 If "Mad Men" were to be an exclusive property of an online video streaming service, who do you think would be able to afford it? Not to mention the possible high quality content that could be up for grabs.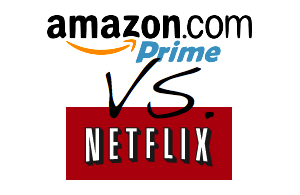 The Bottom Line
I am not the type of investor who likes to short any stock. If I was, Netflix seems to be low hanging fruit from my point of view. That being said, I just might purchase LEAP put options as far out as I can, and take a speculative position in that way.
I could be totally off the mark here, and Netflix has surprised everyone by coming back from the dead once before. Since the company is NOT dead, it just might be able to survive and thrive, especially if it is bought out.
For the time being however, I think the price of Netflix shares will deteriorate until it makes sense for another company to buy them. Who knows, maybe even Amazon will.
Disclaimer: The opinions of this author are not recommendations to either buy or sell any security. Please do your own research prior to making any investment decisions.
Disclosure: I am long AAPL, GOOG, AMZN. I wrote this article myself, and it expresses my own opinions. I am not receiving compensation for it (other than from Seeking Alpha). I have no business relationship with any company whose stock is mentioned in this article.
Additional disclosure: I am considering buying PUT OPTIONS in NFLX.