Energy stocks have long been a favorite for dividend investors thanks to the security they provide. Steady, predictable income and the ability to pass on rising expenses allow for sizable payout ratios and steady dividend growth.
One way dividend investors can generate a sizable return from energy stocks is to purchase dividend stocks before massive growth in the dividend yield. Below are the three energy stocks with the highest dividend growth rates in the sector. We looked at these stocks to see if that growth was sustainable and worth investing in or just a one trick pony.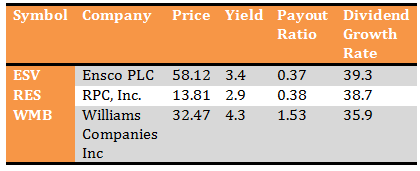 Source: Gurufocus.com
Ensco plc (NYSE:ESV) provides offshore contract drilling services to the oil and gas industry worldwide. The company operates through three segments: Floaters, Jackups and Other. Ensco was founded in 1975 and is based in London. The company has paid a quarterly dividend since the end of 1997.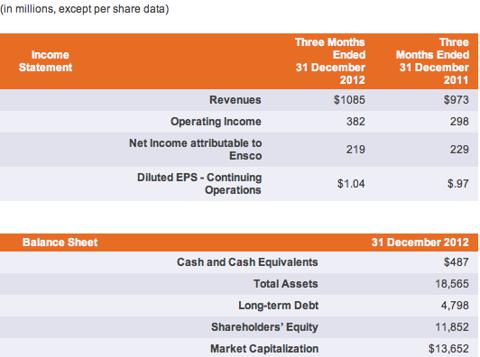 Source: Ensco website
Revenue - Ensco brought in record revenues in the first quarter totaling $1.15 billion, a 13% increase from the prior year's quarter.
Net Income - Net earnings were $317 million. This represents an increase of $52 million, or 19.6% over the prior year quarter. This translates to $1.36 per diluted share, an increase of 18% over the prior year quarter.
Higher Cost and Down Time - Both will become an investor concern for the company in the future combined with inflation in labor costs.
Free Cash Flow - Free cash flow at the end of year 2012 was at $50M, increased from $290M in 2011. ESV's free cash flow showed an increasing trend; the company has significant cash on hand to support operations and paying dividends.

Source: Wall Street Journal
RPC Inc. (NYSE:RES) RPC is a holding company that provides oilfield services and equipment to independent and major oilfield companies in exploration, production and development of oil and gas properties, domestically and in selected international markets.
Net Income - Net income was $35.1 million, or 16 cents per share, for the period ending March 31. That compares with $80.8 million, or 37 cents per share, in the same quarter last year. Weak earnings resulted from weaker demand around North America. President and CEO Richard Hubbell said despite lower U.S. rig counts, competition remains fierce, forcing the company to lower its rates. RPC will need to enhance its strategy by expanding business to potential international markets such as Africa and Southern America.
Revenue - Revenue fell 15.3% to $425.8 million compared to last quarter's revenue.
Free Cash Flow - While the company has always paid dividends on time, RPC ran short of free cash flow between 2010 to 2012. This might spell trouble if it continues, but current improvement in cash flow might be a good sign that the company can maintain dividend payments.
Buy Backs - Recently, RPC bought back an additional 5 million shares. The buyback gave a temporary relief to its share price.
Williams Companies Inc. (NYSE:WMB) The Williams Companies operates as an energy infrastructure company. The company's Williams Partners segment owns and operates a natural gas pipeline system extending from Texas, Louisiana, Mississippi and the offshore Gulf of Mexico through Alabama, Georgia, South Carolina, North Carolina, Virginia, Maryland, Delaware, Pennsylvania and New Jersey to the New York City metropolitan area.
Insider Buying - Director Murray D. Smith invested $34,930 into 1,000 shares of WMB, for a cost per share of $34.93.
Revenue - Williams projected a price of 60 cents/lb for ethylene and Goldman expects this to be a reasonable estimate barring a recession or other major macro headwinds.
Strong Growth Project in Future - The Bluegrass project is expected to generate strong income and cash flow in the future.
Free Cash Flow - Free cash flow dived in 2012, and is forecasted to reach $400 to $500M of excess cash flow in 2014 to 2015. The company is well positioned to hit its 20% annual dividend growth targets and still fund its growth capital projects with limited financing risk.
Conclusion
Energy stocks remain under pressure with higher costs and commodity price risks. Companies might need to mitigate risk and expand their business to stronger international markets. Dividends in this sector might still remain strong for succeeding years but all will depend on how companies react to a weak demand environment. We view the dividends for Ensco and Williams Companies as safe, but are cautious on dividend investing for RPC.
Disclosure: I have no positions in any stocks mentioned, and no plans to initiate any positions within the next 72 hours.
Business relationship disclosure: Black Coral Research is a team of writers who provide unique perspective to help inspire investors. This article was written by Hans Centena, one of our Senior Analysts. We did not receive compensation for this article (other than from Seeking Alpha), and we have no business relationship with any company whose stock is mentioned in this article. Black Coral Research is not a registered investment advisor or broker/dealer. Readers are advised that the material contained herein should be used solely for informational purposes. Investing involves risk, including the loss of principal. Readers are solely responsible for their own investment decisions.