Company: Portola Pharmaceuticals, Inc.
Listing: NASDAQ
Symbol: (NASDAQ:PTLA)
Industry: Pharmaceuticals.
Summary:
Portola Pharmaceuticals is a research and development based bio-pharmaceutical company. The company is developing the novel therapies in disorders related to the blood clot formations. Its lead product candidate Betrixaban is a novel oral once-daily preventive treatment, of a form of thrombosis (blood clot) known as venousvenous thromboembolism, or VTE, in the acute medically ill patients. Acute medically ill patients are those who are hospitalized for serious non-surgical conditions, such as heart failure, stroke, infection, rheumatic disorders and pulmonary disorders. Its second leading product candidate PRT4445, which is undergoing phase- 2 of clinical trials, is also expected to cure problems related to thrombosis.
Products under development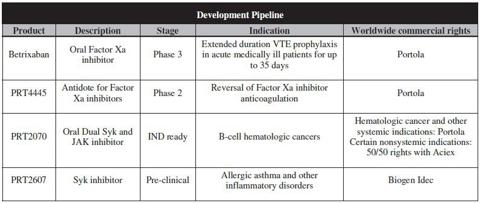 Market potential/size:
Bertrixaban: At least $2 billion.
PRT4445: Excess of $2 billion.
Financials:
To date the company has generated all its revenues from the collaboration and licensing income, [the collaboration agreements with Biogen Idec (NASDAQ:BIIB), Merck (NYSE:MRK) and Novartis (NYSE:NVS), and its agreement with BMS (NYSE:BMY) and Pfizer (NYSE:PFE)].
As of March 31, 2013, company has an accumulated deficit of $220.5 million.
The company had reported net income for 2011 and 2012, this was primarily due to the recognition of the revenue pursuant to its agreements with Biogen Idec and with Merck in 2011 and the recognition of all the remaining deferred revenue following the termination of its agreement with Novartis in 2012.
The company had incurred significant losses prior to 2011 and expects to incur the significant and increasing losses in the foreseeable future as it advances its product candidates into the later stages of development.
There is no assurance that the company will receive the additional collaboration revenues in the future.
Key positive and negative points of the company:
Key negatives
The company does not have any product which has been commercialized till date, further the company does not expect any of its product to be commercialized before 2015 (at the earliest).
Its research and development expenses will increase, as it continue to advance its product candidates through the clinical development.
All its products are in the development stage and need many regulatory clearances, which can delay the commercialization of its products.
If serious adverse side-effects are identified during the development of any of its product candidates, the company may need to abandon the development of that product candidate; this is not uncommon, in past two of its competitors' clinical trials, evaluating similar therapies in the acute medically ill patients have failed during the Phase III trials.
Its balance sheet is weak, with no steady revenue earning stream.
No marketing experience or setup.
Key positives
(Only if its products got developed according to the plan, and approved for commercialization.)
Huge addressable market (over $4 billion), for Bextrixaban & PRT4445.
Long product exclusivity: For Betrixaban (at least till September 2020); for PRT4445 (at least till February 2029).
Favorable points for Betrixaban over existing product:
Oral dosage (other existing product offers the Injection dose for the acute medically ill patients).
Significant cost advantages.
Can be taken for longer durations (for 35 days as against 16 days).
(For other products including PRT4445 not much clinical performance data is available.)
Fundamental evaluation: (Barring any unforeseen facts, and circumstances.)
High risk: If due to any reason the company has to abandon the development its prime product candidates Bertrixaban and PRT4445.
High return: If the company develops its lead product candidate Bertrixaban as per the plan.
Table below shows some assumptions of the company's performance if Bertrixaban gets developed as per the plan. (These are just the assumptions and the company may perform totally different from these assumptions)
Assumed revenue generation capability of Bertrixaban if get developed as per the plan (worldwide market).

Worldwide market size

About $2 billion (described above).

The company's share (40%)

$800 million (due to its vastly superior product as compare to its competitor product and limited competition).

Margins 15%

About $120 million (from worldwide sales)

Present valuations of the company

$832.5 million.

The company does not expect to commercialize Bertrixaban before 2015(at the earliest), that too if everything goes well.
Disclosure: I have no positions in any stocks mentioned, and no plans to initiate any positions within the next 72 hours. I wrote this article myself, and it expresses my own opinions. I am not receiving compensation for it (other than from Seeking Alpha). I have no business relationship with any company whose stock is mentioned in this article.
Disclaimer: Investments in stock markets carry significant risk, stock prices can rise or fall without any understandable or fundamental reasons. Enter only if one has the appetite to take risk and heart to withstand the volatile nature of the stock markets.
This article reflects the personal views of the author about the company and one must read offer prospectus and consult its financial adviser before making any investment.