With the 2014 FIFA World Cup looming and Adidas (OTCQX:ADDYY) sponsoring teams such as Spain, Germany and Argentina - all of which are expected to have a good showing in the quadrennial event - now seems to be the time to get into Adidas. As the German sporting equipment maker has made known, the World Cup will provide it with a boost to revenue that is expected to bring its soccer-related sales somewhere in the region of $2.7 billion (or EUR2 billion), a record for a sporting-apparel company.
ADIDAS vs. S&P500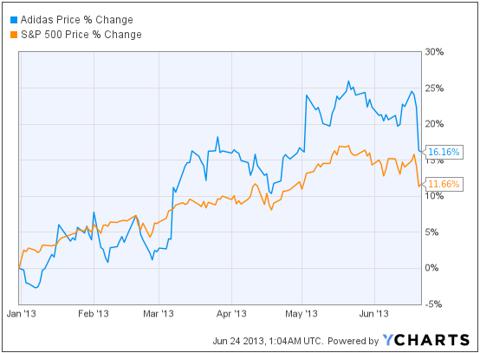 Click to enlarge
Source: YCharts
At the same time, Adidas continues to make great inroads into China. Despite the tepid economic environment in the Asian giant, sales of sportswear are expected to grow at a compound-annual rate of 17% in the Mainland, boosting sales for both Adidas and its main rival, Nike (NYSE:NKE).
Consequently, it's not surprising that Adidas has seen its share price rise by over 25% in 2013 and that even after the recent market volatility, its shares remain up by 16.2% in the year-to-date - a 4.5% premium to the return on the S&P500.
The stakes for Adidas in China are high: the Chinese sportswear market could generate revenues of as much as $32 billion in the next four years. Nike and Adidas combine for 23.3% of the sportswear market in China, and while Nike has a slightly larger market share of 12.1%, Adidas has done very well, growing China revenues by 6% on a non currency-adjusted basis during the first quarter of 2013.
Meanwhile, Adidas is implementing a new branding strategy to boost incomes from its flagging Reebok line, which it acquired for $3.8 billion in 2006. Essentially, the new strategy calls for Reebok's CrossFit logo to become the symbol for the label. This is viewed as an attempt by Adidas to maximize sales from Reebok's popular CrossFit fitness lifestyle brand, which saw a 13% rise in related revenues during the first quarter of 2013.
Earnings
The outlook for Adidas's earnings going forward is tepid, at least if you ask the analysts: from 16.4% growth over the previous five years, earnings are expected to contract by an average of nearly 5% a year over the next five, even accounting for an expected 20% boost to earnings from the 2014 World Cup. Presumably, protracted economic weakness in the eurozone, Adidas's main market, will be the primary reason for Adidas's lackadaisical forward earnings. Adidas's first-quarter earnings illustrate the impact of euro-area weakness quite clearly: a 7% decline in euro-area net sales led to a 2% decline in Adidas's overall sales figure.
Consequently, China is a big deal for Adidas. To put that into perspective, catching up to Nike's China market share alone would mean an additional $288 million in annual sales by 2017 or 1.4% of its total sales expected for this year. Assuming its current net income margin of 8%, the catch-up is worth an additional 4 cents of earnings per share. That alone could eliminate a portion of the sales attrition from the Euro Area. What's more, Adidas's plan isn't just to catch up with Nike, but to exceed it and also take market share away from local sports apparel makers that dominate the market.
Another area of opportunity for Adidas, China-wise, is golf. The golf market is expected to grow by 25% each year for the Asian giant over the next half-decade. Interestingly, TaylorMade-Adidas Golf saw revenues grow by 13% in the first quarter from their level a year earlier, though the sales growth was largely a by-product of North American demand. That means that Adidas has not yet harvested the potential for its golf products in China, which leaves upside to Adidas's forecasts going forward.
We believe that analysts' forecasts currently overstate the impact of euro-area weakness on Adidas and that the company's persistent push into China could pave the way for China sales to supplant euro-area sales as Adidas's primary driver. In that regard, the challenge for Adidas is its ability to compete with low-cost Chinese competitors without sacrificing its brand association.
Valuation and Fundamentals
Adidas currently trades at what would appear to be a frothy 30 times earnings. That compares to 21.5x for its industry peers, with its primary rival Nike at 23.6x. However, on a forward basis, the P/E story is particularly flattering for Adidas: its forward P/E is just 9.7x compared with 19.8x for Nike and 18.8x for its industry. Adidas is also cheap on a price-sales basis, trading at just 1.1x compared to 2x sales for both Nike and the sports apparel industry. Price-to-book also tells the same story: Adidas has a more reasonable ratio of 2.9x book value compared with the 5.1x book value that Nike is currently trading at.
Where it gets more interesting is with its target price: even after the recent market correct, Nike is trading just 6% below its one-year price target. Adidas, in contrast, is trading at a relatively steep 30% discount to its one-year price target. Despite this, Nike is up by nearly 17.4% in the year-to-date, a modest premium to Adidas's own year-to-date rise.
Nike trumps Adidas in that Nike is currently paying a dividend - with a 1.4% yield - whereas Adidas isn't currently paying one. However, given its relative distance from its one-year price target, it's fairly easy to argue that Adidas represents better upside potential for investors.
To be sure, Nike also has slightly better financial fundamentals than Adidas does, having more liquidity with a 2.1 current ratio compared with Adidas's 1.7 current ratio. However, this is not a significant enough variance from the industry average of 2.0 to make Adidas a non-starter. What's more, like Nike, Adidas has very little debt, which gives its management considerable flexibility to pursue growth strategies.
Don't get us wrong, we wrote about how much we like Nike here, but after a deeper review of Adidas, it is clear it has solid fundamentals and its current valuation is a more attractive proposition than its main rival.
Conclusion
Given the current market volatility, we would caution going into any security full-throttle and instead recommend acquiring stocks over a short period of time. We believe this strategy is the right one for Adidas, particularly as recent summers have had various market-moving developments come out of the euro area.
That said, any investor who buys into Adidas now can reasonably expect gains of at least 30% in the next 12 to 18 months.
Disclosure: I have no positions in any stocks mentioned, but may initiate a long position in OTCQX:ADDYY over the next 72 hours.
Business relationship disclosure: Black Coral Research, Inc. is a team of writers who provide unique perspective to help inspire investors. This article was written by Jonathan Lara, one of our Senior Analysts. We did not receive compensation for this article (other than from Seeking Alpha), and we have no business relationship with any company whose stock is mentioned in this article. Black Coral Research, Inc. is not a registered investment advisor or broker/dealer. Readers are advised that the material contained herein should be used solely for informational purposes. Investing involves risk, including the loss of principal. Readers are solely responsible for their own investment decisions.