Earnings for biodiesel firms should be very strong for Q2 2013. Throughout the entire quarter, feedstock prices remained moderate, and RIN prices increased as did fuel prices. All those factors combined point to very strong Q2 earnings for biodiesel.
First the basics:
Biodiesel firms sell a fuel made out of what is called a "methyl-ester." They use various plant and animal fats to create the fuel, and different feedstocks produce different quality fuels. Soybean oil produces Soy Bean Oil Methyl Ester or SME, and it is typically the most costly fuel to produce, but SME also sells at a premium to others, especially during winter. "Multi-Feedstock" biodiesel plants create a fuel called Fatty Acid Methyl Ester or FAME. This grade of biodiesel sells at a discount to SME, and can be made out of yellow or white grease and/or inedible corn oil. The feedstocks used to make FAME are typically much lower in cost than soybean oil.
A gallon of FAME currently sells for around $4.85 on the Gulf Coast, which is substantially above the $2.87 that a gallon of ultra low sulfur diesel sells for on the Gulf Coast. The $1.98 difference is because of the regulatory subsidies built into the price. Built into that $1.98 is 1.5x the price of what is called a D4 RIN. D4 RINs currently trade around $1.06, so $1.59 of the $1.98 is the D4 RIN. The remaining $0.39 is the producer's share of the $1.00 blender's tax credit.
It takes between 7.5 and 8.5 lbs of feedstock to make a gallon of biodiesel. There is also a marginal cost for the methanol, and a high estimate for operating costs per gallon is about $0.55/gallon.
Q2 Review:
D4 RIN prices started the quarter under $0.80, and finished the quarter over $1.00. My data shows RINs increased $0.28 during the quarter. Gulf Coast FAME began the quarter under $4.50, and ended the quarter at $4.80. My data shows a gain of $0.35 during the quarter. Yellow grease began the quarter at $36, and ended the quarter at $34.50.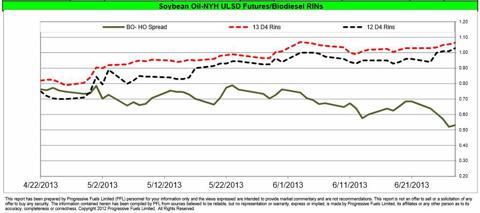 The gross margins increased from $1.39 to $1.87 by the end of the quarter.
| | | |
| --- | --- | --- |
| | 3/31/2013 | 6/30/2013 |
| FAME | $4.45 | $4.80 |
| Yellow Grease | $0.36 | $0.345 |
| Lbs | 8.5 | 8.5 |
| Feedstock Cost | $3.06 | $2.93 |
| Gross Margin | $1.39 | $1.87 |
Biodiesel firms like Renewable Energy Group (NASDAQ:REGI) and BiOX (OTC:BXIOF) had solid earnings in Q1, and since then the margins have only increased. That fact, however, has not gone unnoticed, as both REGI and BXIOF.PK have had extremely strong Q2 performances.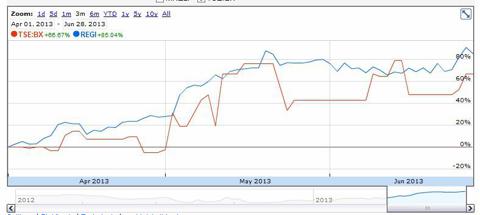 One additional note is that Q3 and Q4 2012 and Q1 2013 earnings were distorted because of the congressional battle over the blender's tax credit. Margins were severely depressed in the second half of 2012, resulting in many companies producing at a loss or even shuttering their plants. The tax credit did eventually pass and was made retroactive, so Q1 2013 earnings and Q4 2012 for some firms like REGI were artificially inflated due to the receipt of the tax credit. The result of this will be extremely favorable year over year comparisons for Q3 and Q4 2013.
In conclusion, earnings for Q2 2013 should be very solid for the biodiesel industry. Problem is, it looks like everyone already knows that. After such a strong quarterly stock performance, it remains to be seen if a strong earnings report will drive the stocks higher, or if investors will sell on the news. Either way, with margins the way they are, and favorable comparisons coming for Q3 and Q4, 2013 is working out to be a great year for the biodiesel industry.
Disclaimer: This article is not an investment recommendation. Any analysis presented in this article is illustrative in nature, is based on an incomplete set of information and has limitations to its accuracy, and is not meant to be relied upon for investment decisions. Please consult a qualified investment advisor. The information upon which this material is based was obtained from sources believed to be reliable, but has not been independently verified. Therefore, the author cannot guarantee its accuracy. Any opinions or estimates constitute the author's best judgment as of the date of publication, and are subject to change without notice.
Disclosure: I have no positions in any stocks mentioned, and no plans to initiate any positions within the next 72 hours. I wrote this article myself, and it expresses my own opinions. I am not receiving compensation for it (other than from Seeking Alpha). I have no business relationship with any company whose stock is mentioned in this article.