Two of the greatest characteristics of closed-end funds has to be their over-reaction to every market move and their ability to sidestep forced redemptions. I recently read that almost $80 billion was removed from bond mutual funds and ETFs in the month of June, and to put that in perspective, roughly $40 billion was removed in October 2008 during the financial crisis.
This is great for any new capital put to work at these interest rate levels, as new investors get the benefit of higher yields and lower prices. However, for existing investors in poorly run mutual funds, managers will usually be forced to sell their most liquid holdings first. In order of the most easily disposable, this usually amounts to excess cash, Treasury, Agency MBS, and finally investment grade corporate securities getting tossed out to meet redemptions. Less liquid securities such as CLOs, ABS, non-agency MBS, and some high yield corporate credits are usually the last to go, as dealers know they can under-bid these securities in the midst of a liquidity squeeze.
Mutual fund managers hate being forced to make changes to their portfolios, especially at the hands of retail investors jumping ship at the worst possible time. The goal of almost all bond fund managers is to achieve the highest possible yield and total return with the least amount of risk and/or volatility. So as interest rates rise to levels that aren't fundamentally justifiable, managers want to raise the quality of their portfolio by purchasing low risk credit opportunities at rates they would normally have to move down the credit ladder to access. Instead, they are forced to drop the same liquid securities they would rather be buying.
Closed-end funds are able to side step this anomaly because the assets within their portfolios are non-redeemable by individual investors selling shares of the fund. In fact, in the midst of a crisis, CEF managers have many options available at their disposal to improve the outcome for their investors. Some are able to lever up the fund opportunistically with interest rate swaps to take advantage of price dislocations, while others may deploy excess cash, or rotate sectors to take advantage of a badly beaten down area of the market. Furthermore, others might simply decide to make no changes and ride out the wave of volatility with their allocations intact.
Interestingly enough, the price of the CEF is a completely different story. One that brings about adjectives in one's mind such as: deranged, tumultuous, and unstable. If it weren't for their nonsensical, volatile nature, I believe all funds would be in a CEF format, as it would make for a much more orderly institutional trading environment. In a sense, this is where a CEF investor gets compensated. By riding the massive typhoon of volatility, making peace with the changes they make to their portfolio as the eye of the storm passes overhead, then emerging from the bunker in a much better place than when they went in.
A great example of a fund that has relatively low NAV volatility, owns illiquid securities, and presents high price volatility during a correction is the Guggenheim Strategic Opportunities Fund (NYSE:GOF).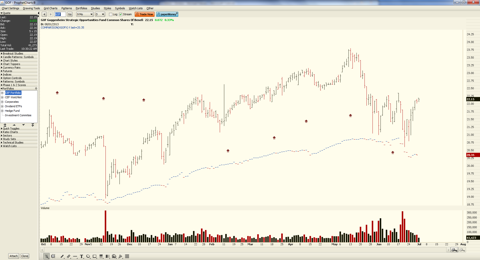 Click to enlarge
Looking at the chart, a disciplined investor could have added to GOF very near to its NAV on June 21st, when market sentiment towards interest rates was at its most desperate point. However, even taking a dollar cost averaging approach, whereby an investor began adding to GOF on days where its premium fell below its 52-week average would have yielded an attractive cost basis. Looking at many of the funds on my watchlist, this very same pattern played out in sectors all across the CEF marketplace.
Although CEF investing may not be for everyone, investors that understand the predisposition can profit nicely from these two inherent characteristics. For clients in our CEF-only portfolio, I was adding to positions up until last week. If we continue to see price stabilization and spread normalization, I could even begin to pare back near current levels. It purely depends on the week-to-week changes in CEF prices vs. their respective NAVs.
Disclosure: I am long GOF. I wrote this article myself, and it expresses my own opinions. I am not receiving compensation for it (other than from Seeking Alpha). I have no business relationship with any company whose stock is mentioned in this article.
Additional disclosure: Fabian Capital Management and/or its clients may hold positions in the ETFs or mutual funds mentioned above. The commentary does not constitute individualized investment advice. The opinions offered herein are not personalized recommendations to buy, sell or hold securities.