Last week I wrote an article on Dunkin' Brands Group Inc. (NASDAQ:DNKN) and for comparative purposes I analyzed the company and its stock alongside two competitors operating in similar industries, Krispy Kreme Doughnuts, Inc. (KKD) and Starbucks Corporation (NASDAQ:SBUX). While all three companies shared certain bullish aspects, Krispy Kreme Doughnuts stood out for its miniature size and explosive earnings growth relative to peers.
Although shares of Krispy Kreme Doughnuts have appreciated nearly 90% year-to-date, the company is still very much in the early stages of a turnaround via an aggressive expansion process. Management's plans to add retail locations in domestic and international markets as well as strengthen and diversify the Krispy Kreme brand's core product offerings are beginning to translate into more rapid revenue and earnings per share growth than in recent years. As such, I believe investors looking for small-cap growth can consider Krispy Kreme Doughnuts, in addition to Dunkin Brands Group, for continued market outperformance.
The Company
Krispy Kreme Doughnuts, Inc. operates primarily as a retailer and wholesaler of doughnuts, beverages and packaged sweets. The company owns, operates and franchises Krispy Kreme-branded restaurants in both domestic and international markets and has approximately 733 locations in 22 countries around the world. Krispy Kreme Doughnuts also produces various doughnut mixes and manufactures doughnut-making equipment through its KK Supply Chain business segment.
Founded in 1937 by Vernon Rudolph, the North Carolina-based company started out as a small supplier of donuts to local grocery stores. However, due to almost immediate and popular demand Rudolph soon began selling his company's sweets directly to passersby on the sidewalks of the now historic Old Salem. Since those humble beginnings nearly 75 years ago, the Krispy Kreme brand and its signature 'Original Glazed' doughnuts have grown into an iconic American tradition and the company's 'premium quality sweet treats' are now enjoyed by consumers the world over.
The Stock
As was previously mentioned, shares of KKD have been appreciating rather furiously in recent months, significantly outperforming the major indices as well as all industry competitors by a wide margin. However, when viewed on a longer timeframe, KKD's performance has been decidedly mixed. The following is a breakdown of the equity's performance over the last decade compared to that of the S&P 500 (NYSEARCA:SPY) index:
| | | |
| --- | --- | --- |
| Equity/Index | KKD | SPY |
| 10-Yr. Return | -57.33% | 64.54% |
| 5-Yr. Return | 231.11% | 25.65% |
| 1-Yr. Return | 184.2% | 20.86% |
| YTD Return | 86.03% | 12.63% |
(Numbers from YCharts.com, as of 6/29/13, numbers do not include dividends)
Most evident by the numbers above is that shares of KKD have struggled over the last decade, significantly underperforming the general indices due to a sharp drop in share price that began in 2003 and accelerated in 2004. However, if we compare the equity's performance to the major index's performance starting on the day of KKD's IPO (4/5/2000), the results tell a different story as KKD has returned 88.65% versus the S&P 500's 7.99%.
Excluding the four turbulent years after the company's initial public offering of stock, KKD has performed very well compared to the S&P 500, significantly outperforming the major index on a five-year, one-year and year-to-date basis. The following is a chart of KKD over the past five years (included are 50-day, 100-day and 200-day moving averages as well as MACD and slow stochastic indicators):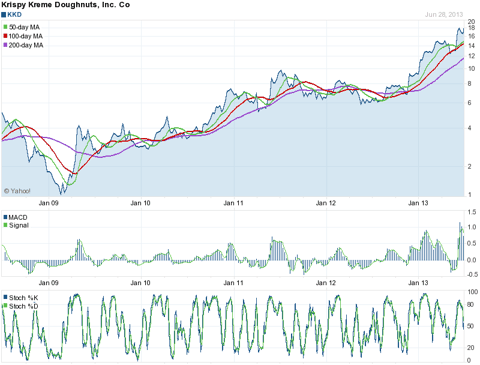 (Chart courtesy of Yahoo! Finance, as of 6/28/13)
As is the case with several of the quality, small-cap growth stocks that I've researched recently, KKD has been on an uptrend for the most part since recovering from 2008-2009 lows. While the stock's trading has been quite volatile over the years, KKD's overall positive trend indicates that a growth story is intact.
Since 2009, shares of KKD have largely obeyed all major moving averages, significantly falling below the 200-day MA only twice in the last four years. Particularly impressive is the stock's most recent six-month run, during which shares appreciated approximately 90% amidst heavy buying pressure and relatively weak selling pressure, as indicated by the MACD.
Form a purely technical perspective; shares of KKD have been trading very well since breaking out in late 2012. However, the chart does appear over-extended and the stock most likely needs to pullback to some form of moving average support.
Growth
For comparative purposes, alongside Krispy Kreme Doughnuts, I have chosen to include the growth rates of two small-cap companies operating in similar industries of the 'Services' sector, the aforementioned Dunkin' Brands Group and Einstein Noah Restaurant Group, Inc. (NASDAQ:BAGL). DNKN and BAGL are interesting comparisons to KKD because they represent larger and smaller competition to KKD respectively, as judged by market cap. In the interest of avoiding repetition I have not included Starbucks Corporation in this comparison; however, to see how DNKN and KKD match up to the large coffee maker, please refer to my previous article.
| | | | |
| --- | --- | --- | --- |
| Company | BAGL | DNKN | KKD* |
| Revenue Growth (2013) | 3.8% | 7.7% | 7.1% |
| Revenue Growth (2014) | 5.3% | 7.4% | 9.4% |
| Revenue Growth (2-Yr. Avg.) | 4.55% | 7.55% | 8.25% |
| EPS Growth (2013) | -5.3% | 19.5% | 34% |
| EPS Growth (2014) | 16.7% | 18.3% | 15.9% |
| EPS Growth (2-Yr. Avg.) | 5.7% | 18.9% | 24.95% |
(Numbers from Yahoo! Finance, as of 6/29/13)
**KKD fiscal year ends in February, company is currently in fiscal 2014, KKD fiscal years are adjusted above to remain comparable to peers
The projected trend for all three companies over the next two years is for overall solid growth coming in the form of single-digit revenue growth and double-digit earnings per share growth, with BAGL's fiscal 2013-year EPS being the lone exception. While it is somewhat surprising to see the smallest company by market cap, BAGL, with the slowest overall growth it is KKD, the second smallest company, that is projected to lead all listed competitors in both revenue and EPS growth on average in 2013-2014.
However, in order to put KKD's growth projections into perspective it is useful to analyze the company's historical growth rates and observe overall trends. The following is a breakdown of Krispy Kreme Doughnut's historical revenue/earnings per share numbers over the last seven years:
| | | |
| --- | --- | --- |
| Fiscal Year* | Revenue | EPS |
| 2006 | 461.2M | -0.68 |
| 2007 | 429.32M | -1.05 |
| 2008 | 383.98M | -0.06 |
| 2009 | 346.52M | 0.00 |
| 2010 | 361.96M | 0.11 |
| 2011 | 403.22M | 2.33 |
| 2012 | 435.84M | 0.30 |
(Numbers from MSN Money, as of 6/29/13)
*KKD fiscal year ends in February, company is currently in fiscal 2014, KKD fiscal years are adjusted above to remain comparable to peers.
Management at Krispy Kreme Doughnuts has a rather poor track record of revenue and earnings per share growth over the last seven years. Accordingly, I have avoided giving the usual accompanying growth rates for the historical data to avoid major distortions and false readings.
When it comes to revenue, the company has experienced a negative year-over-year change four times in the last seven years. On a seven-year total change basis, revenue has declined 5.4% from 2006's $461.2 million to 2012's $435.84 million.
Interestingly, what is projected to be the most robust aspect of KKD's future growth over the next two years, its earnings per share growth, is also one of the company's weakest aspects historically. The company has failed to report yearly profitable earnings four times in the last seven years, all of which occurred consecutively from 2006-2009. Additionally, the company has experienced a negative year-over-year EPS change twice in the last seven years. On a seven-year total change basis, earnings per share has grown 144.1% from 2006's -$0.68 to 2012's $0.30.
Although the company has struggled greatly to grow revenue and earnings per share in the past, there is an improving trend with regards to both. Starting in 2009, revenue has grown every year since and earnings per share for the company have not once been negative, although EPS still declined in 2012.
When viewed in context to the historical data, management at Krispy Kreme Doughnuts finally looks to be on the right path with regards to growth. Solid revenue and EPS growth estimates for 2013-2014 stand in stark contrast to the company's poor seven-year growth history.
Fundamentals
| | | | |
| --- | --- | --- | --- |
| Company | BAGL | DNKN | KKD |
| Market Cap | 245.84M | 4.56B | 1.14B |
| Total Debt | 130.76M | 1.84B | 24.14M |
| Total Cash | 7.47M | 179.19M | 74.72M |
| 2013 Projected Revenue | 443.29M | 709.06M | 466.58M |
| ROIC | 5.71% | 2.49% | 7.81% |
| ROIC (5-Yr. Avg.) | N/A | N/A | 14.9% |
| P/E (trailing) | 20.58 | 45.7 | 52.88 |
| P/E (forward) | 13.52 | 23.66 | 23.9 |
| Net Profit Margin | 2.78% | 15.9% | 5.08% |
| Dividend/Yield | 0.50/3.5% | 0.76/1.8% | N/A |
(Numbers from Yahoo! Finance, MSN Money, as of 6/29/13)
Krispy Kreme Doughnuts fares much better in the fundamentals category, leading peers in several categories in fact. The first major discernible difference between the three listed companies is size, as judged by market capitalization. BAGL is by far the smallest company with a market cap of $245.84 million and DNKN is by far the largest with a market cap of $4.46 billion. KKD is squarely in the middle with a market cap of $1.14 billion. The company is approximately four times the size of BAGL and approximately one-quarter the size of DNKN.
Fortunately, despite being the second-largest company KKD has the least amount of debt, both in absolute terms and in relation to market cap. KKD's $24.13 million in total debt is equal to only 2.11% of the company's current market cap. This compares very favorably to both BAGL and DNKN, with debt that is equal to 53.18% of market cap and 40.35% of market cap respectively. Additionally, KKD also has the highest amount of cash in relation to market cap among listed peers. KKD's $74.72 million in cash is equal to 6.55% of the company's current market cap, which compares favorably to BAGL's 3.03% and DNKN's 3.92%.
When it comes to the highly regarded return on invested capital metric, an effective measure of management's ability to invest in company operations and generate returns off those investments, KKD once again leads all listed competitors. At 7.81%, KKD's ROIC is more than triple that of DNKN's and significantly better than BAGL's as well. The more robust five-year average ROIC for KKD of 14.9% indicates that management has a solid history of efficiently managing capital investments and generating above-average returns off those investments.
As was the case in my previous analysis on the industry, KKD remains the most expensive on both a trailing twelve-month basis and a forward twelve-month basis. BAGL's valuation levels are notably much cheaper than both competitors and this is to be expected, as the company is not projected to offer comparable growth rates to DNKN and KKD over the next two years. When comparing KKD's valuation to DNKN directly, the company's forward multiple appears reasonable as KKD is only slightly more expensive on a future twelve-month basis despite offering slightly better revenue growth and significantly better EPS growth. Although it is usually beneficial at this stage to compare current valuation levels to historical ones, I have refrained from doing so in the case of KKD as the company's negative EPS over the years prevents any meaningful comparison.
In the final two categories KKD struggles to match its listed peers. In terms of net profit margin, the company's 5.08% net margin pales in comparison to that of DNKN's impressive 14.9% and is even substantially lower than the industry average of 10.84%. Finally, KKD does not pay any regular dividends while BAGL's dividend of $0.50, equal to a yield of 3.5%, is significantly more substantial than DNKN's dividend of $0.76, equal to a yield of 1.8%.
Growth Catalysts
*KKD is currently in 2014 fiscal year, which began in February 2013
Krispy Kreme Doughnuts recently reported Q1 2014 earnings on May 30, and the results were most impressive, sending shares up over 17% the next day. Net revenue for the first quarter came in at $120.6 million, up 11.2% from Q1 2013's $108.5 million, which beat the consensus estimate of $116 million. Net income for the quarter came in at $8.0 million, or $0.11 per share, an increase of 37.5% from Q1 2013's $6.0 million, or $0.08 per share. Adjusted earnings per share came in at $0.20, which was up 42.86% year-over-year and significantly beat the consensus estimate of $0.17.
Perhaps even more significant than the company's revenue/earnings beat was that management also raised the company's full-year earnings guidance. Management now expects fiscal-2014 EPS to be in a range of $0.59-$0.63, up considerably from the company's own recently projected range of $0.53-$0.57. Chairman, President and CEO James H. Morgan explained in the most recent earnings call, "We have now raised the bar on our earnings performance and we believe we have embarked on a long-term pay up, which will be one of ongoing and sustainable growth for many years to come."
Driving this growth in the first quarter was impressive strength in all four of the company's main business segments; Company Stores, Domestic Franchise, International Franchise and KK Supply Chain. All segments grew at or above approximately 7% in Q1 of fiscal 2014.
In Q1 2014, Krispy Kreme Doughnuts' Company Stores, which include all stores operated directly by the company as opposed to being franchised out, experienced their 18th consecutive quarter of same-store sales increases. Same-store sales rose 11.4% in the first quarter year-over-year due primarily to a mix of increased customer counts and higher pricing. Although management was careful to explain that double-digit same-store sales growth for the full year is not expected, CEO Morgan stated in reference to the remainder of fiscal 2014, "We do expect to have continued gains in same-store sales."
In order to drive growth in existing Company Stores in the future, management is employing a five-tiered approach: promote new event-driven 'doughnut-use occasions,' add more flavors to the brand's core doughnut product line, expand the brand's beverage business through increased marketing and promotion, further increase overall brand strength through the use of social media and local marketing engagements and finally, add further enhancements to the consumer experience inside all restaurants by focusing on atmosphere and customer service.
Outside of making improvements to existing Company Stores, management is also expanding the company's store count by continuing to add 'small, freestanding factory shops' that will serve retail guests only and not be included in the company's wholesale network. CEO Morgan further explained that the new shops "have the full doughnut-making capability of traditional stores, but are substantially smaller than a traditional doughnut factory." Currently, the company has only three of these small shops operational but management plans to add 7-8 additional shops by the end of the year.
On the franchising front, Domestic Franchise first-quarter revenue grew to $2.9 million, up 9.0% from last year's comparable quarter revenue of $2.6 million. The segment's Q1 growth, which occurred in spite of lower franchise fees, was driven in large part due to higher royalties. Going forward, management expects franchisees will open up more than 10 new stores throughout the remainder of the year in the domestic market. When combined with company stores in the United States, management anticipates the company's total domestic store count will approach 400 individual shops by January of 2017, which would be a significant increase from the company's total current domestic store count of 231.
International Franchise revenue grew to $6.4 million in the first quarter, up 6.9% from last year's comparable quarter revenue of $6.0 million. The segment's growth once again reflects higher royalties but also higher initial franchise fees. On continued international expansion CEO Morgan further explained, "We look to have 900 international shops in operation by the end of January 2017, through a combination of development in existing markets and the entering of new markets such as Taiwan and Moscow, among others." CEO Morgan went on to explain that the company, as of May 30, had approximately 360 shops in the international pipeline and had further plans to continue its expansion in Central and South America as well as Europe.
Finally, the company's KK Supply Chain segment grew first-quarter revenue to $59.8 million, up 11.2% from last year's comparable-quarter revenue of $53.8 million. When backing out orders that went directly to company stores, the segment still grew revenue an impressive 10.9% in the quarter. Operating income for the segment also grew 20% year-over-year to $10.2 million, up from last year's comparable quarter operating income of $8.5 million.
Risks
Some of the primary risks for investors considering shares of KKD are the stock's current and forward valuation and the chart's relentless push upward, approaching 90% appreciation year-to-date. While not significantly more expensive than most of its small-cap peers on a forward-looking basis, the stock is still expensive on a trailing twelve-month basis. Additionally, while still trading above all key moving averages it is entirely possible that the stock needs time to settle down and that likely means a near-term drop in share price to at least the 50-day moving average.
Although the stock has traded very well in recent weeks despite broad market declines and a surge in volatility, the stock may pull back in anticipation of the company's next earnings announcement or immediately after. Towards the end of the company's latest conference call, CFO Douglas R. Muir seemed to set the stage for at least a modest pullback, cautiously warning that, "In recent years, the first quarter has been the strongest quarter of our year" and that overall comparisons for the next three quarters of the year will only become more difficult.
Another major area of concern is the company's extremely volatile and sporadic history of revenue and earnings per share growth. While the trend has no doubt improved in recent years and is projected to continue doing so in fiscal 2014-2015, the fact remains that company management has not been consistent in the past growing revenue/EPS. A solid history of growth is encouraging to investors and at the present time Krispy Kreme Doughnuts does not measure up in this regard.
Finally, a major risk for Krispy Kreme Doughnuts is one that would likely affect all companies in the restaurant industry and that is the threat of a slowdown in domestic and global economies, which could negatively impact consumer-spending habits. A quick look at Krispy Kreme Doughnuts' performance in 2007-2009 illustrates the drastic effects a global slowdown can have on a company so dependent on the consumer's willingness to spend.
Conclusion
As much as CEO James Morgan does not want his company's brand compared to chains like Dunkin' Donuts and Starbucks, I think the stock and its growth story is best viewed in relation to the former's stock. While Dunkin' Brands Group is a larger company with a much more solid track record of growth, Krispy Kreme Doughnuts likely remains the riskier but ultimately more lucrative long-term investment.
Although the company's revenue/earnings per share growth history is nowhere near where it should be, it remains just that, history, and investors considering shares of KKD have to look to the company's future growth prospects for a better understanding of the stock's potential. On the whole, management's strategy to leverage the Krispy Kreme brand's popularity to increase product offerings and expand in domestic and international markets remains a solid one. More importantly, the company's most recent earnings beat and conference call indicate that management's strategy is finally beginning to pay off for shareholders.
While the opportunity to purchase shares may not be perfect for investors at current levels, the growth story for Krispy Kreme Doughnuts looks brighter than it's ever been before. As such, when presented with a sizable pullback, I believe investors with a long-term focus can pick up shares of KKD for continued Krispy growth and Kremey returns.
Disclosure: I am long SBUX. I wrote this article myself, and it expresses my own opinions. I am not receiving compensation for it (other than from Seeking Alpha). I have no business relationship with any company whose stock is mentioned in this article.