Executive Summary
Macy's Inc. (NYSE:M) is one of the best known names in retail. When visiting nearly every major mall nationwide, it's often difficult to miss seeing a Macy's department store as one of the staples of the mall. Macy's operates about 800 stores throughout the country, and also owns and operates 36 Bloomingdale's stores. Sales for 2012 were $27.7 billion and many analysts project even higher sales in 2013.
Market Strengths and Catalysts
Macy's is extremely strong compared with many of its competitors. Over a 20-year period, Macy's stock has outperformed Saks Inc. (NYSE:SKS), and J.C. Penny (NYSE:JCP) considerably.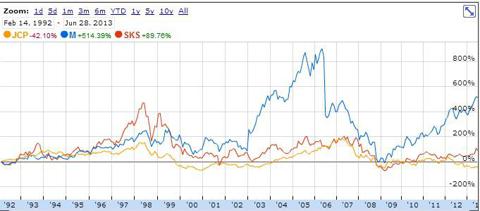 Chart Courtesy of Google Finance
Macy's is strongly positioned as a retailer that is adapting to the changing demand in how people shop. Macy's has invested in the infrastructure needed to profit from retail, online and mobile sales. Macy's is focusing on what it calls "Omnichannel," meaning that its stores, websites, and mobile and tablet platforms all work in unison seamlessly. Stores should also see an increase in the way technology aids shopping; including tablets conveniently placed in stores and increased mobile phone customer interactions. Macy's hopes this will help it maintain a loyal customer base in the "millennial generation" market segment. Increased customer interaction through various marketing techniques including social media (Twitter, Facebook, Instagram, etc.) are an integral part of Macy's success going forward.
A major catalyst is that same-store sales are improving, which is always a sign of retail store success. Macy's same-store sales have increased 3.8% for the first quarter 2013. A continued recovery in the U.S. economy will lead to increased sales for the upscale department store. 2014 should be an even stronger year in terms of economic growth.
Another current catalyst for Macy's includes a potential lawsuit win over JCP regarding the authorization for selling Martha Stewart Home Goods. If Macy's wins the lawsuit, it will be the sole distributor of Martha Stewart's home products.
Risks?
1.) Competition - Competition is always a risk factor for retailers, as both small and large competitors could emerge. Partnerships amongst Macy's competition could also be a risk factor in attempts to steal Macy's market share. Macy's protects against this by being the largest retailer, and maintaining a strong grasp on what its competition is doing. This risk factor is rather small, as in many areas of the country Macy's is the only higher-end retail store available. Many areas of the country do not have Saks stores available nearby, and stores like JCP and Sears (NASDAQ:SHLD) simply do not carry the same designer brands Macy's does.
2.) Consumer Spending - Fashion industry tends to move quickly and consumer spending and consumer preferences can change in a heartbeat. Fortunately, Macy's mission to continually satisfy its customers allows it to predict and adjust to changes in consumer spending habits and style changes. In addition, general economic conditions are the key factor in determining consumer discretionary spending. Any declines in consumer discretionary spending could negatively affect Macy's sales. Fortunately, economic outlook is improving, so the opposite effect is likely to occur.
3.) Seasonality - Much of the retail fashion business's sales are affected by seasonality of particular items. The majority of sales tend to congregate around the second half of the year, particularly during the holiday season. If you have ever been in a Macy's store towards the end of the year, you understand how such a large percentage of sales can occur in such a short period of time. It is important to note however that costs also increase during this time, in order to prepare for the holiday season. Advertising, temporary seasonal employees, and increased inventory are the primary drivers of these increased costs.
Other smaller risk factors include that Macy's has recently been criticized over the treatment of employees, particular those employees who are immigrants. The company has also reported that Q4 EPS estimates should be around $1.94 to $1.99, while many analysts were anticipating EPS of around $2. Fortunately, this news has already been priced into the stock.
Conclusion
Macy's as a retailer has always performed strongly, and there is no reason to believe performance will be slowing down. Macy's is currently undervalued. M currently trades at a price-to-earnings ratio of 14, compared with an industry average P/E of 25. Considering Macy's is one of the largest, most respected names in the industry, this P/E seems far too long compared with its competitors. Like many of my stock recommendations, Macy's also pays a dividend of 2%, compared with an industry average of just 1.46%. Analyst recommendations strongly favor buying the stock at current levels. Although Macy's stock appears to be a buy now, the potential weak earnings report is scheduled for August 14, which could create an opportunity to pick up more shares cheaply.
Disclosure: I have no positions in any stocks mentioned, and no plans to initiate any positions within the next 72 hours. I wrote this article myself, and it expresses my own opinions. I am not receiving compensation for it (other than from Seeking Alpha). I have no business relationship with any company whose stock is mentioned in this article.