By Sumit Roy
It was a horrible quarter for commodities, particularly for metals, which all fell double-digit percentages in the period. Stocks fared better. The S&P 500 rose 2.6%, taking its year-to-date gain to 12.9%.
Macroeconomic Highlights
The quarter was characterized by a continued, gradual recovery in the U.S. economy -- bolstered by a very strong housing market -- contrasted with tepid growth in China. Also making waves at the end of the quarter was the Federal Reserve, which raised the possibility of an end to its bond-buying programs later this year.
All of the U.S. housing market indicators on sales, prices, and construction are at multiyear highs, typically the highest levels since 2006 or 2007. However, with the Fed potentially set to rein in stimulus, some traders fear that the boom in housing could be derailed.
The exact timetable for the end of QE is uncertain. Fed Chairman Ben Bernanke has suggested that tapering could begin at the end of this year, with a complete end of bond-buying by the middle of next year. That said, if economic growth doesn't recover -- revised estimates showed that GDP only grew by 1.8% in the first quarter -- the Fed could maintain QE longer than expected.
Finally, China's economic expansion continued at a slower pace in the second quarter. Economic growth is expected to come in around 7.5% annualized.
Commodity Wrap
| | | |
| --- | --- | --- |
| Commodity | Quarterly Return | YTD Return |
| Soybeans | 11.39% | 10.29% |
| WTI | 0.17% | 6.08% |
| Corn | -4.32% | -4.73% |
| Wheat | -4.80% | -15.81% |
| Brent | -6.46% | -7.38% |
| Copper | -10.29% | -16.44% |
| Natural Gas | -10.70% | 7.16% |
| Palladium | -14.51% | -6.32% |
| Platinum | -14.91% | -13.12% |
| Gold | -23.39% | -26.89% |
| Silver | -31.66% | -35.91% |
Gold lost a whopping 23% in the second quarter, the worst decline since at least 1920, according to Bloomberg. Silver fared worse, with a 36% decline.
While the end of QE has been cited as a reason for gold's demise, the plunge in prices actually began late last year when QE was seen as continuing for the foreseeable future. In our view, there were many factors responsible for the yellow metal's decline: strong gains in stocks markets, which hit record highs in the U.S.; a lack of meaningful inflation following three rounds of QE; and the fact that investment demand hit a saturation point (everyone that was going to buy had already bought).
Currently, gold is a broken commodity. Eventually, prices will bottom. But as the market proverb goes, "never catch a falling knife." Long-term investors may do well by buying at these prices (see "Jim Rogers: I Bought More Gold Today; Bull Market Far From Over"), but we opt to remain on the sidelines until there is evidence of stabilization.
Gold
Silver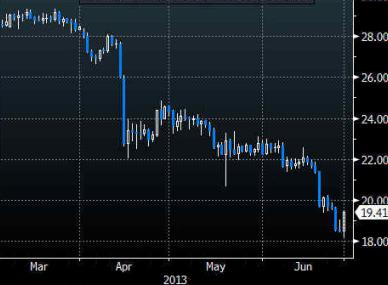 Platinum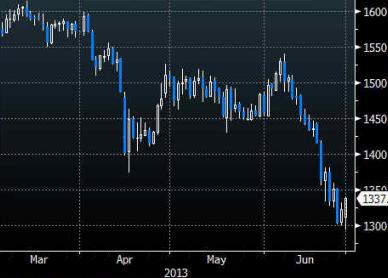 Palladium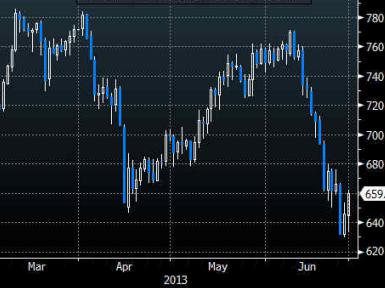 Crude oil saw mixed performance as Brent sagged, while WTI eked out a gain thanks to a narrowing of the U.S. benchmark's discount. Overall, the crude market is amply supplied, with U.S. production and inventories at multiyear highs. Moreover, the demand picture isn't very robust given the tepid growth in China. For now, oil is considered range-bound, but we hold a bearish medium-term view on prices (see "Brent Headed Below $100 As Inventories Pile Up").
Brent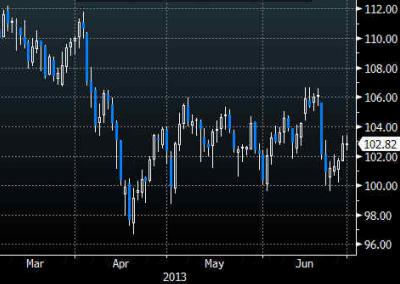 WTI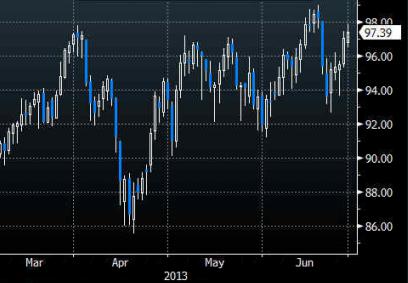 Grains saw mixed performance this quarter as soybeans spiked, while corn and wheat retreated. All three grains are expected to be sharply lower by the end of the year following today's acreage report from the USDA. Farmers have planted corn on 97.379 million acres (a 77-year high), soybeans on 77.728 million acres (a record high), and wheat on 56.53 million acres (a four-year high). However, soybeans for near-term delivery rallied to multimonth highs on the prospect of tight supplies until the next harvest.
Corn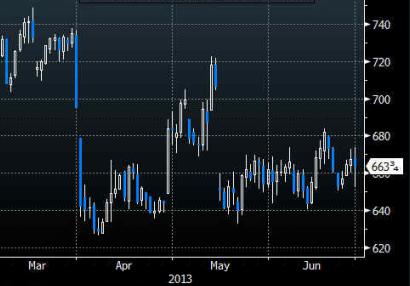 Soybeans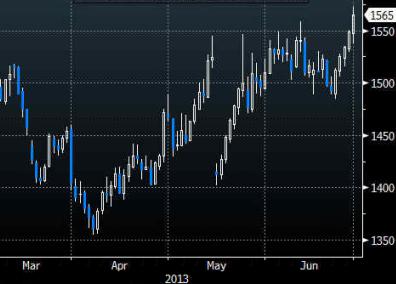 Wheat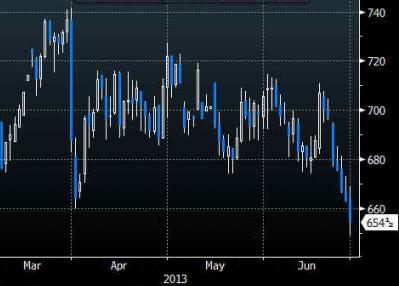 Copper fell to three-year lows near $3/lb as elevated inventory levels and concerns about China weighed on it.
Copper
Natural gas plummeted amid a mild start to the summer cooling season. While inventories remain in a deficit vs. the five-year average, that is not expected to be the case in the coming weeks (see "Mild Weather Pushes NatGas Into Downtrend, Deficit Will Disappear In July").
Natural Gas