Less than a month ago, I wrote an article where I identified five things that might turn around Zynga (NASDAQ:ZNGA), the first of which would be a shake-up in management.
However, because Mark Pincus controls over 50 percent of voting shares, many may have thought this unlikely. I took a different view -- noting that this is not his first company -- but his fourth.
Today, Mr. Pincus decided enough was enough, bringing in Don Mattrick, the head of Microsoft's (NASDAQ:MSFT) Xbox division, to be the new CEO. This is exactly the game-changing moment that Zynga shareholders were looking for.
Cash Position
Buying the stock at these levels does not necessarily indicate a belief in Zynga's long-term strategy, which is now subject to Mr. Mattrick's revision. Zynga has a strong cash position that effectively puts a base on the stock -- with $1.80 of the price of the stock accounted for in its cash position. And depending how one values the harder-to-sell assets (long-term assets, real estate, etc.), the stock's assets account for a price of $3.17 -- roughly where ZNGA is trading at after-hours.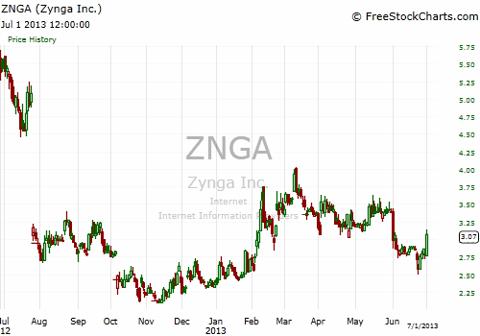 Beyond Online Gambling
Mattrick, as All Things Digital noted, was also rumored to be up for the top job at Electronic Arts (NASDAQ:EA), making this acquisition somewhat of a coup for a struggling company. The acquisition of Mr. Mattrick gives a much-needed vote of confidence from a high-profile executive, while also suggesting that Zynga might be moving to diversify beyond online gambling -- looking for a veteran who can help them monetize the race in mobile gaming and expand product lines.
The fact that Mr. Mattrick was willing to come aboard is also indicative that he will likely be given large reign to move Zynga in the strategic direction that he sees fit. It would be surprising for such a high-profile and coveted candidate to take a figurehead role.
That demonstrated experience is just what Zynga needs in the boardroom. Under Mr. Mattrick's guidance, Xbox 360 installations grew to 80 million worldwide, eight times the user base that existed when he started.
Mattrick also led the strategy that grew Xbox Live memberships to 50 million from just 6 million -- an increase more than eight times. That is going to come in handy for Zynga, which is struggling with a transition to mobile gaming.
This is where he can perhaps move the needle the most, as gambling still relies heavily on government. King and Supercell are the current dominant forces in mobile -- with King specializing in synchronized gaming, or games that can be played seamlessly across multiple platforms, including mobile. Synchronized gaming is the future -- and with Mr. Mattrick's experience across Microsoft's gaming properties, it adds a much-needed feather to Zynga's cap.
Mr. Mattrick had been with Microsoft since 2007. Mattrick founded a gaming company, Distinctive Software, when he was 17 years old. That firm was acquired by Electronic Arts, where Mr. Mattrick went on to serve as president prior to joining Microsoft.
Future Catalysts
Zynga was once a leader and pioneer -- but the company has since lost that luster. With the stock falling 72 percent from its Q2 2011 highs, now was exactly the time that Mark Pincus needed to make a move, and he did. But securing a Microsoft executive was more than many expected or even hoped for.
With the first of my targeted catalysts out of the way, I continue to look for the following as potential catalysts for additional gains in ZNGA:
Government change in online gaming policy, even around the margins. Three states -- Las Vegas, New Jersey and Delaware -- currently allow online gambling and more are expected to join them. Charles Cohen, chief executive of a UK-based gaming maker, Probability Plc, has predicted that half the U.S. population will live in a city with legalized online gambling. Keep an eye on Congress and a potential Federal bill that could either support or derail this prediction.
Zynga's mobile bookings, particularly relative to declines in the desktop. In last month's warning, Zynga also warned that bookings would come in below expectations. But, with a large emphasis on mobile, growth in that market is really all that matters.
Real money gaming performance in the U.K. Zynga's partnership with bwin.party is going to be critical for Zynga moving forward -- as a case study in a challenging market. How Zynga is penetrating that market will truly prove interesting.
Zynga's Q2 earnings release and comments in July. Zynga is likely to get grilled on the conference call following its Q2 earnings release. How it answers these questions will be important in determining whether bears stop their assault on the stock.
Disclosure: I have no positions in any stocks mentioned, but may initiate a long position in ZNGA over the next 72 hours. I wrote this article myself, and it expresses my own opinions. I am not receiving compensation for it (other than from Seeking Alpha). I have no business relationship with any company whose stock is mentioned in this article.