When I first wrote about Polar Petroleum (OTC:POLR) on May 23, Polar was flying high. Polar Petroleum's stock was up 3,960% from the beginning of the year. Since then, the fortunes of the company have taken a turn for the worse. Unfortunately for shareholders, all of that run-up was due to an illegal pump-and-dump. Then the news came from the SEC on June 10 that it was suspending trading for 11 days. Here is the quote from the SEC: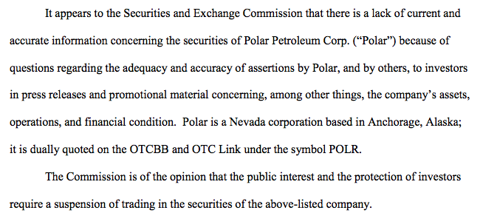 The company was "pumped" by Ken Williams of the "Hard Asset Report." Here is the original pump. That link will be dead soon, so here is a screenshot of the "report."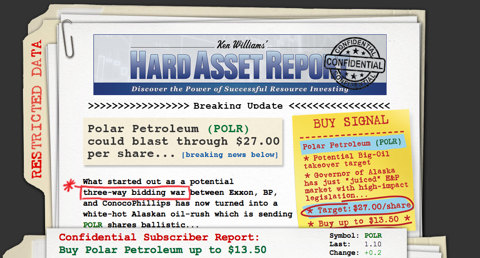 This report, which Ken Williams was paid $2.66 million to make, was exactly the "promotional material" which the SEC was referring to.
When the SEC goes as far as to suspend trading in the stock and raise these sort of concerns you could expect a total bloodbath when the stock resumes trading. In this case, when Polar Petroleum reopened on June 24th, that is exactly what happened. On the first day, it resumed trading it fell almost 90%.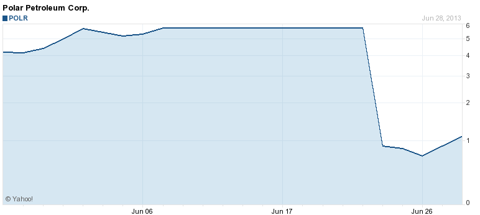 Since then the stock has rallied somewhat, and was up 22% on Friday. Despite the 22% "rally," the company has lost over 200 million in market cap since the suspension. This is only due to the fact that shorts are covering and the stock is very thinly traded. Here is the Short Interest in the stock.

While the short interest of 185,422 is only a sliver of the 42 million shares outstanding, it represents a significant portion of the average daily volume of 216,000 daily shares. Obviously most of this was caused by shorts covering, as I was quoted a bid/ask of $.70/$.95 to cover a short. This, combined with maybe some completely unwarranted speculation in the stock, has caused Friday's pop. Polar Petroleum is now currently listed on the Grey Market, which is for OTC companies that have been running promotional campaigns without providing enough information or are being investigated for fraud or other criminal activities. My advice from my first article on this company stands true today, you should simply stay as far away as possible from this company as possible.
Disclosure: I have no positions in any stocks mentioned, and no plans to initiate any positions within the next 72 hours. I wrote this article myself, and it expresses my own opinions. I am not receiving compensation for it (other than from Seeking Alpha). I have no business relationship with any company whose stock is mentioned in this article.