Over the course of over 30 years of observing and participating in markets, the strategy I have seen used most successfully by investors of all ages and experiences has been dollar-cost-averaging in stock indices. While buying a fixed dollar amount of a widely held and much accumulated market month in month out, year in year out, may sound mundane and oversimplified, I can tell you from experience it delivers. I've been thinking about this simple effective strategy lately as a way to take advantage of a major shift we are seeing in the currency markets which could mean a long-term bull market for the U.S. dollar.
We like the U.S. Dollar Index for a variety of reasons, one of which is the rate of economic growth in the U.S. relative to competing economies around the globe. The gross domestic product, or GDP, of a nation or region is widely considered the economic standard of well-being.
Here is a list of the current GDP levels for the major countries with freely traded currencies, followed by a monthly chart of the U.S. Dollar Index in Figure 1.
United States GDP +1.8%
Japan GDP +1.0%
Australia GDP +0.6%
Great Britain GDP +0.3%
Canada GDP +0.1%
Europe GDP -0.2%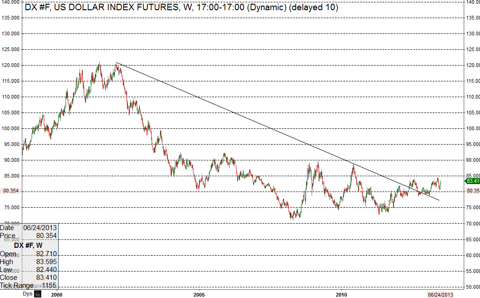 Figure 1. Monthly U.S. Dollar Index Chart
While many of us in both the U.S. public and private sectors would like to see a gross domestic product upwards of 2 to 3%, when compared to the growth rates of our trading partners, the U.S. at just below 2% is not bad at all. Given trends in global growth tend to be entrenched, and take much time and effort on behalf of central bankers, business leaders, and politicians to shift, it seems likely the U.S. will stay the leader on the list of the least slow growth.
Continued slow global growth also lends itself to softer demand for commodities, a trend that is already making headlines in 2013 with the continuing collapse in the price of gold, and now lower agricultural prices. And just as rising commodity prices equate to a weaker U.S. dollar, as it takes more dollars to purchase the commodities, falling commodity prices mean a stronger U.S. dollar, as dollar holders can buy more of a commodity for the same dollar amount. The cyclical nature of commodities and their inverse relationship with the U.S. dollar makes a strong case for a historic shift higher for the Greenback, just as it made a strong case for a bear market in the U.S. dollar starting in 2002-03.
The bottom line: we like the prospects for going long the U.S. Dollar Index, or UUP, which is an ETF which mimics the Greenback. And we also like the idea of dollar cost averaging UUP over the coming years in an investment or retirement account versus a trading account. There are a couple of more reasons to like the U.S. dollar such as America's newfound energy independence, and an eventual uptick in interest-rates, but the surest sign we see of a higher dollar, and why you should risk your retirement funds by going long it, is its inverse relationship with commodities.
Disclosure: I am long UUP. I wrote this article myself, and it expresses my own opinions. I am not receiving compensation for it. I have no business relationship with any company whose stock is mentioned in this article.