Setting The Backdrop
One of the strongest secular growth trends I feel just beginning to take off is that of mobile security. First, let's start with the two interconnected paradigm shifts well underway; the shift from regular cellphones to smartphones and the shift from PC to mobile. I could probably write a whole additional article on this movement towards mobile Internet, but I think these few images adequately convey the message.
The slide below shows smartphone subscribers as a percentage of total mobile subscribers and smartphone subscriber yearly growth on a country-by-country basis. Overall, smartphones have only penetrated a surprisingly small fraction of the population, 21%, and the smartphone subscriber base is expected to grow a torrid 31% in 2013.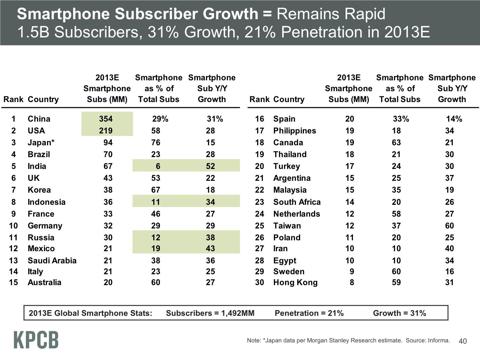 As more and more people begin to own smartphones, a larger share of overall Internet traffic will come from mobile rather than traditional Internet sources, a trend likely to maintain its steep growth trajectory into the future as seen below.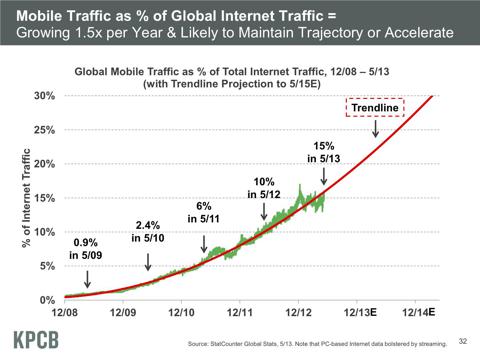 The logic goes that as traffic shifts towards mobile, malware will in turn shift its focus towards mobile. And we are beginning to see just that, as distinct malware attacks grew from 24,794 in 2011 to 65,227 in 2012, a 163% increase! Additionally, over 32.8 million Android devices were infected in 2012, growing from 10.8 million in 2011. As we use our phones more often in ways that reveal our tightly held information, such as entering our credit card info to make an online purchase, it only makes sense that the malware network follows us to mobile. And we'll see malware attacks getting more complex and creative in the future, further stressing the need for a formidable mobile security provider. And that's where NQ Mobile comes in as a strong play on this trend.
Company Background
NQ Mobile (NYSE:NQ), originating from Beijing, China in 2005, is the leading global provider of mobile security products, as well as offering mobile gaming and enterprise solution products. As of its most recent quarter, it had a user base of 404 million users in over 150 countries. It currently has a dominating presence in its home of China with a 56% market share for mobile security, and is beginning to rapidly expand internationally. NQ Mobile is widely considered best-of-breed in the industry, as backed by West Coast Labs (one of the world's leading independent test facilities for information security products) recent test where NQ largely outperformed its competitors on a wide range of categories. NQ software detected over 96% of the samples tested, over 55% more than any other competitor.
NQ mainly provides solutions for Android devices, as it's the platform of choice for almost 95% of malware threats, and the reviews on Google Play for its host of apps (i.e. NQ Mobile Security, NQ Mobile Vault, NQ Family Guardian, etc.) are extremely favorable. NQ does not have as significant of a presence on Apple or iOS devices simply because these products have very limited malware vulnerability - don't worry though, to the surprise of many, Apple controls less than ¼ of the global market share. The company operates on a "Freemium" business model where it provides users with free services with the option to upgrade to a selection of premium services to meet individual needs.
Financial Performance
NQ Mobile reported record net revenues of $33.2 million in 1Q13, up 108% year-over-year. Over the last few years, NQ has been able to successfully grow its revenue continuously; partially through organic growth as it expands globally, and part due to a few key acquisitions the company has recently made. NQ acquired 100% of Feiliu in November 2012, a leader in Chinese mobile gaming. Feiliu, renamed FL Mobile, is the #1 mobile game publisher on the iOS platform in China and gives NQ entry to the hot mobile gaming industry that is projected to have a 30% + CAGR over the next 4 years. Furthermore, FL Mobile is likely to report revenue in 2Q13 up 80% - 90%+ over 1Q13. NQ also went out and acquired a 55% majority stake in NationSky, a leader in Chinese enterprise mobility services with over 1,250 large and medium enterprise customers.
These acquisitions have allowed NQ to diversify its revenue stream, as in the last quarter, these two sources made up 28% of total revenue. But the company's revenue growth is not just masked by these acquisitions; NQ's Consumer Mobile Security revenues (its core division) increased 50.7% year-over-year in the first quarter of 2013. Much of this is due to the company's international expansion, as international revenues have increased from $6.2 million in 2010 to $17.7 million in 2011 and to $35.7 million in 2012. NQ has also had some nice growth in the number of paying user accounts, up to 9.2 million in 1Q13. Considering NQ has barely tapped the international market, combined with its exposure to red hot industries like mobile security and gaming, and along with the fact that it hasn't even turned to advertising as a source of revenue, growth prospects for NQ seem scary good. Below are some nice snapshots of NQ's impressive revenue growth.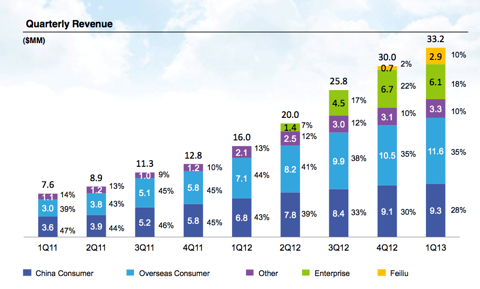 NQ Mobile also boasts healthy operating margins and cash flows. It posted non-GAAP operating margins of 29.9% and $4.4 million in operating cash flow in 1Q2013. The company has zero debt and $20 million in cash on its balance sheet. It reported non-GAAP net income of $10.5 million in 1Q, a 64% year-over-year increase. The company had GAAP diluted earnings per ADS of $0.05 and non-GAAP diluted earnings per ADS of $0.19, slightly beating estimates.
Valuation
Sure, it's great that NQ's revenues are growing over 100% y/o/y, something not easy to find these days, but that doesn't make it an automatic buy. We must first determine if the company is priced favorably. A company this young, growing this quickly, with its home base in China, is no easy task to value, but let's start with its P/E ratio. While some financial websites like Yahoo! Finance have its P/E quoted at around 39x ttm, be careful, this may not be the most accurate representation. Other websites have its P/E around 11x ttm, and what accounts for this difference is the decision to include stock based compensation. GAAP requires stock based compensation (SBC) to be included as an expense, therefore reducing EPS and increasing P/E multiples.
However, many technology companies have contested this choice of accounting (arguing that SBC is not truly operational as these high SBC expenses will not continue at the same pace as a young company matures), and choose to report non-GAAP earnings as well that exclude SBC expenses. In my opinion, this issue is something investors do not give enough attention to and can cause, as an example, Facebook's (NASDAQ:FB) 2013 E P/E to jump from 43x to 66x or LinkedIn's (NYSE:LNKD) 2013 E P/E to surge from 117x to 806x, depending on the inclusion of SBC or not. It's up to you to decide whether you think SBC should be included as an operating expense or not, but just remember to consider that currently NQ's SBC stands at 23% of revenue, much higher than most tech companies, and a proportion not likely to endure as the company begins to mature. If you chose not to include SBC as an expense, NQ currently trades at 8.3x next year's earnings, pretty unheard of for a rapidly growing tech stock, and easily besting what's most likely its largest competitor, QIHOO 360 (NYSE:QIHU), which trades at a forward multiple of 36.9x.
For a young company like this, it may be more informative to value the company on a Price/Sales basis. NQ currently has a Price/Sales ttm ratio of 3.86x, while the Software Industry has an average P/Sales of around 10x. Additionally, management has said it expects revenue for 2013 to be between $179 million and $184 million, giving NQ a forward P/Sales ratio of ~2.2x. These numbers would be dirt cheap for really any company, let alone one that is projected to grow its EPS 40% per annum over the next 5 years. However, this stock is not for the weak-hearted, as it currently has a beta of 2.37, and should be treated as a spec-stock.
Conclusion
NQ Mobile seems to be in the sweet spot of the mobile Internet tsunami just beginning to take over, while currently trading at an extreme discount to its peers. And if NQ hasn't intrigued you enough yet, there is also the lure of the company being a takeover target, as there's been recent chatter from Chinese Internet giants Baidu (NASDAQ:BIDU) and Tencent (OTCPK:TCEHY).
Disclosure: I am long NQ. I wrote this article myself, and it expresses my own opinions. I am not receiving compensation for it (other than from Seeking Alpha). I have no business relationship with any company whose stock is mentioned in this article.