In the last two weeks, Zynga (NASDAQ:ZNGA) has had two key press releases that we believe are game-changing for the company. The first was an acquisition of Spooky Cool Labs that came out on June 19th. The second release was after hours on July 1st announcing a CEO change from Mark Pincus to Don Mattrick.
Don Mattrick Named CEO
Don Mattrick previously worked as President of Microsoft (NASDAQ:MSFT)'s entertainment division. Mattrick was paramount to the Xbox's success which is illustrated by Xbox's user base from 10 to 80 million and Xbox Live's player network from 6 to 40 million active members. Before his time at Microsoft, Mattrick was president of Worldwide Studios at EA. We believe that the leadership and experience that Mattrick brings to ZNGA can help it to navigate the tricky gaming market.
Zynga's Acquisition of Spooky Cool Labs
The acquisition of Spooky Cool Labs was made to ensure ZNGA's successful transition from online gaming to online gambling. The importance of Spooky Cool Labs is their CEO, Joe Kaminkow. Kaminkow until recently was the vice president of game design for IGT, the largest casino game manufacturer in the world. Kaminkow has created over 1000 different casino products and was named one of the top 10 most influential people in the history of slots. Additionally, Kaminkow is currently Senior VP at Aristocrat, a company that specializes in producing casino gaming products. Joe holds 130 patents in game design, networking, and operations.
Harry Boxer of TheTechTrader.com's Technical Breakdown
ZYNGA - from last November to this past March ZNGA approximately doubled from 2.09 to 4.04, on heavy volume, especially during the February -March time period. At that point a major pullback/ retrace period began with the stock slipped back to test 2.50, where it bottomed last week and apparently began a snapback move. Today's 53.5 million shares price volume surge appears to have broken initial resistance and ZNGA should be headed higher. Once it takes out the 4.03 significant March high, it may begin to accelerate. Our targets near overhead resistance are near 3.6, 4 and then 4.75 where a major down gap from last July would be filled. Longer term targets could be near 7 & 9.50.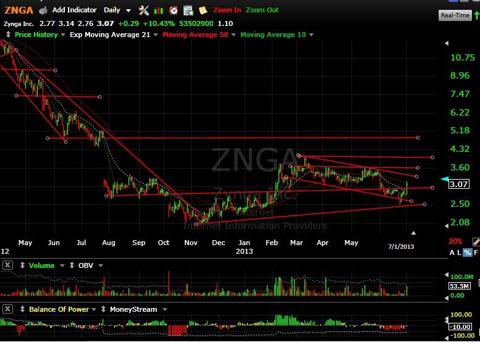 Click to enlarge
Conclusion
Zynga's announcement of its transition to online gambling markets has attracted huge attention from investors. ZNGA's two management acquisitions are key in ZNGA's future operations. With a new foothold in casino gaming and a CEO who has an outstanding track record in social gaming, ZNGA is now in a position for its share price to match its potential. The Focused Stock Trader has a $10 price target on ZNGA.
Disclosure: I am long ZNGA. I wrote this article myself, and it expresses my own opinions. I am not receiving compensation for it (other than from Seeking Alpha). I have no business relationship with any company whose stock is mentioned in this article.
Additional disclosure: The Focused Stock Trader (Powered by Contextuall.com) is a team of investment researchers focusing on the production of TheFocusedStockTrader.com newsletter. We did not receive compensation for this article (other than from Seeking Alpha), and we have no business relationship with any company whose stock is mentioned in this article.