The first half of 2013 has come and gone. Six months have passed so far this year, and generally speaking, they were good ones for the US stock market. Back when 2013 started, I discussed ten growth and ten value names to watch this year. With the first half of 2013 finished, it's time to see how these stocks did. Here, I'll discuss the performance of the 2013 value portfolio so far, examine why these names have risen or fallen, and discuss what to look forward to in the second half of 2013. Here are the links to the original two articles.
Overall performance:
The following table shows each name's performance for the first six months of 2013. Start prices are adjusted for dividends as per Yahoo! Finance, and the current price is last Friday's close to end the 1st half.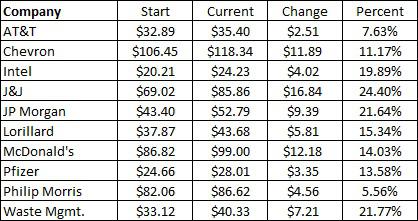 All ten names were up in the first half of 2013, with 8 of the 10 producing double digit gains. An equal-weighted portfolio of these names would have returned 15.50% for the first half of the year. That's above the 13.18% return of my 2013 growth portfolio, which actually saw five of its ten names lower for the first half. It's strange how things work out like this.
Also, the growth portfolio was able to beat its benchmark by 175 basis points. This value portfolio actually trailed its benchmark by 12 points, which isn't that much for six months. The benchmark here was the iShares Russell 1000 Value Index ETF (NYSEARCA:IWD), which gained 15.62% for the six-month period.
Overall, I'm fairly pleased with the results of this group of stocks. While they slightly underperformed the benchmark, it wasn't a tremendous difference, and a 15.50% return for six months is decent. Additionally, this portfolio beat the growth portfolio and had all ten names up. This portfolio didn't have any big losers (or losers period), but it didn't have two names return more than 60% like the growth portfolio did. One name even doubled in the growth portfolio. I have an update on that portfolio coming out soon as well.
Why did these names move?
It's important to examine why these names did what they did. I'll start with AT&T, which is the first name alphabetically. AT&T was actually the second worst performer of this group. After a strong start to the year, the stock was knocked down after a Q1 revenue miss. Declining wireline revenue and soft wireless subscriber adds were to blame. AT&T peaked at $39 around that report, and now trades for $35.30. As of Monday's close, the company's dividend yield stood at 5.10%, the highest yield of the ten names in this portfolio.
Chevron has produced a decent gain despite the fact that revenues and earnings are expected to decline this year. Despite a small increase in output, Chevron reported a nearly $5 billion decline in Q1 revenues this year, thanks to the decline in oil prices. Analysts are projecting further declines in Q2 and Q3 revenues. Chevron has come about $8 off its 52-week high, pushing the dividend yield up to 3.36%. Chevron announced an 11.11% dividend raise in late April, bringing the quarterly dividend from $0.90 to $1.00.
Intel managed to post a near 20% gain for the period, most of which came in the second quarter. Intel's first quarter results and second quarter guidance weren't terrible, and that was the key. With such a weak PC market, things could have been a lot worse for Intel. I've called this name a second half growth story, as they start to roll out some new products that are expected to boost revenues and margins later this year. Intel's stock has trended upwards ahead of this improvement, but Intel will still need to prove itself a bit with earnings still dropping and revenue growth being sluggish. Intel had a 3.77% yield as of Monday's close, the highest of any large cap technology name.
Johnson & Johnson was the best performer on this list, and it has been a slow climb higher as you can see in the chart below. At the end of April, the company announced a solid 8.2% dividend raise. The yield on this name is 3.04%. That's actually low, thanks to the stock raise which has pushed the yield a bit lower. Q1 results were solid, and this name has continued to be an investor favorite, with even more money flowing in over the past six months.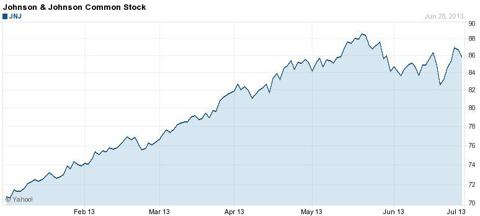 (Source: Yahoo! Finance)
I tried to pick a financial name for both the growth and value portfolios, so for the value one I chose JP Morgan. At the time, it had a 2.69% yield, one of the best financial dividends, and the company had actually been able to raise it recently. The company announced a large dividend hike in May, and the yield stands at 2.90% now. It is that raised dividend that helped make this the third best performer on the list. The company posted a mixed Q1, but the dividend and buyback make this one of the best big banks out there right now.
Lorillard is one of the two best cigarette names in terms of potential growth, and I'll get to the other one in a bit. Lorillard has basically been equal to the benchmark so far, posting a 15.34% return. The first important item to note in 2013 was the dividend raise to $0.55 per quarter, giving the name a 5.01% yield as of Monday's close. That's the second highest yield on this list, only trailing AT&T. Lorillard also announced a $500 million buyback program this year. Even though most cigarette names are grouped in the value investment category, Lorillard is expected to show revenue growth of nearly 7% this year and next. Thanks to the buyback, earnings per share growth is expected to be even higher.
People do have to eat, right? McDonald's is up more than 14% so far this year. Investors like the combination of a 3.09% yield plus a little bit of growth. This stock's 2013 rally started after the company beat on both the top and bottom line for Q4. The company has used an expanded menu and increased advertising to boost sales, with May being the first month this year to show positive sales growth in the US, Asia, and Europe. I don't expect fast food to be going away anytime soon, and McDonald's continues to be an investor favorite.
Pfizer shares saw a nice boost in early April after a sector-wide upgrade of the big pharma names combined with some positive drug results. The stock sported a decent 13.58% gain in the first half of the year, and the dividend yields 3.46% as of Monday's close. Recently, the company announced a new $10 billion buyback program, which is sure to boost investor confidence in the name.
Philip Morris has been my top value pick the last two years, and it was doing well until a couple of weeks ago. Now, it is the worst performer of the group, up just 5.56%. A $10 pullback has taken out a large portion of the year's gains. Philip Morris has a solid growth profile like Lorillard, and the recent pullback is a great opportunity for the company to buy back stock. It is that buyback program that sets this company apart from the rest, which is why the recent pullback may provide a golden opportunity. I expect this stock to rise again rather soon, especially as we get closer to the annual dividend raise. The yield currently stands at 3.88%.
Waste Management is another one of the top names on this list, returning almost 22% so far this year. The dividend yield was 3.59% as of Monday's close. There isn't a ton of regular news on the name, but the latest leg of the rally came after a mixed Q1 earnings report. Nobody likes garbage, but somebody has to get rid of it. When it comes to dividend champions, Waste Management has been a solid pick for some time now.
Final Thoughts:
It's been a solid first half of the year for the value portfolio. Despite just missing the return of the benchmark, a 15.50% gain in six months is nothing to shy away from. Depending on how you structured this group, you could have beaten the benchmark, with 4 of the names up about 20% or more. The 2013 value portfolio has outperformed the 2013 growth portfolio so far, and all ten value names had positive returns. All have solid dividends, giving investors some much needed income. I'm looking forward to see what the second half will bring, and whether or not this group can continue to deliver solid returns.
Disclosure: I have no positions in any stocks mentioned, and no plans to initiate any positions within the next 72 hours. I wrote this article myself, and it expresses my own opinions. I am not receiving compensation for it (other than from Seeking Alpha). I have no business relationship with any company whose stock is mentioned in this article.
Additional disclosure: Investors are always reminded that before making any investment, you should do your own proper due diligence on any name directly or indirectly mentioned in this article. Investors should also consider seeking advice from a broker or financial adviser before making any investment decisions. Any material in this article should be considered general information, and not relied on as a formal investment recommendation.