Fund managers filed over 150 SC 13D/G's last week, including almost 140 in small-cap equities. These 13-D/G filings are statements of significant ownership of more than 5% of the voting class of a company's securities, and they are also important due to their timeliness. While 13-F filings are quarterly, and are required to be reported within 45 days after the end of the quarter, 13-D/G's are required to be filed within ten days of the underlying transaction. Furthermore, 13-D/G's are often a precursor to a hostile takeover, company breakup or other "change of control" events, and will often include a letter to management explaining the reason for their taking a large stake in the company, thereby giving more insight into the transaction.
New York-based venture capital firm, Quogue Capital, filed SEC form SC 13G/A on Thursday, indicating that it sold completely out of its 2.91 million share position in Infinity Pharmaceuticals (NASDAQ:INFI) that it held at the end of 2012. Quogue is led by Wayne Rothbaum, and is focused on seed, early and mid-stage investments in the biotech industry. INFI shares have been hammered lately, down by two-thirds from their $50 highs in April. The decline accelerated after the company announced results of two phase 1 studies at the ASCO conference in early June. While both studies reported encouraging data for the lead drug in its pipeline, IPI-145, in Chronic Lymphocytic Leukemia (CLL) and in B-Cell and T-Cell lymphomas, investor reaction was decidedly negative over safety concerns. The stock has fallen another 40%-45% following the ASCO conference, and is currently trading near 52-week lows.
The negative reaction seems at least partly precipitated by the three patient deaths reported by the company in its conference call, as uncovered in the analysis by PropThink in a prior article. INFI shares were heavily sold by 79 legendary or guru fund managers in Q1/2013, prior to the recent fall. However, with shares now down almost 70% below the peak in April, less than three months ago, we believe that investor reaction to the ASCO data may be over-done. A number of brokers, including RBC Capital and Piper Jaffray would seem to agree. They came out in support of the stock shortly after the ASCO results were announced. While there are some competitive concerns about INFI's leukemia treatment relative to Gilead's product (NASDAQ:GILD) that was also a factor in Monday's big drop, we agree with Piper's recommendation that with INFI shares now in the mid-teens, the price is now "too cheap to ignore", and would start accumulating at these levels. The company has over $300 million or $6 per share in cash and cash equivalents, and besides testing IPI-145 in multiple indications, the company has other compounds in the pipeline, including IPI-443 for inflammation and IPI-504 for non-small cell lung cancer (NSCLC). Overall, of the ten analysts that cover INFI, seven rate it at buy or strong buy, and the remaining three rate it at hold, with a median target of $38, well above current prices in the mid-teens.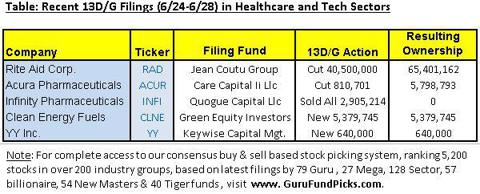 Click to enlarge
(Click to enlarge)
Besides INFI, the following are additional institutional 13-D/G filings in small-cap stocks last week (see table above):
Disclosure:
I have no positions in any stocks mentioned, and no plans to initiate any positions within the next 72 hours.
Business relationship disclosure: Business Relationship Disclosure: The article has been written by the Hedge and Mutual Fund Analyst at GuruFundPicks.com. GuruFundPicks.com is not receiving compensation for it (other than from Seeking Alpha). GuruFundPicks.com has no business relationship with any company whose stock is mentioned in this article.
Credit: Fundamental data in this article were based on SEC filings, Zacks Investment Research, Thomson Reuters and Briefing.com. The information and data is believed to be accurate, but no guarantees or representations are made.
Disclaimer: Material presented here is for informational purposes only. Nothing in this article should be taken as a solicitation to purchase or sell securities. Before buying or selling any stock you should do your own research and reach your own conclusion. Further, these are our 'opinions' and we may be wrong. We may have positions in securities mentioned in this article. You should take this into consideration before acting on any advice given in this article. If this makes you uncomfortable, then do not listen to our thoughts and opinions. The contents of this article do not take into consideration your individual investment objectives so consult with your own financial adviser before making an investment decision. Investing includes certain risks including loss of principal.