Oil has been on a tear lately and it has been one of the few commodity winners to talk about. It is obvious that hedge funds and the fast money are seeking refuge in the oil market, but the question now posed to investors is how much longer this rally can continue. Obviously there will be some resistance as the contract price on WTI approaches the $100/barrel benchmark, but is enthusiasm high enough here to push prices back to say $110/barrel or even $150/barrel? We think $150/barrel is most certainly out of the question, but we are curious as to how committed these new capital inflows are to a prolonged oil rally.
Chart of the Day: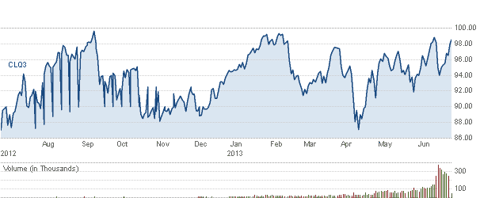 Source: CNBC
Commodity prices this morning are as follows:
Gold: $1258.20/ounce, up by $2.50/ounce
Silver: $19.605/ounce, up by $0.027/ounce
Oil: $98.08/barrel, up by $0.09/barrel
RBOB Gas: $2.7547/gallon, up by $0.0168/gallon
Natural Gas: $3.607/MMbtu, up by $0.03/MMbtu
Copper: $3.137/pound, down by $0.02/pound
Platinum: $1380.30/ounce, down by $2.20/ounce
Oil & Natural Gas
As we pointed out, oil prices have been doing extremely well as of late however it has not led to rallies in the oil equities. We have discussed this over recent articles and pointed out that it was troubling to us especially as our indicators seemed to be breaking down. Cheniere Energy (NYSEMKT:LNG) is one of those indicators and it managed to hold the $25/share level we highlighted as important, so what appeared to be a bearish move downward looks to have been merely a correction as we are trending higher now. We are continuing to pay close attention to the situation, but wanted to bring this to readers' attention this morning.
The bottom held here, so now our focus is on whether the stock can power through the $30/share level again.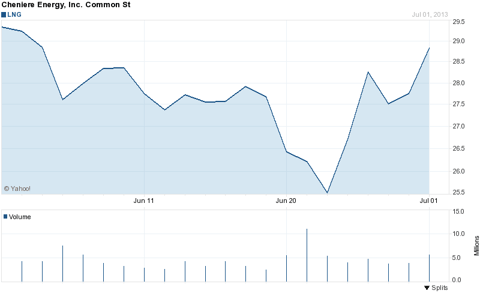 Source: Yahoo Finance.
With Cheniere ticking higher now the focus must shift to the momentum names we follow, such as Gulfport Energy (NASDAQ:GPOR), which is one of our largest holdings. We have seen the shares stall out and ignore the good news from analysts raising price targets and outlooks recently, which was troublesome. The past few sessions there has been a bit of a rally and we are anxious to see whether this can hold and lead to this group being able to take out recent highs. That would surely pave the way for future gains both in the momentum names and in the other well run oil and natural gas E&P companies.
Uranium
Much of our focus recently has been upon Ur-Energy (NYSEMKT:URG), which has defied gravity and continued its climb higher. The stock has left everyone in the dust, including producers such as Cameco (NYSE:CCJ) and Uranium Energy Corporation (NYSEMKT:UEC); two other names we are bullish of. For readers of ours who were not with us during the last uranium bull market we want to explain the industry and how the stock prices generally fluctuate.
Summer has claimed much of the gains some of the uraniums had, but defying the typical downturn has been Ur-Energy, which has nearly doubled since May.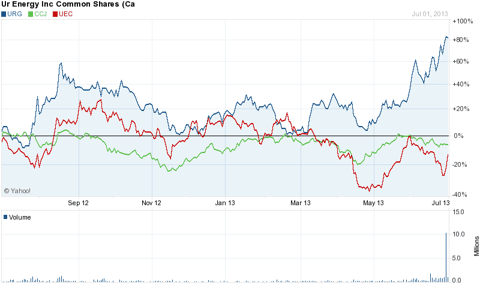 Source: Yahoo Finance.
First, in the early stages of the bull market the juniors who are bringing projects online tend to do best, a category that Ur-Energy finds itself in currently. Then the juniors who are in the exploration phase tend to power the sector higher as investors redeploy their gains in the next wave of mines. This is followed by the large producers outpacing the industry, which indicates that the party is officially over. Generally during this last phase the junior exploration companies have already seen their stock prices fall dramatically and it is pretty obvious as to what is happening.
With all of this said, we want to point out that we are yet to see the first phase as the entire industry is concerned. The rally is having the foundation put in place by those early birds, but it cannot start until the Russians officially pull out of their agreement to supply the world with cheap uranium. We expect this to happen, everyone expects this to happen and the Russians should do it as they will get over 5x more per pound by pulling out of the agreement. It is a simple business decision and one which is merely months away. This is why we are so bullish of the sector right now.
Disclosure: I am long GPOR. I wrote this article myself, and it expresses my own opinions. I am not receiving compensation for it (other than from Seeking Alpha). I have no business relationship with any company whose stock is mentioned in this article.