I'm not sure how this sector didn't fall on my radar yesterday, but if you're looking for momentum, look no further. I really don't understand what our Government is thinking, devoting 2 billion dollars that they don't even have to what is essentially free money to people who want to buy a new car. Our country has turned into one big handout after another. Don't people realize that we're going to have to fund this through higher taxes in the future? And think of the interest that is going to accumulate on that loan. It's really a trick to get people to go out and spend which is the exact opposite of what you should be doing.
Here is a link to a video describing the pros and cons of the program.
While I don't agree with the program for so many reasons, here are others in this sector that should move in sympathy (see below). I'd be careful though, this recent move reeks of exhaustion.
America Axle & Manufacturing Holdings (NYSE:AXL)
Tenneco (NYSE:TEN)
Dana Holdings (NYSE:DAN)
TRW Automotive (NYSE:TRW)
BorgWarner (NYSE:BWA)
Johnson Controls (NYSE:JCI)
Arvinmeritor (ARM)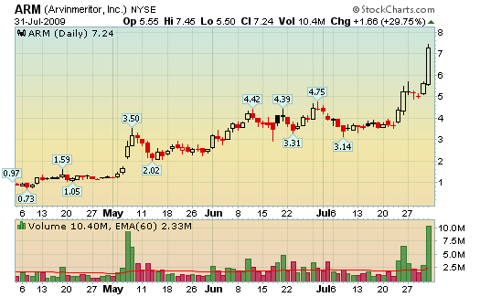 Click to enlarge
And for more disturbing news regarding the program….