When Warren Buffett's Berkshire Hathaway (NYSE:BRK.B) acquired Burlington Northern Santa Fe (BNSF) in 2009, many Buffett followers such as Columbia University professor Bruce Greenwald questioned whether he had lost his mind. Buffett realized that higher energy prices and increased traffic congestion have materially changed the game for railroads in terms of their competitive advantages versus long-haul trucking. In addition, the railroad industry has taken advantage of new technologies and improved logistics to further their competitive advantage. The major railroad stocks have performed wonderfully over the last decade and there is little doubt that BNSF is worth materially more than Buffett paid for it.
I believe that the decline in the domestic and export coal markets, which have been enhanced by low natural gas prices and a recession in Europe, have created an attractive opportunity to buy CSX Corp. (NYSE:CSX) with a reasonable margin of safety and solid growth prospects. Other railroads seem to be pricing in a much more optimistic economic environment, spurred on by increased shipments of crude oil from the Bakken resource play. I believe the discounted price and potential margin improvement that CSX offers makes it the most attractive railroad opportunity.
CSX is a key cog in the transportation supply chain of the United States with approximately a 21,000 route mile rail network, which serves major population centers in 23 states east of the Mississippi River, the District of Columbia and the Canadian provinces of Ontario and Quebec. The network has access to over 70 ocean, river and lake port terminals along the Atlantic and Gulf Coasts, the Mississippi River, the Great Lakes and the St. Lawrence Seaway. In addition, CSX has an intermodal business that links customers to railroads via trucks and terminals, and the company also serves thousands of production and distribution facilities through track connections to approximately 240 short-line and regional railroads. This important footprint has enabled very attractive returns on assets, which have hovered around 6% over the last 3 years, and returns on equity have been close to 20%. Railroads provide incredibly valuable services to the nation and have utility-like cost-plus pricing models, which have enabled returns on invested capital between 7-8%.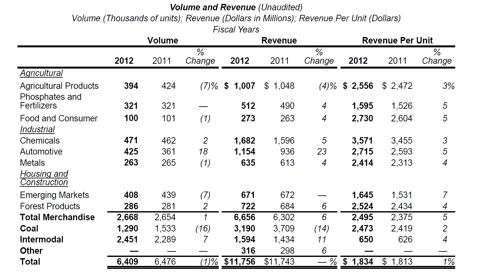 In 2012, CSX's transportation services generated $11.8 billion of revenue in its three primary business lines. The company's merchandise business transports aggregates, metal, phosphate, fertilizer, food, agricultural, automotive, paper, chemical products, manufactured goods and appliances. The merchandise business accounted for 57% of revenue and 42% of volume in 2012 on 2.7MM carloads. CSX's coal business transports domestic coal to electricity-generating power plants, steel manufacturers and industrial plants as well as exporting coal to deep-water port facilities.
Half of the export coal and nearly all of the domestic coal that the company transports is used for generating electricity. In 2012, CSX's coal business accounted for nearly 27% of revenue and 20% of volume on 1.3MM carloads. While the domestic coal picture is not particularly attractive, the export coal market is more promising with the economic expansion in the BRIC nations. These countries have huge needs for electric power generation and steel production, and CSX is a lower risk way of playing for a long-term rebound in coal.
The company's intermodal line of business is a combination of the attractive economics of rail transportation with the short-haul flexibility of trucks and offers a competitive cost advantage over long-haul trucking. CSX's network of more than 50 terminals allows the intermodal business to serve all major markets east of the Mississippi. The intermodal line transports mainly manufactured consumer goods in containers, providing customers with truck-like service for longer shipments. This line of business has really been a game-changer for the industry, in that it provides an economically and environmentally sound method of transporting freight, as an alternative to highways on trucks.
The intermodal business accounted for 14% of revenue and 38% of volume in 2012. During 2012, CSX completed construction on new intermodal terminals in Louisville, Kentucky and Worcester, Massachusetts. In addition, the company completed major terminal expansion projects in Charlotte, North Carolina and Columbus Ohio, while the company is also beginning construction on a new intermodal terminal in Winter Haven Florida in 2013. These projects should improve the company's intermodal service offerings and allows CSX to capture the growth of this business line.
I believe that a large reason that CSX sells at a discount to its railroad peers is due to its exposure to the declining coal industry, which has historically been a pivotal market for the company, given its regional footprint. It is my opinion that market participants are underestimating the impact that the improving automotive industry and the increased volumes of other sources of energy byproducts have on its operations, specifically the shipments of frac sand, crude oil and pipe.
Also, foreign manufacturing costs have been increasing and the reduced domestic energy prices, specifically prices for natural gas, have a very positive impact on manufacturing costs, which will increase long-term railroad volumes. Merchandise and intermodal account for 80% of total business and are seeing long-term growth. I believe CSX is well positioned to grow its revenues at a slightly higher rate than the overall U.S. economy given its strong strategic position.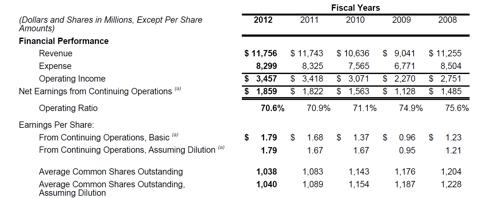 On April 17th, CSX reported record 1st quarter earnings per share of $0.45, or $459MM, on about $3 billion of revenue. Gains in intermodal and other revenue offset the continued declines in the coal business. Coal revenue declined 13% to $726MM, while export coal volume also declined 3%, as demand for thermal coal softened, particularly in struggling Europe. Merchandise revenue increased 2% to over $1.7 billion. Chemicals in the industrial sector grew 11% on strength and energy related products, including crude oil, liquefied petroleum gas and frac sand. Intermodal revenue increased by 4% to $404MM, with domestic volume up by 5%, driven by growth with existing customers and highway to rail conversions. International volume was about flat but total intermodal revenue per unit increased 1% as the company was able to achieve some pricing gains. Operating income was up 2% YoY to $875MM and the operating ratio was 70.4% in the quarter.
The company is on track to achieve $150MM of efficiency gains in 2013, and CSX management targets average annual earnings per share growth of 10-15% off of the 2013 base, which is expected to be flat or down slightly from 2012. It will be essential for CSX to get its operating ratio in the high to mid-60s over the longer term to achieve these goals, and any improvement in the coal business would provide a significant tailwind to go with the improved efficiency initiatives, and the growth that is occurring in other businesses. CSX also increased the quarterly dividend to $0.15 per share, and plans to keep the dividend payout range of 30% to 35% of trailing 12-months earnings.
In addition, the company announced a new $1 billion stock buyback program, which is expected to be completed in the next 24 months, and I believe that this will be highly accretive near current prices. While I understand that the dividend policy is attractive to much of the shareholder base, I'd much prefer tax-advantaged stock buybacks given the current discounted valuation of CSX. The company is keeping its leverage steady, which I feel is smart given the low interest rate environment, and I believe that stock buybacks are the best utilization of free cash flow after operational growth investments are provided for.
As of March 31st, CSX had 1.023 billion diluted shares outstanding, so at a recent price of $23.39, the market capitalization is approximately $24 billion. Long-term debt was $8.846 billion, while cash and short-term investments was a combined $1.072 billion, equating to an enterprise value of roughly $31.78 billion. Trailing twelve month EBITDA was approximately $4.614 billion, meaning the EV/EBITDA ratio is approximately 6.88. Clearly, depreciation is a very real expense for CSX, so it is also helpful to look at the trailing twelve month net income of $1.869 billion, which puts the P/E ratio at 12.84. CSX has the potential to average close to $1 billion in free cash flow after spending aggressively on CAPEX, so I'd expect to see continued dividend increases and stock buybacks.
I believe that management can deliver its goal of 10-15% annual earnings per share growth after 2013, and I think it could be on the high end if the company gets even more aggressive on the stock buyback front. CSX's intrinsic value is somewhere above $30 per share, and due to the company's irreplaceable assets, I believe there is a strong margin of safety at current levels protecting the long-term investor from a permanent loss of capital.
As the U.S. economy grows over time, which it will, I expect CSX to grow even faster and with proper capital allocation there is at minimum, 50% upside from current levels. Earnings will be lumpy but if the operating ratio goes down, and if the housing and coal sectors improve, 10% earnings per share growth over the next five years is a real possibility, which should propel the stock much higher.

Disclosure: I am long CSX, BRK.B. I wrote this article myself, and it expresses my own opinions. I am not receiving compensation for it (other than from Seeking Alpha). I have no business relationship with any company whose stock is mentioned in this article.