Ford (NYSE:F) announced its auto sales for June of 2013, and the results remain positive. The company sold 228,174 units in the month and this was the best June for Ford since 2006. Compared to last year, sales were up an impressive 13%.
The winning category for Ford has been truck sales (up 20%), which are a staple for the automaker. The good news spread across the board, which is a positive all the way around. SUV sales were up 8%, while car sales grew at a 12% clip.
"In June, we continued to see strong demand across the entire lineup. We're particularly encouraged by strong retail share gains, especially in coastal markets, where the combination of great design and fuel economy is resonating with customers - including many buying a Ford for the first time."

- Ken Czubay, Vice President, U.S. Marketing, Sales, and Service
Ford shares are up on the day and approaching a 52 week high of just over $16 per share, which was tested about a month ago. One year ago shares of Ford could have been scooped up for about $9 per share.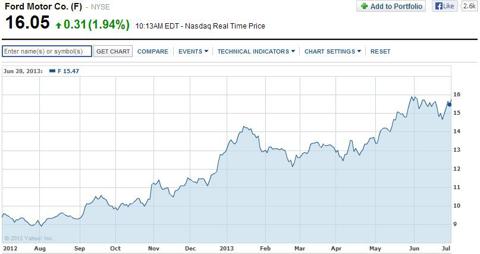 The march to auto sales recovery seems to be gaining confidence as the year passes. While it may be tempting to think that a top is in on Ford, there should be more positive press this year and next. Ford has reinvented itself in many ways and is now building more appealing cars. With truck sales providing a solid foundation, Ford can still make some pretty bold moves in the equity. Is $20 out of the question in the coming 12 months? I think it is possible, but not necessarily an easy task. However, I see no reason why the traction Ford is seeing in sales and market share can lead to $17.50 in the near term.
Buying opportunities below $15.30 may be hard to come by. What an investment in Ford offers is stability with strong support below and potential for upside appreciation. If truck sales continue seeing double digit gains, Ford may be the company in the best position to take advantage. Stay tuned.
Disclosure: I have no positions in any stocks mentioned, and no plans to initiate any positions within the next 72 hours. I wrote this article myself, and it expresses my own opinions. I am not receiving compensation for it (other than from Seeking Alpha). I have no business relationship with any company whose stock is mentioned in this article.