Here's a rather alarming trend. 87 S&P 500 companies have reported negative earnings guidance relative to just 21 positive reports. That's on pace to set a record. To better visualize this John Hussman has the following chart from this week's letter (see figure 1).
Is this necessarily a negative thing? I think earnings are definitely slowing. They appear to be trending lower and more in-line with the sluggish global economy. But profit margins also haven't started reverting in any serious way. That's in large part due to continued cost cuts and the tepid employment expansion. But the earnings guidance picture looks like a case of reducing expectations. This is good in the near-term because it sets the bar very low for the coming quarters, but it is a sign of broader deterioration in the overall earnings picture.
It's also interesting to note the last two times this ratio spiked was prior to 2008 and 2001. That's certainly not enough data to make a reliable prediction based on, but interesting nonetheless.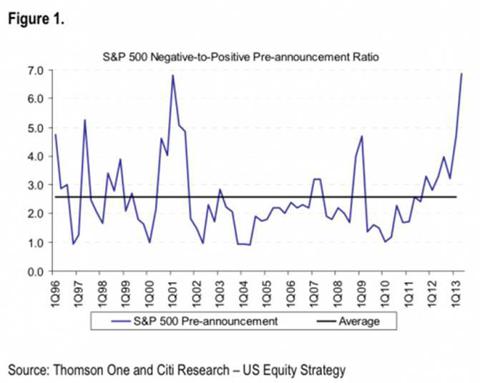 Click to enlarge