I had just started a new job, in a new country when the great gold bubble burst in 1980. Gold and silver prices were the hot topic around the office coffee pot every morning. The business section of the daily newspaper would be spread out on a table to reveal the latest gold and silver prices. Ordinary people, who would never have contemplated putting their hard earned cash into anything but the safest of investments were lining up at the bank to buy gold bars.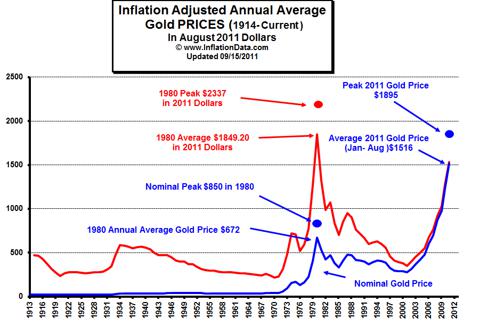 Gold prices spiked at $850/oz in 1980, (equivalent to over $2300 in today's dollars), and fell sharply back below $500 when speculative demand dried up and the bubble burst.
I was lucky in a way. I didn't have any spare cash. All I could scrape together was four hundred dollars, which I invested in a 20 ounce bar of silver. I still have that bar of silver. It is worth about the same as I paid for it in 1980. However, the lesson I learned has been worth a lot more.
It is now much easier for the small investor to buy gold. It is no longer necessary to queue up at the bank to own a bar of gold, or a gold certificate. Investors can jump on the gold bandwagon by purchasing an exchange traded fund. There are several funds on the market. The biggest one is the SPDR gold trust (NYSEARCA:GLD), which was started in 2004, and holds claim to about 1,000 tonnes of gold. The iShares Comex gold ETF (NYSEARCA:IAU) followed shortly afterwards in 2005. The range of options available for gold investing now includes ETNs, which use derivatives to track the gold price, and leveraged ETFs such as Pro-shares double gold ETF (UGL), which simulate the price movements of gold multiplied by a factor of two. It is now possible to buy gold ETFs on all major stock exchanges throughout the world. ETFs, which hold physical gold, now have holdings of about 2,500 tonnes, equivalent to a full year of production from all of the world's gold mines.
The primary uses for gold are in jewelry, electronics and dentistry, with jewelry accounting for more than 80% of gold use. As the price of gold has climbed over the past 10 years the demand for gold jewelry has fallen.
The table below shows the supply and demand (in tonnes) for gold over the past 10 years, according to data published by the World Gold Council.
| | | | | | | | | | | |
| --- | --- | --- | --- | --- | --- | --- | --- | --- | --- | --- |
| Demand (Tonnes) | 2003 | 2004 | 2005 | 2006 | 2007 | 2008 | 2009 | 2010 | 2011 | 2012 |
| Jewellery | 2484 | 2616 | 2719 | 2300 | 2423 | 2304 | 1816 | 2020 | 1975 | 1895 |
| Technology | 386 | 419 | 438 | 468 | 476 | 461 | 410 | 465 | 452 | 407 |
| Total user demand | 2870 | 3035 | 3157 | 2768 | 2899 | 2765 | 2226 | 2485 | 2427 | 2302 |
| Bar and coin | 304 | 355 | 396 | 416 | 438 | 872 | 783 | 1208 | 1513 | 1247 |
| ETF | | 133 | 208 | 260 | 253 | 321 | 623 | 382 | 185 | 279 |
| Total investment demand | 304 | 488 | 604 | 676 | 691 | 1193 | 1406 | 1590 | 1698 | 1526 |
| Central Banks | -620 | -479 | -663 | -365 | -484 | -235 | -34 | 77 | 457 | 533 |
| Total demand | 2554 | 3044 | 3098 | 3079 | 3106 | 3723 | 3598 | 4152 | 4582 | 4361 |
| | | | | | | | | | | |
| Supply | | | | | | | | | | |
| Mines | 2179 | 2313 | 2436 | 2063 | 2031 | 2060 | 2332 | 2600 | 2847 | 2817 |
| Recycled gold | 935 | 849 | 889 | 1069 | 956 | 1217 | 1672 | 1640 | 1649 | 1591 |
| Total | 3114 | 3162 | 3325 | 3132 | 2987 | 3277 | 4004 | 4240 | 4496 | 4408 |
The demand for gold in jewelry and for industrial use can be plotted against the price to establish a demand curve, which looks very much like a typical demand curve from an economics textbook. I have developed this curve using the World Gold Council data, but I have adjusted the gold price to 2012 dollars, assuming inflation at 5% per year.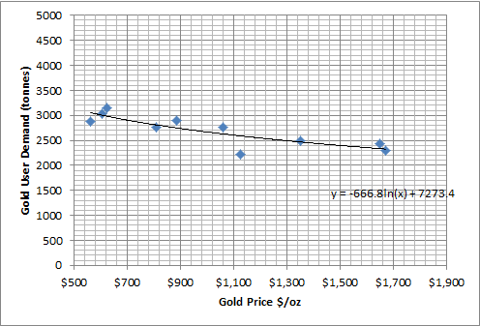 Gold demand, however, includes a significant component, which is not used in jewelry or in industry. This demand is from investors, and includes hoarding of gold bars and coins, and gold held by exchange traded funds. The data from World Gold Council in the table above shows demand broken down into each of these categories.
I can think of two good reasons to hold gold:
Safe Haven - holding gold because it will always have value no matter what happens to real estate, currencies or stocks. This type of hoarding is common for people in third world countries, who do not trust their government or financial system. Growth of the middle classes in India, and China, has had a significant impact on investment demand. Those two countries now account for about 60% of the demand for gold bars and coins.
Speculative - holding gold because of an expectation that the price will rise
This is what the demand curve for gold investments looks like: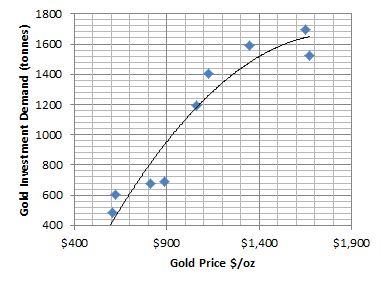 This curve slopes the opposite way from the demand curve for gold uses. It defies the normally accepted principles of supply and demand, because it shows demand increasing as prices increase. What we are seeing here is investment demand driving the price of gold higher.
Central Banks also play a role in determining the supply and demand for gold. This factor is completely random, because no one can ever second guess what a Central bank might do, or what logic might be behind a decision to buy or sell.
I have used the term "Net Investment Demand" to include the total of demand for bar and coin, plus inflows to gold ETFs plus Central Bank buying and selling. The chart below shows the Net Investment Demand for the years 2004 to 2013.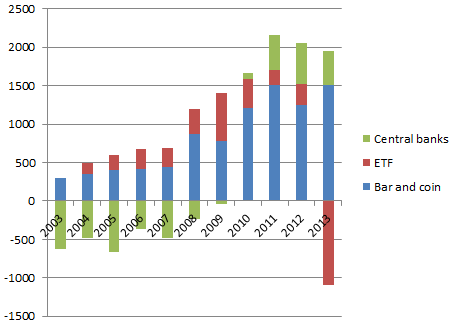 The graph below shows the price of gold, plotted at roughly the same scale as the investment demand, for the years 2004 to 2013.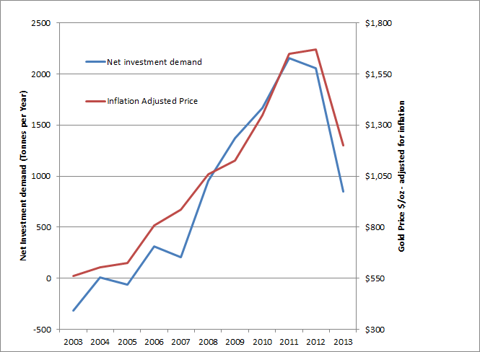 To establish data for year 2013 in these graphs, I projected the data, assuming that bar and coin demand would remain strong, and net outflows from ETFs would continue at the same pace as the first six months.
Between the last gold bubble in 1980, and 2003, the price of gold did not keep pace with inflation. In the years leading up to 2003, the price was artificially depressed by Central Bank selling and Net Investment Demand was negative when you include the Central Bank component. The price began to rise in 2004, when ETFs were introduced, providing investors with an easy entry into the gold market. Money continued to flow into gold ETFs every year between 2004 and 2012.
In 2008, the financial crisis precipitated by the U.S. sub-prime mortgage fiasco significantly increased the Net Investment Demand for gold. Demand for bars and coins rose from 436 tonnes per year to nearly 872 tonnes per year in 2008, and continued to rise until it peaked at over 1500 tonnes in 2011.
Net sales by Central Banks ended in 2009, and since then Central banks have been net buyers of gold.
A lot of the investment demand for gold has been driven by speculation. However, once the expectation of rising prices becomes an expectation of falling prices the speculative demand dries up. The first period of net outflows of funds from gold ETFs happened in the first quarter of 2013, and prices fell sharply soon after. Data for Q2, 2013 from the World Gold Council will not be available until early August, but indications are that ETF outflows have continued, and that 550 tonnes of gold has been dumped on the market by ETF sellers since February. Outflows from ETFs have driven the gold price down from over $1600/oz to around $1200/oz, but there are signs that the lower prices are stimulating investment demand from India and China
What will happen to the price of gold if Net Investment Demand returns to normal levels?
The cost of mining and processing gold has risen dramatically since 2004. Production costs averaging less that $300/oz were normal in 2004, whereas today most of the larger mining companies have cash costs in the region of $800 to $900/oz and all-in sustaining costs above $1,000/oz. The higher costs are primarily driven by mining of lower grade ores, with grades as low as 1g/tonne now considered as economical resources.
I have derived a supply curve for gold by analyzing the operating costs of the mines of three of the world's largest gold mining companies. Barrick (NYSE:ABX), Newmont (NYSE:NEM) and Anglo Ashanti (NYSE:AU). I base the curve on the assumption that mining companies will continue to supply gold into the market provided their all-in sustaining costs are below the market price of gold. If gold prices drop, they will curtail production or close the less economical mines. The curve derived from this analysis of mining costs look like this: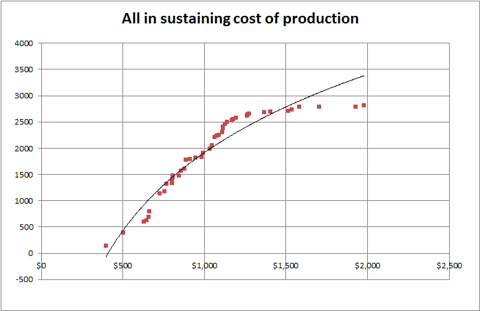 The total gold supply curve is derived by adding the curve for the supply mined gold to the curve for supply of recycled gold, derived from the World Gold Council data.
I have plotted two supply curves along with two demand curves. The first supply curve, the solid red line, is based on mining costs, and should represent the cost at which existing mines begin to curtail production or close down. The second curve assumes that mining companies will not spend money to maintain production at existing mines, and production will gradually decline if the return on costs is less than 10%.
Demand Curve 1, the solid blue line, is the total demand, assuming that net inflows and outflows to ETFs are zero, and demand for bars and coins remains at 1200 tonnes per year. The second demand curve assumes zero net flows to ETFs, but coin and bar demand falling to 400 tonne per year, as it was prior to 2007. In both cases I have assumed no intervention by Central Banks.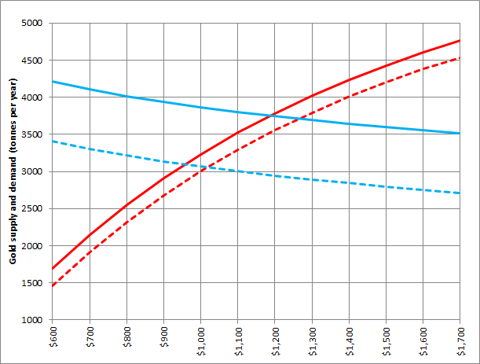 The equilibrium price of gold should be the point at which the supply and demand curves cross.
Gold prices have been in a speculative bubble, which started to inflate in 2004, triggered by the advent of gold ETFs, and by speculative investment in gold bars and coins. That bubble has been deflated this year by net outflows from ETFs, but demand for bars and coins remains at high levels.
If demand for gold coins and bars remains steady at today's high levels, the gold price should theoretically stay around $1200 and slowly rise to around $1300 as mining companies cut spending at higher-cost mines.
The easy low-cost gold has already been mined, and high mining costs will ensure that gold will maintain its long-term value, once this speculative bubble has fully deflated. A return to the $400/oz prices of 2004 is very unlikely. However, if investor sentiment in India and China turns away from gold, and the demand for bars and coins returns to levels which were considered normal prior to 2007, the price could easily fall below $1,000.
I own no gold, and have no intention of investing in gold or gold mining companies until I am sure that this speculative bubble is fully deflated. Gold may be a safe haven for some investors, but for me it is a minefield to be trodden with extreme care.
Disclosure: I have no positions in any stocks mentioned, and no plans to initiate any positions within the next 72 hours. I wrote this article myself, and it expresses my own opinions. I am not receiving compensation for it (other than from Seeking Alpha). I have no business relationship with any company whose stock is mentioned in this article.