Online social networkers spend a significant amount of time looking at paid ads on sites such as Facebook and YouTube (NASDAQ:GOOG) and often look at these ads before actual search results, according to a recent social media study conducted by Oneupweb.
The study used eye-tracking technology to examine how attention is allocated across specific areas of interest (AOIs) when social network users conduct searches on Facebook, Twitter and YouTube. It found that searchers on social networking sites don't necessarily follow the same search patterns as they would if they were using a traditional search engine, such as Google, Bing (NASDAQ:MSFT) or Yahoo (NASDAQ:YHOO).
Regarding specific gaze behaviors onFacebook, YouTube and Twitter, the study found that normal (non-search) viewing behavior on Facebook showed high gaze intensity in the upper left column and upper right columns of the page. Normal behavior on Twitter showed heavy gaze intensity in the right column and on the first four results, and normal viewing on YouTube showed heavy engagement with the four videos featured on top of the page.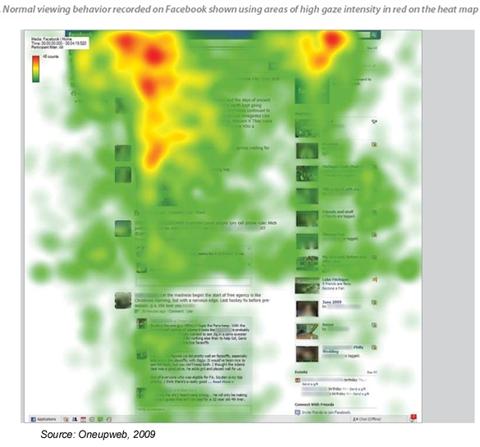 When users were asked to conduct product searches on these sites, the following results were observed:
Nearly two-thirds (65%) of participants engage with sponsored ads (when they appeared) within the first 10 seconds of their search.
Scan paths do not follow the order of the search result positions. Often, sponsored ads are looked at before the third or fourth result.
There is not a significant difference in fixation duration across the first four results or sponsored ads on both Facebook and YouTube.
YouTube search results got the highest marks for user satisfaction, while Twitter results got the lowest. Some 90% of the participants were satisfied with their search results on YouTube, compared with 63% on Facebook, and 50% on Twitter.

As expected, participants spend less than a second fixating on each search result, but there was not a significant difference in fixation duration on sponsored ads compared with that of the overall top search results.
Users spent more time interacting with the search results page on Facebook compared with time engaged with results on YouTube. However, once a YouTube video was clicked, participants continued to interact with the related results on the right of the screen while they waited for the video to load.
Big Implications for Future Search
Though the research originally built on the "Golden Triangle" theory – which posits that users scan the top five search results in the order they are listed – Oneupweb found that the social nature of social networking is potentially transforming search habits and information-foraging behaviors.
"Since search engines became the main way that people conduct searches for businesses, products and information, we've been under an assumption that people search a certain way. On search engines, a viewer's eye starts at the top left hand side of the page, moving downward and slightly to the right," Oneupweb CEO and founder Lisa Wehr. "Therefore, they are likely to click on just the first few search results that appear at the top of the page. But this just isn't the case on social networking sites."
Instead, Wehr said, people enter social networking sites with different expectations, and search results are socially generated. "Search is changing," she added. "As more people engage with social media, the way they are interacting with brands is being affected and their behavior changes."
About the study: The study, "Seeing Search Go Social: An Eye Tracking Study on Social Networking Sites," was conducted by gathering eye-gaze data on 25 participants conducting product searches on Facebook and YouTube. All search behavior was observed on Twitter because the tool does not yet allow paid ads. Twenty-five participants (60% female) ranging in age from ages 18 to 55 (average=35) were recruited for this study. All of the participants had Facebook accounts and were regular users. The sample is comparable with the average Facebook user.