If you're old enough to remember Jimmy Carter, you'll recall the advertising catchphrase, "Who shot J.R.?" CBS created it in 1980 to promote their popular television series, Dallas. It referred to the mystery surrounding the season ending murder attempt on star character, J.R. Ewing and was not resolved until the following season. As a young boy at the time, I was more a fan of The Dukes of Hazzard than Dallas, but I don't think anyone who was alive at that time could avoid those three words, "Who Shot JR?"
Recently, there has been another historic murder attempt on Jr.-the junior gold mining sector. Who did it? This article will provide evidence of the suspects and leave you to decide. The good news is that on Dallas, J.R. didn't actually die from the attack and neither will the Jr. gold mining sector. In fact, a miraculous "Jesus-like" resurrection for gold and its shares is long overdue and may already be in its early stages.
First off, let's agree that the junior mining sector has been shot. In fact, it's riddled with holes and hemorrhaging profusely. From its December 2010 peak to its low last week, this sector has fallen 80%! Even since its high of just nine months ago, the sector has bled 65%. And just this year to date, junior gold miners are down 40%.
Market Vectors Junior Gold Miners ETF (NYSEARCA:GDXJ)
December 2010 to present

As pointed out in my previous article, "The Anatomy of a Gold Mining Crash-And Recovery", gold miners have proven themselves extremely resilient in the past. In the last outright collapse in 2008, the fund GDXJ did not yet exist, however it's big brother, senior gold mining fund (NYSEARCA:GDX) did, so let's use it as an example. From its October 2008 bottom, GDX rallied 334% over the ensuing 13 months. If that sounds outlandish and an isolated case, it's not. The article, "What Happens When You Buy Assets Down 80%?" shows that the average recovery is 172% in a sector that has dropped 80%. I don't know about you, but I'm certainly up for participating in a rally of 172% regardless of the short-term pain required to accumulate the position into falling prices. And after the outright slaughter that junior gold miners have suffered, I would not be surprised if the recovery is greater than just average.
Market Vectors Gold Miners ETF
October 2008 - December 2009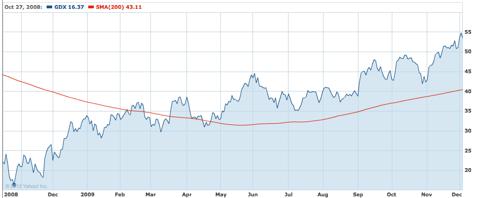 Now, getting back to the topic of this article. Who shot Jr? The killing appeared to be kicked off by an extremely overbought gold peak back in September 2011. Some of the same "experts" who are attacking gold today were praising it back then, and almost no one was suggesting to sell the metal when it would have been most advantageous to do so. The gold bullion fund (NYSEARCA:GLD) even briefly achieved the largest market capitalization of all exchange-traded funds.
So if the 2011 oversold high started the bleeding, who has been responsible for the more recent bullet holes? Gold and its miners were attacked earlier this year when it was reported in February that investment mogul George Soros cut his holding in GLD in half in the fourth quarter of 2012. It's important to note that Soros has since turned bullish on gold and has even bought call options on the junior mining fund, GDXJ.
The next round of media ammunition in gold's demise came from our "friends" at Goldman Sachs. In mid April, Goldman recommended that their clients sell gold short. It's also important to remember that Goldman was caught up in the crude oil bubble of 2008, suggesting that oil could hit $200 per barrel. Of course, just a few months later, oil dropped well below $40 per barrel.
Just when things looked like they couldn't get worse, "Helicopter" Ben Bernake cast terror on the gold market in the past two weeks as he hinted that the privately owned Federal Reserve may begin tapering its unprecedented inflationary efforts.
We've identified a few smoking guns now, but really, who did it? Who killed Jr? Well, according to a report published at zerohedge.com, JP Morgan Accounts for 99.3% of the Comex Gold Sales in the Past Three Months. The article displays Comex delivery notices as proof and identifies that:
J.P. Morgan has fumbled ownership of 1,966,000 Troy ounces of gold since February 1. That's 74% more gold than the US mint delivered through the US mint's American Eagle program in all of 2012.
Why would JP Morgan be selling so much gold now when they could have gotten $1,900 an ounce back in 2011? You can call me a conspiracy theorist if you like, but this activity appears to be blatant market manipulation that is intended to benefit a small group of "friends," and not you and I.
The damage has already been done. Junior mining companies have already dropped 80%. Rather than wallow in the injustice of the apparent gold market manipulation, I believe its better to apply the wisdom, "if you can't beat them, join them." JP Morgan's friends appear to be loading up on cheap gold, George Soros has been buying junior gold mining call options, commercial traders have taken all-time bullish positions, and corporate executives have being buying shares in their own gold mining companies at record levels. What more does an investor need to get or stay involved? Courage.
Disclosure: I am long GDX, GDXJ. I wrote this article myself, and it expresses my own opinions. I am not receiving compensation for it (other than from Seeking Alpha). I have no business relationship with any company whose stock is mentioned in this article.