Buy These Clean Energy Stocks
So far this year, we have seen some incredible rallies in clean energy stocks. For investors with a contrarian perspective, many of these companies are now starting to look overvalued and in serious risk of seeing downside corrections. But for those viewing the sector from a longer term investment perspective, there are still some important reasons to remain bullish when we look at the broader demographic trends both in the U.S. and globally. The latest positive signs have been highlighted in last month's report from the International Energy Agency [IEA], which showed upward revisions in the amount of clean energy demand that will be seen in the next three years.
Specifically, the revisions showed that global renewable energy resources (hydro, solar, and wind energy) will overtake natural gas and nuclear energy as early as 2013. These numbers relative to nuclear power are especially surprising, as clean energy sources will double what is seen in nuclear during that period. These positive trends are supported by reductions made in production costs and increasing demand in emerging markets. These factors are seen as the primary drivers, and this is mostly significant, because it means that production in this space has become self-sufficient, and no longer in need of the government subsidies and mandates that have marked the last 15 years. The IEA report goes on to suggest that clean energy sources will grow by 40% by 2018. In essence, this would mean that renewable sources would satisfy one quarter of the global energy needs in the next five years.
Governments themselves, remain committed to making the transition from fossil fuel consumption. Recent comments from U.S. President Obama indicate goals to hike government consumption in clean energy to 20% of its total usage by 2020. All of these factors are helping to drive this year's rally in the sector. But even with these surges in bullish sentiment, there are still values to be found, and companies well-positioned to benefit from the long-term underlying trends.
Stocks to Consider
For momentum players looking to capitalize these trends, one clear choice can be found in Renewable Energy Group (NASDAQ:REGI), which has seen rallies of nearly 150% year-to-date. REG, however, is not a company that is at the end of a major bull run; it is simply one that was highly undervalued in the first place. In 2012, REG posted $1 billion in revenue for the first time in its history. Guidance is reflective of the expectation that the company will produce 25% of the supply in U.S. bio-diesel markets. Capacity levels each year currently average 250 million gallons, but this number will increase by 150 million once ongoing construction is complete. Growth assets that are coming online in the next few years will help strengthen the company's position in the sector, so any downside correction in the latest bull surge in REGI will likely be viewed as a buying opportunity by large cross sections of the market.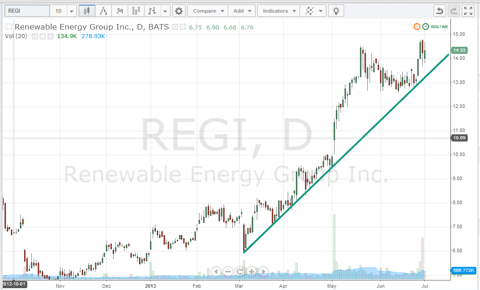 An even better choice for momentum players is SunPower (NASDAQ:SPWR), with its year-to-date gains of nearly 300%. So, while gains like these signal red flags for contrarian traders, it is clear that structural changes are being absorbed by the market. Solar energy stocks have had to deal with substantial increases in volatility over the last five years, but it is starting to become clear that sector stability is building. Panel efficiency in SunPower's main models is expected to rise to 23% in the next two years. This would be an industry-best, and will help solidify SunPower's lead position in the industry. Market valuations are still well-below the highs we saw in 2007, so there is limited downside for those taking the long-term view in SPWR.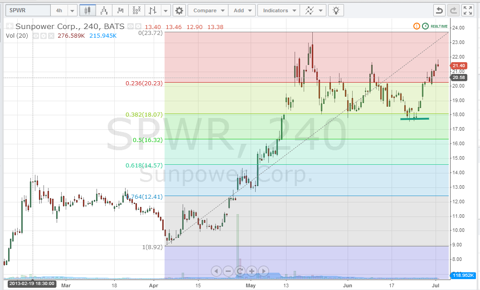 Last, we look at a stock that is not typically included in this segment. Valero (NYSE:VLO) has recently gained exposure to the clean energy space, as it is now America's third largest producer of ethanol. This traditional refinery company has added 10 bio-diesel refineries to its portfolio, and made clear progress in more widely diverse product market like wind and algae farms. The stock provides an alternative strategy for contrarian investors, in that second quarter declines put the stock's year-to-date upside performance at 4%. So, for new clean energy investors looking for a large-cap company with a clearer historical record, Valero is a great example of an established company that is making clear efforts to transition into clean energy.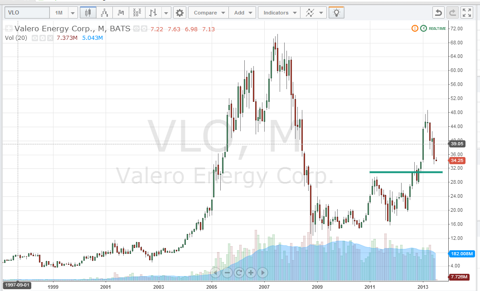 Disclosure: I have no positions in any stocks mentioned, and no plans to initiate any positions within the next 72 hours. I wrote this article myself, and it expresses my own opinions. I am not receiving compensation for it (other than from Seeking Alpha). I have no business relationship with any company whose stock is mentioned in this article.