Since hitting a high of around $70 in late 2011, Newmont Mining (NYSE:NEM) has fallen substantially, along with the price of gold (NYSEARCA:GLD). Newmont is a gold and copper miner based in Colorado, but also has operations in Australia, Peru, Indonesia, Ghana, Mexico, and New Zealand.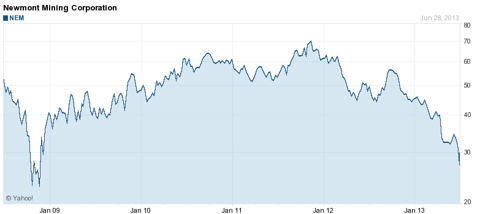 The stock is now trading around where it was in 2009. The company now sports a 4.70% yield, which amounts to a $1.40 dividend annually. Given the recent sell-off and the nice dividend, some investors are now coming back to this company and regarding it as a value.
While there are certainly aspects of this company that could be argued are a good value, not to mention the fact that if gold ever rallies then Newmont will certainly pop. While it is a pretty good speculative investment, the fundamental picture has only gotten worse since 2009.
More Shares
Companies that buy-back shares will always be more attractive. By reducing the number of shares available, the value of your shares increases. While issuing shares to raise capital is not always a bad thing, it will always on some level dilute the value of current shares.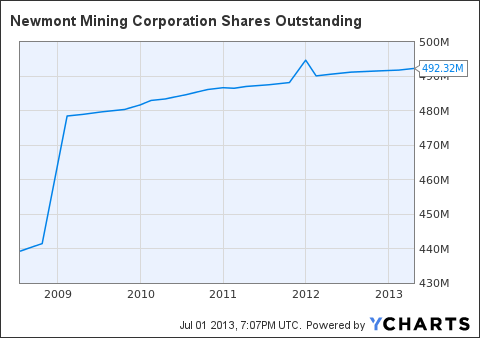 NEM Shares Outstanding data by YCharts
As you can see, the number of shares outstanding has increased, mostly in late 2009 and early 2010. The number of shares outstanding has been increasing steadily since then. Additionally the company has more accounts payable than it did when it was trading at the same price in 2009.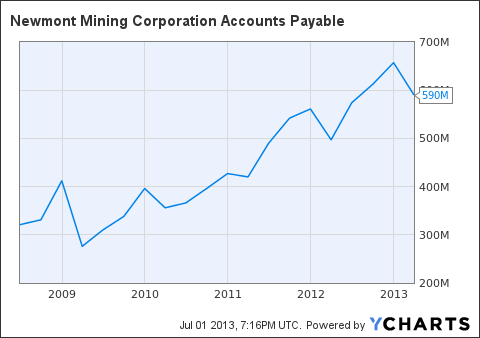 NEM Accounts Payable data by YCharts
Since accounts payable aren't exactly debt, here is a clearer picture of long-term debt. 2010 is the far right column while 2012 is the far left column.

As you can see long-term debt has risen substantially since 2010.
Gold Linked Dividend Policy
While not particularly a bad thing if gold is going up, the dividend policy is linked to the price of gold, and several gold-miners have a similar policy. But with the price of gold seemingly in free-fall, there could be another surprise dividend cut as there was this April. From Minyanville:
Back in April, Newmont Mining -- which uses a gold price-linked dividend policy, with each quarterly dividend based on the company's average realized gold price for the preceding quarter -- cut its dividend to $.35 per share, based on the average London PM Fix of $1,632 per ounce for the first quarter of 2013. In February, the company's quarterly dividend was 42.5 cents per share based on the average gold price of $1,718 per ounce for the fourth quarter.
With the current spot price of Gold at around $1250 an ounce here is what the current dividend should look like. If the price of gold is between $1400/1500 an ounce the quarterly dividend would be $.25 share. If gold is between $1300/1400 an ounce, which is looking more likely by the day, then the quarterly dividend would be $.20 per share.
Assuming gold stays between $1300-1400 an ounce for a year, which is a huge assumption, the yearly dividend would amount to $.80 a year; the current dividend is $1.40. The new yield would be a less attractive 2.8%.
Summary
More share, more debt, and the very real possibility that the dividend will be much lower all are headwinds for Newmont. The stock will, however, continue to trade like spot gold does in the short term at least. Given all the negative sentiment surrounding gold right now, I would be very hesitant to try to call a bottom.
Disclosure: I have no positions in any stocks mentioned, and no plans to initiate any positions within the next 72 hours. I wrote this article myself, and it expresses my own opinions. I am not receiving compensation for it (other than from Seeking Alpha). I have no business relationship with any company whose stock is mentioned in this article.