Onyx Pharmaceuticals (NASDAQ:ONXX) has just rejected a $10 billion acquisition offer from Amgen (NASDAQ:AMGN). Onyx executives explained their action by announcing that the $120 per share offer "significantly undervalued Onyx and its prospects."
Onyx shares rallied on the news and closed at over $131, 47% higher than their Friday's close of $89, when Amgen made its offer.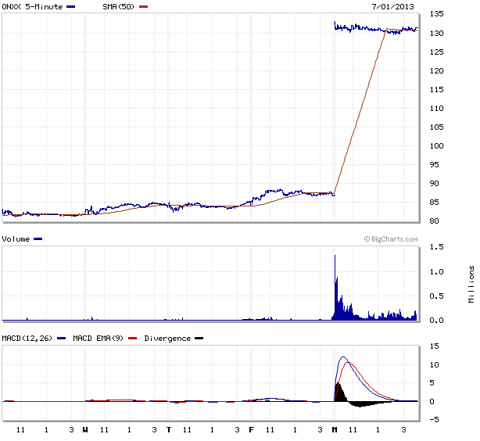 A takeover by Amgen made sense, given Amgen's position in oncology, which could have benefited from the addition of Onyx's Stivarga and Nexavar and its star asset Kyprolis.
Onyx cites other "expressions of interest" and has now formally invited higher bids. However, a bid above $130, close to $10 billion in value, will require a large company to put a remarkably bullish bet on a business with drugs whose markets are unlikely to be subject to huge upward revisions.
So, the big question is: was Onyx management justified in rejecting Amgen's offer? or is this Onyx's Yahoo moment.
In February 2008, Yahoo (NASDAQ:YHOO) rejected a takeover bid from Microsft (NASDAQ:MSFT) worth more than $40 billion. Yahoo said, at the time, that the offer "substantially undervalued" the company and did not serve its shareholders' interests. Microsoft's offer was worth $31 a share, 62% above the level at which Yahoo stocks were trading when the offer was made.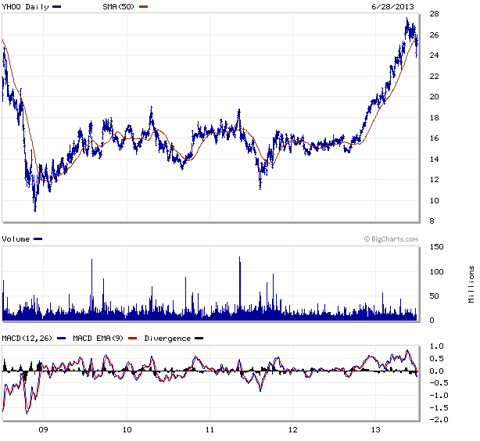 Yahoo shares jumped on the offer, then took a deep dive that they are just recovering from four years later. Yahoo shares have never managed to touch Microsoft's offer price since it was made back in February 2009.
Many analysts believe that Onyx is justified to reject Amgen's generous offer on the account of its blood cancer treatment Kyprolis, which many anticipate will become a blockbuster and will peak at $3 billion per year. Kyprolis (carfilzomib) is seen as the primary driver of Onyx future growth. Kyprolis, a next-generation protease inhibitor, was approved by the FDA in July 2012 for relapsed, refractory multiple myeloma.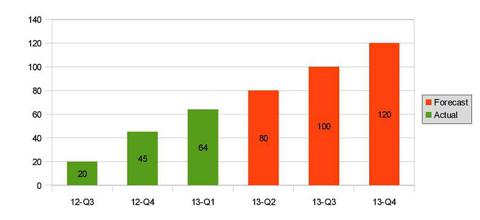 Kyprolis Sales Forecast (Onyx 10-Q Pharma Reports Estimates)
Kyprolis' potential is being viewed as robust, and Onyx reported sales of $45 million for Q4-12 and $64 million for Q1-2013. The product is expected to realize over $360 million in 2013.
There are currently four FDA approved therapeutics that compete with Kyprolis for the multiple myeloma indication. They include Takeda's (OTCPK:TKPYY) Velcade (bortezomib) and Celgene's (NASDAQ:CELG) Revlimid (lenalidomide), Thalomid (thalidomide) and Pomalyst (pomalidomide). So, it is going to be an uphill battle for Kyprolis in the multiple myeloma space.
Onyx's other lead product Nexavar (sorafenib), a kinase inhibitor approved for advanced kidney and hepatocellular cancers, is currently the only approved therapeutic for non-resectable hepatocelluar cancer, however it faces tough competition in the overcrowded renal cancer space. Nexavar is licensed to Bayer (OTCPK:BAYRY), and Onyx receives 20% royalty on its sales.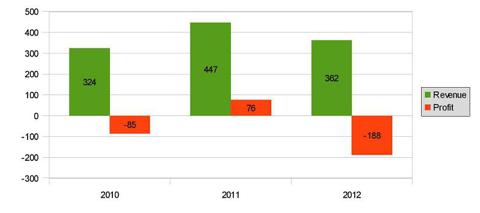 Onyx Revenue & Net Profit
Onyx is relatively a small company, with 2012 revenue reaching only $362 million, down from $477 million in 2011. So Amgen's offer actually valued the company at 28 time sales. Onyx has also realized net loss in two of the past three years. In January 2013, Onyx raised $364 million in fresh equity in order to support its Kyprolis marketing costs and other operational expenses.
Other companies that could be positioned to make a bid would be Pfizer (NYSE:PFE) with its dwindling oncology business that needs reviving, and Bristol-Myers Squibb (NYSE:BMY) with its declining fortune and its urgent need for credible new products to keep its sales reps busy.
Onyx is a great company with a solid portfolio of products and an excellent pipeline. However, Amgen offered a reasonable valuation with its bid, based on Onyx's price at the time of the offer, its recent revenue and earning figures, and potential performance prospects of its product portfolio.
I expect the coming weeks will be extremely interesting for volatility speculators as well as for everyone involved. I do expect a bidding war, however, looking at the recent steep hike in Onyx share price, I cannot rule out the possibility of a Yahoo moment.
Disclosure: I have no positions in any stocks mentioned, and no plans to initiate any positions within the next 72 hours. I wrote this article myself, and it expresses my own opinions. I am not receiving compensation for it (other than from Seeking Alpha). I have no business relationship with any company whose stock is mentioned in this article.