Valero Energy Corp. (NYSE:VLO) appears to be one of the most undervalued stocks in the oil sector, and a recent pullback is giving investors a solid buying opportunity. Valero is the world's largest independent petroleum refiner and marketer with 16 refineries (with capacity of approximately 3 million barrels per day) and 10 ethanol plants (with production capacity of 1.2 billion gallons per year) in the United States, Canada, the Caribbean, and the United Kingdom.
Valero produces a number of products that are essential for many consumers and businesses. This includes propane, gasoline, asphalt, solvents, aromatics, sulfur, jet fuel, diesel, natural gas liquids, and more. Because these are key products for many industries, Valero has a relatively stable source of revenues and constant demand, which reduces risks for investors. Valero has some downside risks that can go beyond management control such as weather, but it has managed and minimized these risks well in the past.
Valero shares appear undervalued when you consider book value, which is $33.47 per share. Analysts expect the company to earn $5.15 per share in 2013, and $5.60 per share in 2014. That means the price-to-earnings ratio is below 7, while the average stock in the S&P 500 Index (NYSEARCA:SPY) trades for about 16 times earnings and for about two times book value. This is a large company with nearly $140 billion in revenues. It also has a solid balance sheet with $1.86 billion in cash and $6.87 billion in debt.
Valero offers a dividend of 80 cents per share, which yields 2.3%. The company has been increasing the payout regularly in recent years. For example, in 2010, the quarterly dividend was just 5 cents per share, but thanks to frequent increases, the dividend is now 20 cents per share on a quarterly basis. With earnings expected to be over $5 per share, the payout ratio is below 20% and that means there is plenty of room for additional increases in the future.
Not long ago, Valero reported impressive earnings, which beat the estimates. For the first quarter of 2013, the company earned $1.18 per share, which beat consensus estimates of $1.01 by nearly 17%, although quarterly revenues were down on a year-over-year basis to about $33.5 billion from about $35.17 billion. Even with a drop in revenues, the company was able to beat estimates due to a reduction in operating expenses.
Valero has been cited as a potential takeover target in the past by some industry watchers and analysts. Based on the bargain-like valuation of this company, it seems that another even larger oil company could find it attractive, or perhaps even Warren Buffett, who has been known to invest in other oil companies like ConocoPhillips (NYSE:COP) and undervalued stocks in general.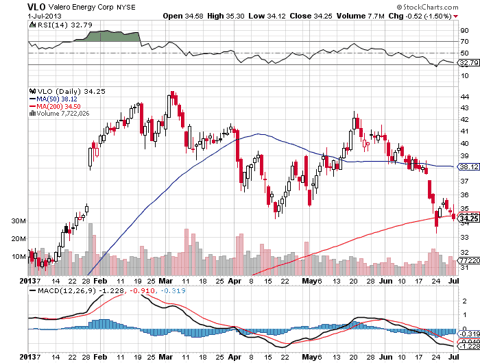 The stock looks like a strong buy based on fundamentals, cheap valuation and a dividend yield that pays investors to wait for a higher share price. However, it also looks like a great buying opportunity based on the fact that it is trading near key support levels. As the chart above shows, the 200-day moving average is about $34.50 (which is a major support level) and the stock is right around that level now. That means downside risk from current levels is probably limited. As this stock recovers from the recent market pullback, it could be poised for a rebound back to its 50-day moving average, which is around $38.15 per share.
Furthermore, analysts see even more upside in the future. On May 1, 2013, analysts at Barclays reiterated an overweight rating and set a $72 price target. Analysts at UBS are not quite as bullish as they have a buy rating with a $47 price target, however, that still implies plenty of upside from current levels.
Here are some key points for VLO:
Current share price: $34.25
The 52-week range is $21.45 to $44.76
Earnings estimates for 2013: $5.15 per share
Earnings estimates for 2014: $5.60 per share
Annual dividend: 80 cents per share, which yields 2.3%
Data sourced from Yahoo Finance. No guarantees or representations are made.
Disclosure: I am long VLO. I wrote this article myself, and it expresses my own opinions. I am not receiving compensation for it (other than from Seeking Alpha). I have no business relationship with any company whose stock is mentioned in this article.
Disclaimer: Hawkinvest is not a registered investment advisor and does not provide specific investment advice. The information is for informational purposes only. You should always consult a financial advisor.