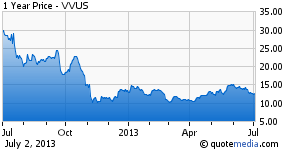 In a bold move just two weeks ahead of the annual meeting, First Manhattan, the company that is trying to take over Vivus (NASDAQ:VVUS), has named a potential new CEO should its appointed Board of Directors be elected.
First Manhattan has named Anthony Zook as its CEO candidate. Zook was most recently the Executive Vice President of Global Commercial Operations at AstraZeneca (NYSE:AZN). His position was eliminated by the AstraZeneca CEO. Zook left the firm in February of this year. Zook does have an impressive resume, and could be very well suited for the leadership role at Vivus. However, at this point the big question is likely whether Zook is a pawn in a much bigger game.
"Mr. Zook is a world-class executive who has held multiple senior leadership positions at some of the world's leading pharmaceutical companies, most recently as the Executive Vice President for Global Commercial Operations at AstraZeneca, a position he held until February 2013. At AstraZeneca, Mr. Zook played leadership roles, both in the US and globally, in the market delivery of several blockbuster products, each with sales in excess of $1 billion, including Nexium, Crestor, Pulmicort Respules, Seroquel, Toprol XL and Symbicort. He also helped manage the commercial integration of Astra and Zeneca to help create AstraZeneca, and served as President of MedImmune, AstraZeneca's largest biotech acquisition, from November 2008 to December 2009."
First Manhattan has expressed grave concerns regarding Vivus, the current management, and the very modest launch of the anti-obesity drug Qsymia. First Manhattan holds about a 10% stake in Vivus, and has been quite active in trying to initiate changes at the company. The battle for control has gone very public, and has been quite contentious. On its face, the naming of Zook as a potential CEO seems like a PR ploy and the proverbial dangling of a carrot for investors to consider.
On the positive side of things, Zook is a very capable choice that would bring some cache to the table. Whether or not he can change the dynamics of Vivus in a meaningful way is what investors need to consider. The stance of current management is that there is nothing that First Manhattan is proposing that differs from the course the current management and board are on. Essentially the question that Vivus is posing is whether change for the sake of change is wise.
Vivus is trading up slightly on the news, and I think there is strong potential that we will see a lot of buzz surrounding Vivus in the next week and a half leading into the annual meeting. Yesterday Vivus announced that Qsymia is now available at 8,000 retail pharmacies, two weeks ahead of schedule. The positive press could bring about a decent play for the savvy and active trader.
In the longer term, this company needs to get the board issue resolved, get the focus on Qsymia and Stendra, and give investors some guidance on the path to success. The sooner this happens, the more stable Vivus stock can be.
Disclosure: I have no positions in any stocks mentioned, and no plans to initiate any positions within the next 72 hours. I wrote this article myself, and it expresses my own opinions. I am not receiving compensation for it (other than from Seeking Alpha). I have no business relationship with any company whose stock is mentioned in this article.