Shares of Zynga, Inc. (NASDAQ:ZNGA) rose sharply late on Monday after the company confirmed it has named Don Mattrick as its new CEO, building on the press speculation circulating during the day. Founder Mark Pincus remains the chairman of the board and chief product officer.
Investors see Mattrick as a gaming industry veteran, having spent some 6 years at Microsoft. His last three years were in a role of president of the Interactive Entertainment Business, where he expanded Microsoft's (NASDAQ:MSFT) Xbox 360 global installed base by 700% to more than 75M consoles. In addition, Mattrick had an extended tenure as an executive at Electronic Arts where he helped develop a blockbuster franchise - "The Sims".
Why investors think it matters
The Zynga management team has been decimated with several high profile departures in the past few months. CIO Debra Chrapaty resigned in late March to lead cloud storage company Nirvanix. Head of the Zynga China unit, Andy Tian, stepped down late last month after three years of employment. The revolving door extends further to the second half of last year, when the COO, Chief Creative Officer, and several general managers in charge of mobile and divisions departed this free-falling online game maker.
Zynga's preferential human resources image has also been tarnished by a shareholder lawsuit alleging upper management was allowed to sell its shares, as lower level workers remained frozen in a post-IPO lockup period. A high-profile hiring could suggest there is some faith in the company's prospects among industry insiders, and a change of culture that could stave off Zynga's "Game Over" moment.
Is this really a "game-changer"?
We think, at best, it's too early to tell, and most likely not even close. For starters, it seems extremely suspicious that a division president with tech goliath tenure would jump aboard what appears to be a sinking ship. Last month, Zynga announced an 18% workforce reduction and the closure of several offices. It has been woefully behind the surge in mobile gaming and has watched the likes of Candy Crush by the privately held King crunch its domain.
By its own admission, Zynga is still relying on the Farmville franchise, while other games are under-performing as its user base shrinks - Q1 daily active users fell 20% on the quarter to 52M. Its bet on legalized gambling is most likely a long way from paying off, and even then an executive with a background in traditional gaming would hardly serve that purpose.
One may surmise that Mattrick is a "Trojan horse", potentially setting up a Microsoft bid for Zynga down the line, just as it attempts to make inroads in the smartphone space with the Windows Phone 8 OS. More likely however is that the opinionated Mattrick has dug his own grave when he told the gaming world that internet connectivity is an absolute requirement for the upcoming Xbox One upgrade, an embarrassing moment on which Microsoft had to backtrack. (Here's that infamous awkward interview with the new Zynga chief at the Electronic Entertainment Expo last month - starting around the 2:00 minute mark.)
We are neither long or short, but certainly skeptical and will surely tune in when Zynga posts its second quarter earnings in three weeks time. Until then, we wish to remind the reader that even the great Yahoo! Inc. (NASDAQ:YHOO) savior Marissa Mayer - incidentally appointed around the same time last year - had to prove her mettle and deliver results before Yahoo! shares started to climb later that fall.
For an interactive version of this chart, click on the image below. Price data sourced from Zacks Investment Research.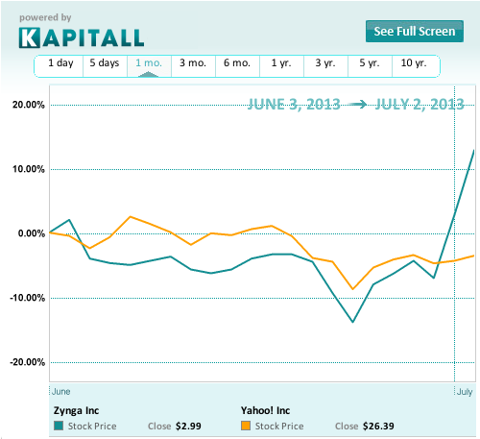 Disclosure: I have no positions in any stocks mentioned, and no plans to initiate any positions within the next 72 hours.
Business relationship disclosure: Kapitall is a team of analysts. This article was written by Gary Deduke, one of our writers. We did not receive compensation for this article (other than from Seeking Alpha), and we have no business relationship with any company whose stock is mentioned in this article.