As reported in Part 1, Onyx Pharmaceuticals (NASDAQ:ONXX) rejected Amgen's $120 per share acquiring offer as significantly undervaluing the company. To derive a fair value for ONXX, we focus on financial analysis in Part 3. As of December 2012, the company has $650M of accumulated deficit and shareholder's equity of $820M. The company also has $230M convertible notes due in 2016, which is most likely to be converted to equity. We estimate that Onyx's projected earnings to be -$1.24 (2013), $0.40 (2014), $2.84 (2015), $5.47 (2016), and $10.45 (2017). Using the discounted cash flow model, the intrinsic value for ONXX is about $118 per share. The current stock price of $134 is thus traded at about a 13% premium to its intrinsic value. As more bidders come into play, it is conceivable that some companies may be willingly to pay up substantial premium to acquire Onyx and its drug products.
Income Statement
Let's first review Onyx's financial statements (ONXX 10K 2012). In 2012 (ending December 31), Onyx reported $362M revenues, which include $64M of product sales (Kyprolis), $288M of revenue from collaboration (Nexavar), and $8.3M of Roylaty revenue (Stivagar). It had a net loss of $187M, primarily due to higher spending on R&D as well as SG&A expenses, totaled $650M, associated with clinical trials and marketing of Kyprolis.
As described in Part 2, we estimate that total revenues for ONXX will be $409M (2013), $553B (2014), $766M (2015), $995M (2016), and $1.4B (2017). As the company expands its clinical programs, we estimate that the company's combined R&D and SG&A expenses will be maintained at its 3-year average of about $450M. This translates to an operating margin of 30-35%, which is in line with comparable companies. Assuming the tax rates are in the 10%-12% range, the net profit margins are ~25%. Therefore, the projected earnings per share are -$1.24 (2013), $0.40 (2014), $2.84 (2015), $5.47 (2016), and $10.45 (2017).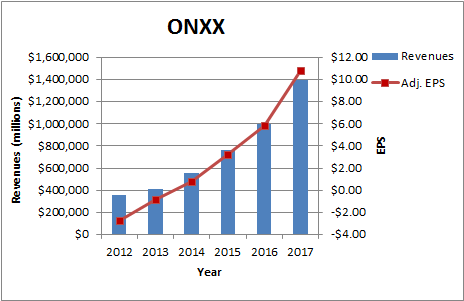 Balance Sheet
Now, let's look at Onyx's balance sheet. As of December 2012, the company had approximately $1.35B total assets which include $483M cash and marketable securities, as well as $820M of shareholder's equity. Due to long-term losses, the accumulated deficit now stands as $650M. This is common for early stage biopharmaceutical companies before they turn profitable.
Another sticking point is the company's $230M senior convertible notes (4.0% coupon) due 2016. If the stock price is above the conversion price of $39.65, it is highly likely that the debt will be converted to equity. If this indeed happens, the debt will be converted to an equivalent of 5.8 million shares. The current reported 65 million diluted shares outstanding already include all additional common shares that would have been outstanding assuming dilutive potential common shares had been issued for dilutive convertible senior notes. So, the conversion should have minimal impact on our calculation of diluted earnings per share.
At present, Onyx has a 17.4% total debt to total invested capital ratio, which is low among its peers. The conversion of debt to equity in 2016 will further reduce total debt levels and significantly strengthen its balance sheet, especially total shareholders' equity. Along with increasing revenues and net income, the company may have positive retained earnings of $500M by 2017. While we always wonder whether large accumulated deficits may prevent a company from being acquired, as the company turns profitable it will certainly become more attractive as a potential acquisition target. The recent acquisition offer from Amgen (NASDAQ:AMGN) supports this view.
Stock Valuation

Table 2 summarizes the projected data inputs used for stock valuation. Onyx's cash flows from operations (NASDAQ:CFO) are estimated to be between $2M and $572M from 2014 to 2017. We also factor in capital expenditure to be 5% of the cash flow to operation. After subtracting capital expenditures from its CFO, Onyx's free cash flows increase from $2M and $544M (2017). The free cash flow numbers were used to derive Onyx's intrinsic value.
We utilized the Discounted Free Cash Flow model to derive Onyx's intrinsic equity value. Based on the free cash flow numbers from 2013 to 2017, a long-term growth rate of 5% and a 14% discount rate, the estimated per share stock value is ~$118.
The fair value is greatly impacted by long-term growth rates. For instance, a 4.5% growth rate would elevate the fair value to $113, whereas a 5.5% growth rate would bring down the fair value to $123.
We applied a 14% discount rate for ONYX's valuation. As a reference point, we usually assign 10%-12% discount rate for a mature pharmaceutical company like JNJ and Pfizer and 15%-20% for small cap companies without marketed products. Again, the fair value is affected by the discount rates. A 13.5% discount rate will elevate the intrinsic value to $127, whereas a 14.5% will reduce the value to $110.

Onyx is currently trading at $134 as of 7/2/2013. This price represents a 13% premium to its intrinsic value calculated in this article.
Conclusion:
Prior to 2013, Onyx's revenue sources were primarily from royalty payment and collaboration revenues on the sales of Nexavar and Stivaga co-developed with Bayer Pharmaceuticals. Through the acquisition of Proteolix in 2009, Onyx is able to develop its wholly owned Kyprolis which was approved by the FDA in 2012 as a 3rd-line treatment for multiple myeloma. As Onyx is conducting clinical trials to expand Kyprolis as potential front-line and 2nd line treatments for multiple myeloma, Kyprolis will become the major revenue driver for the company going forward. In fact, we believe that Kyprolis creates significant value for the company and it is the major force behind potential takeover by other biopharmaceutical companies such as Amgen.
Onyx is not over-loaded with debt, which is probably another reason why it is attractive as a potential takeover target. Its total debt to invested capital ratio is a modest 17%, which is low among its peers. Although its net income (or loss) were mostly in the negative territory in the past, Onyx's earnings will turn positive in 2014 and beyond. As the result of increasing earnings, Onyx's accumulated deficit of $650M will decrease over next few years. In fact, the company may turn to positive retained earnings of $500M by 2017. We believe these positive prospects help facilitate potential acquisition by other companies.
Based on the earnings projection and stock valuation, we derive an intrinsic value for ONXX at $118. At current stock price of $134, ONXX is traded at about a 13% premium to its intrinsic value. Interestingly, our valuation is very close to Amgen's proposed acquiring price of $120. Time will tell whether there are other potential corporate buyers. If so, the bidding could still send the stock higher.
References:
Onyx Pharmaceuticals Rejected Amgen's $120 Per Share Acquiring Offer - Part 1
Onyx Pharmaceuticals 5-Year Revenue Projection - Part 2
ONXX corporate presentation June2013
Onyx Confirms Receipt of Unsolicited Acquisition Proposal from Amgen
Phase 3 DECISION Trial of Nexavar Meets Primary Endpoint of Improving Progression-Free Survival in Patients with Thyroid Cancer
Disclosure: I am long ONXX, AMGN. I wrote this article myself, and it expresses my own opinions. I am not receiving compensation for it (other than from Seeking Alpha). I have no business relationship with any company whose stock is mentioned in this article.