Merck & Co. Inc. (NYSE:MRK) sports a market cap of $139.87B. It is one of the world's leading pharmaceutical companies. There are multiple reasons it has attracted attention recently, including a cancer product that has the FDA's Breakthrough designation, an enormous $15B buyback authorization, a new agreement to repurchase $5B worth of shares from Goldman Sachs on an accelerated schedule, and problematic patent expiration issues surrounding its marketed drugs.
Merck recently announced disappointing first quarter 2013 results, earning $0.85 per share, a $0.14 YoY decline. There was a 9% decrease in sales that results from the patent problem, and also a 2% unfavorable foreign exchange impact. The company revised down 2013 target earnings to $3.45 to $3.55, from its previous $3.60 to $3.70.
As a positive for shareholders, the number of Average Shares Outstanding Assuming Dilution decreased by 21M, from 3,074M to 3,053M.
Capital Allocation and Returns
In conjunction with the slowing, the company has announced a buyback worth over 10% of its market cap, with $7.5B, or half, to be repurchased before next May. Feelings about buybacks can vary, while capital is returned to shareholders through them, some prefer growing dividends. Merck is a dividend stock, paying out $1.72 annually to yield $3.71% at its current price. The company ceases to utilize cash flows on dividends of shares that it retires. Using an approximate repurchase price of $49, without accounting for any dilution, over 306M shares should become treasury stock, saving approximately $526M annually in dividend payments.
In order to finance the buyback in part, the company has taken advantage of historically low rates to borrow $6.5B. According to UBS, this equates to "~$170M in annual interest expense." So, if the stock stays where it is, over $350M should be available per annum, while the supply of shares is substantially reduced. The Swiss firm models aggregate dividend payments and treasury stock through the year 2020, evidently forecasting a dividend increase in 2015.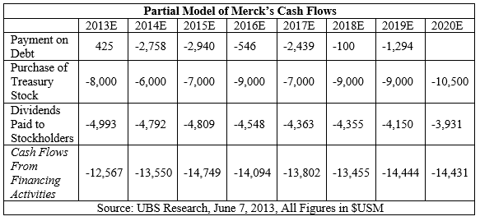 Click to enlarge
Generally, stock is repurchased if management feels that it is undervalued. Merck is near its 52-week high, which may cause questions about the prudence of repurchasing. To quote Goldman, the company's key risks are "Clinical data success, new product execution, (and) business development." For these reasons and others, it is difficult for a retail investor to independently and accurately assess the fundamentals of a stock such as MRK to know whether or not shares should be taken off the market.
The company's clinical data are drawn from a pipeline of drugs undergoing years of study and governmental review before they may be offered in international markets. It is remarkable that Merck has been able to bring back Roger Perlmutter to lead Research and Development ("R&D"). However, it is hopeful that this article can help to lessen reliance on management's judgment - that the stock should not decline after $15B is spent on it, alongside a separate $8B annually on drug R&D.
A graphical display of Merck's pipeline, as of May 6, 2013, shows 23 products in Phase II, 15 in Phase III, and six awaiting a response regarding their submission for approval. Each product candidate, including those in Phase I, deserves consideration for likelihood of authorization and commercial potential.
Given the enormity of tasks, my preferred method at this time is to use the research of the largest sell side firms, which are particularly influential, and produce a rough consensus opinion of where the company is headed and implications of such a massive buyback.
UBS, June 7, 2013
The Swiss firm still rates MRK a buy, and has revised its 12-month price target up to $53, from $51. UBS uses a Discounted Cash Flow methodology, assuming Merck's base business is worth $38, and its pipeline $15, per share. The note says "…Investors can be excited about the pipeline again…"
Its team of analysts is impressed by the success of Lambrolizumab, intended to treat melanoma, a deadly form of skin cancer. "Lambro" has been awarded the FDA's "Breakthrough" designation. It is known as an immuno-oncology drug, as it uses a patient's own immune system to destroy cancer cells, and is not expected to go on sale until 2015 at the earliest. It is widely speculated that usage can be expanded to other types of cancers. UBS's current 2020E figures are $800M for melanoma (65%), $1.4B for Non-Small Cell Lung Cancer ("NSCLC") (50%) and another $350M for other indications (25% risk adjusted). It has the highest annual sales figures available for any product in clinical development, forecast to generate $504M when available in 2016, and increasing yearly to reach $2.169B in 2020.
The total estimated sales for Phase III products in 2020 is $7,318M, and for Phase II, $3,141M. Also in the results in UBS's figures are Total Pipeline Annual Sales of $10,459. Estimated Base Business revenues for 2020 are $42,237M. Thus, $52,696M in revenues is forecast seven years from now.
A separate $63M in income is predicted through a Joint Venture with Sanofi-Pasteur.
Merck recently presented at a UBS Global Healthcare Conference in which Executive Vice President and Chief Financial Officer Peter N. Kellogg describes the company's pipeline as its "most underappreciated aspect." He also talked about intellectual property issues, citing $3B in patent expiry to the top line since merging with Schering-Plough, which bought Organon in 2009. Growth would be in the high single digits without the "Patent cliff" and the company has experienced 1% top-line growth rate despite it. Another notable statement is that the company has an ...

operating expense that is below our peer group on average…despite expanding in emerging markets and making sure we launched our products very well in Japan…
UBS models $19M in 4Q2013, $124M in 2014 and $214 in 2015 for Suvorexant, "A first-in-class insomnia drug" is in Phase III. It also specifies the candidate's possible failure as a risk. The firm's projected figures increase annually through a 2020E of $487M. It cites another two Phase III candidates as concerns: Odanacatib, for osteoporosis, planned for filing this year, and Cordaptive, "an extended-relief niacin plus laropiprant" that has been withdrawn since January 2013.
Goldman Sachs
Goldman, again, has agreed to part ways with $5B worth of stock. Its analyst team, represented in the media by Jami Rubin, is not wavering from its Neutral rating. A current story involving an FDA Complete Response Letter for Suvorexant has resulted in further commentary.
We are pushing our suvorexant launch assumption from 2014 out to 2015 based on today's news. While our estimate of $180 mn in 2014 and consensus at $145 mn do not suggest significant downside to MRK, today's news is another pipeline setback in a year that has seen tredaptive failure, odanacatib delay and - separately - biosimilar Remicade in EU with a surprisingly broad label.
The firm's projections for cash flows are particularly interesting. Free Cash Flow ("FCF") and FCF Yield are expected to trend downward, with no increase to the dividend. Estimated dividend payments in 2015 are very close to UBS's.

Click to enlarge
Goldman Sachs says:
While we are encouraged by lambro, we believe that combo therapies may take the majority share of the immuno-oncology market. We have not seen anything in MRK's portfolio to date for combinations (although there may be earlier stage assets). This compares to BMY that has a large portfolio of immuno-oncology agents to use in combination, ROG that has a portfolio of target therapies for combination, and even AZN while behind the other competitors also has potential for combination therapies.
The firm's $50, 12 month price target is based on 13.5x its 2014E EPS - specified as $3.67. The multiple has been increased from 13.0x based on "Increased confidence" in Lambro.
JPMorgan, June 19, 2013
JPMorgan is maintaining its Overweight rating on the stock, with a $54, 12 month price target, resulting from an increase on June 3.
The firm's most recent research is an Alert resulting from Bristol-Myers Squibb & Co.'s (NYSE:BMY) and AstraZeneca's (NYSE:AZN) SAVOR study,
Where Onglyza (DPP-4 for the treatment of diabetes) failed to show cardiovascular benefit relative to placebo…a potential positive catalyst that could have reinvigorated growth for the DPP-4 class as a whole ... an incremental negative to Merck (which has the largest exposure to the class) as well as BMY and (Eli Lilly) (LLY)

(However)…we believe SAVOR (As the first outcomes study for the DPP-4s) will represent an incremental data point on safety for the category.
JPMorgan maintains Neutral ratings on BMY and AZN, with price targets of $46.85 and $52.35, respectively.
Also, there is further emphasis on diabetes:
MRK remains most exposed to the DPP-4s and…expects outcomes data from the 14,000-patient TECOS study in 2014. The Januvia franchise represents roughly 14% of MRK's current sales, increasing to 20% by 2020.
The three price targets here, drawn from the world's most influential financial institutions are $53, $50 and $54. I am comfortable using their average, $52.33. So, there is reason to believe that there is 13% upside potential from Merck's current share price of $46.32.
However, it is difficult to view the stock as substantially undervalued because R&D needs to result in success. Meanwhile, everyone emphasizes Lambro, worth about 29% of 2020E pipeline revenues per UBS. Odanacatib and Suvorexant should also keep shareholders on the edges of their seats.
Merck is spending an extraordinary amount of money on shareholders. It makes me content to accept the dividend payment while the amount spent on it overall should be eased. However, if you think the stock is not about to bolt higher, Goldman Sachs probably agrees.
Disclosure: I am long MRK. I wrote this article myself, and it expresses my own opinions. I am not receiving compensation for it (other than from Seeking Alpha). I have no business relationship with any company whose stock is mentioned in this article.