Summary
Micahel Kors (NYSE:KORS) is one of the fastest growing brands in the specialty retail space. It has significant opportunity to grow through increase in SSS, increase in new stores in the U.S. and abroad, and new product offerings. Since its IPO in December 2011, all growth drivers have been on fire - SSS, store growth in US, wholesale channel improvement, Europe and Japan penetration, and margin improvement driven by favorable product mix. The stock has room to run higher and can reach $75 to $80 in 6 to 12 months.
Company Background
Michael Kors is a world-renowned, award-winning designer of luxury accessories and ready to wear. His namesake company, established in 1981, currently produces a range of products through his Michael Kors, KORS Michael Kors and MICHAEL Michael Kors labels, including accessories, footwear, watches, jewelry, men's and women's ready to wear, and a full line of fragrance products.
Investment Merits
Taking market share - target market favors KORS' unique brand image. Michael Kors embodies a jet-set lifestyle image that provides a fresh personality in the specialty retail space. The brand creates glamorous and chic products and is resonating with their customers (25-54 with incomes > $50K) very well. Since the launch of the more affordable MICHAEL Michael Kors collection, Michael Kors' brand awareness has increased substantially in the U.S., up to 78% compared to 11% in 2004. According to Q3 2013 (Dec 2012) earnings call, management noted "In Europe, we continue to capture additional market share in the accessories, footwear, watch and apparel markets by increasing brand awareness through our advertising, public relations and social media activities." Coach's (NYSE:COH) latest quarter earnings result reported only a 7% revenue growth and a 1% SSS increase in North America (note that prior quarter SSS declined 2%), which clearly showed that Coach is losing its battle at home. KORS' 50%+ revenue growth rate far exceeds industry average, which implies that it is taking shares from competitors both domestically and abroad.
Strong growth momentum powered by multiple growth engines. Recent earnings result demonstrated growth in all aspects of the business: SSS, new products, new markets, and existing market penetration. EPS for the March 2013 quarter came in at $0.50 (124% increase yoy), resulting a 28% beat against $0.39 consensus EPS. KORS has exceeded street consensus by large margin since its IPO. For the past 4 quarters, KORS exceeded consensus EPS estimate by 44% on average. Given the strong growth momentum, there is a good chance that the near term SSS% will exceed management's mid 20% guidance and analysts' expectations, leading to further EPS upward revision. One can see KORS' growth momentum by reviewing the Q4 fiscal 2013 earnings result highlights:
Strong SSS% Growth - KORS reported a 36.7% increase in SSS for Q4 fiscal 2013. Instead of gradual growth deceleration, SSS% accelerated above 40% in September and December quarters in 2012 (see chart below) and surprised many analysts on the street. Management guided 20% SSS for the past 2 quarters. (Source: Company's earnings reports)

Click to enlarge

Strong New Products Sales - On a combined basis, accessories, footwear, watches, jewelry, eyewear and related product comprised approximately 80% of product mix in Q4. In addition to the strong soft luxury sales, watches and jewelry (hard luxury) category in particular has been strong, driving upside to SSS in Michael Kors retail stores. Fossil (Kors' watch manufacturer) sees Michael Kors as one of the top accessible luxury watch brands globally.
New Market Penetration - KORS entered the European market in 2010, despite the current weak economy, sales in Europe remains strong. The 63% SSS in Europe during Q4 reflected ongoing brand acceptance. Combined with the expansion of retail and wholesale doors, it led to 97% revenue growth in Q4 2013 (March 2013).
Continue to Grow in Existing Market - In the U.S, the company added 67 net new store openings (~30% footage growth) since the end of the same period last year. The company also focused on driving incremental revenue from the wholesale segment by converting department store doors to shop-in-shops. An in-store conversion produces three times the sales volume of an unconverted door. The company sees an opportunity to operate through shop-in-shops within 1,000 doors domestically, with plans to convert over 100 per year. Company probably completed 250 conversions so far and with plans to have competed 500 by end of 2013.
Long term growth remains intact. KORS will continue to leverage the strength of the brand to take market share and grow its business.
Increase SSS - Management is currently guiding 20% SSS even though recent quarter SSS was 36.7%. Following management conservative guidance, KORS should be able to achieve 20%+ SSS for FYE March 2014 and low to mid teens for the following year.
New Stores - At end of Q4 fiscal 2013, KORS had 400 company owned stores globally including concessions. Management discussed in recent earnings call the potential to open 600 company owned retail stores globally and significantly increase wholesale doors in Europe over the long run (see charts below).

North America - The company had 231 locations in North America at the end of the quarter. Management believes there is a long-term potential for 400 locations in this region. This target is reasonable given that Coach has about 530 locations in North America.
Europe - KORS is currently underpenetrated in Europe and the company believes the region can support 100 retail stores and 2,000 wholesale doors which represent a $500 million market opportunity. Europe generated $220 million revenue, represented only about 10% of Michael Kors' total FY13 revenue, compared to estimates of 22% at Ralph Lauren and Prada, 24% at Ferragamo, 28% at Gucci, 32% at Burberry and 37% at Hermes.
Asia - Japan is a key market and management sees the development of this region as a long-term opportunity. As one of the most important luxury markets in the world, management believes that the Michael Kors brand will resonate with the Japanese fashion consumer. The company has 29 stores in Japan and believes that this market can ultimately support 100 retail locations including concessions.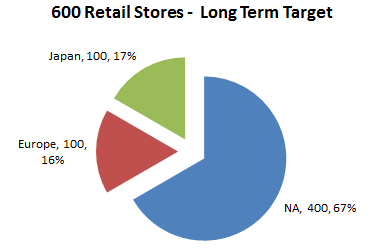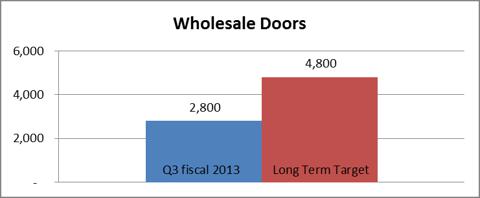 Click to enlarge
Room for further margin expansion. As the company continues to increase the number of retail stores and grow its SSS, margin should improve upon the existing cost structure.
The expansion of the retail segment should benefit gross margins for KORS in the long run, as retail stores produce a gross margin in the high 60s to low 70s, compared to a low to mid 40s rate in the wholesale business. Gross profit margin has been steadily increasing yoy in the past few quarters (see chart below).
Operating margin expanded from low 20% in 2011 to nearly high 20%+ 2012. It was mainly driven by increase in SSS and new stores that resulted favorable operating leverage.
Valuation
At $61, KORS trades at 23.8x FYE March 2014 EPS of $2.56. Peers such as RL, COH, and VFC are currently trading at 18.5x, 13.8x, and 17.6x forward P/E respectively. KORS' higher trading multiples is justified by its higher EPS growth rate and strong growth outlook. Since KORS' IPO, the stock has traded from 20x to 30x forward P/E. At 23.8x, it is currently trading at low end of the range. Its PEG ratio is only 0.6x, lowest in its peer group, which also suggests that KORS is undervalued relative to its EPS growth (see below). (Source: Yahoo Finance and Capital IQ)

Click to enlarge
Another way to look at valuation is to review trading multiples for brands during their high growth period. Brands such as BEBE and Coach, on average traded 25x to 27x forward P/E during their high growth period. Under Armour and Lululemon were commanding even higher multiples (see chart below). KORS is currently experiencing higher growth rate than Coach and BEBE while comparable to Under Armour (NYSE:UA) and Lululemon (NASDAQ:LULU) during their high growth period, this suggests that KORS' current valuation is at least in line if not under-valued. (Source: Capital IQ)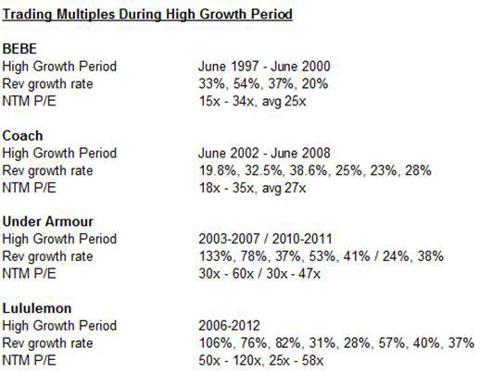 Click to enlarge
Target Price
Current street consensus for FYE March 2015 EPS was revised up to $3.20 from $3.06, representing a 25% growth yoy. However, if the company continues to beat consensus estimates, management will need to raise outlook, and the stock has the potential to reach $75 to $80 in 6 to 12 months timeframe.
Disclosure: I am long KORS. I wrote this article myself, and it expresses my own opinions. I am not receiving compensation for it (other than from Seeking Alpha). I have no business relationship with any company whose stock is mentioned in this article.