The Chicago Fed National Activity Index (CFNAI) composed of 85 indicators has a strong correlation with job growth and implies weakness. In May the three month moving average of the index dipped to -0.46. This is not quite low enough to be a recession call, but should put us on recession watch. It also suggests job growth could be very weak.
Here is the correlation between the three month average CFNAI and the three month average of new jobs.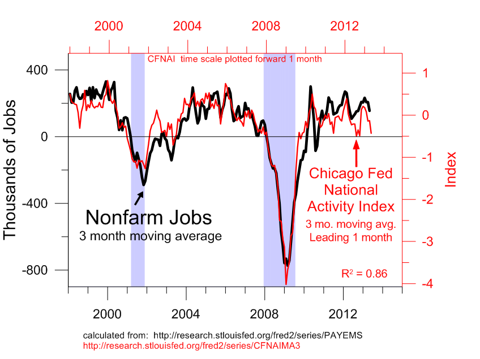 The CFNAI leads job growth by one month, so the weak May number has ominous implications for June job growth. Now let's zoom in on the last few years.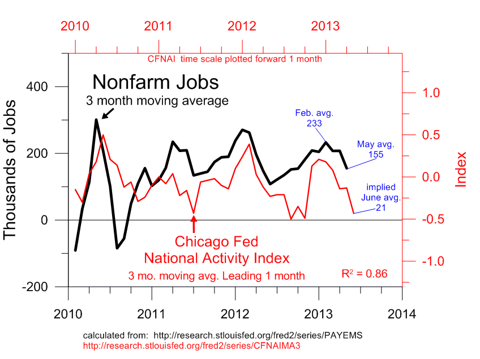 In February the average job growth hit an 11 month high of 233 thousand jobs. By May the three month average dropped to 155 thousand. The May CFNAI of -0.46 would be consistent with averaging 21 thousand new jobs a month. While I don't expect June lost the 261 jobs necessary for the 3 month average to drop to 21 thousand, I do expect the three month average to decline from May's 155 thousand. In the last 2 years job growth has averaged about 73 thousand more than estimated by the CFNAI. If this average difference were to hold in June the three month average would drop from 155 to 94 thousand which would mean June lost 42 thousand jobs, presuming there were not revisions to prior month's job numbers.
The Briefing.com estimate of 175 thousand new June jobs would push the average up to 166 thousand. While this is possible it looks too optimistic to me. In the last two quarters GDP has annualized growing 1.1% while Job growth has run about 1.7%. After tax corporate profits (NYSE:CP) didn't take jobs growing faster than the economy very well and declined $24 billion dollars in the first quarter, as shown below.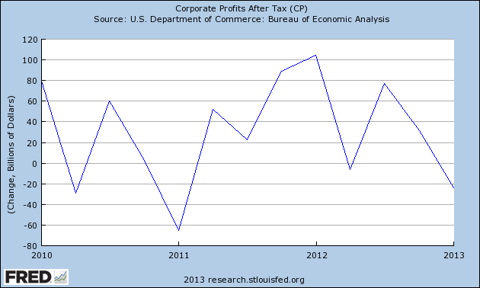 In the effort to make earnings estimates companies may have cut workers in June. The labor market has been weaker than jobs growth suggests and June could be the month where the number of jobs shows this weakness. In May wages were held flat even though jobs increased. In April the estimated number of hours worked decreased even though the estimated jobs increased.
Implications
A negative June jobs number would likely have a downward impact on stocks (NYSEARCA:SPY). A weaker than expected but still positive number, could be interpreted as bullish, but a negative number would stir concern about recession and Fed easing usually fails to protect the stock market from recession.
A weak job number should be unambiguously good for bonds (NYSEARCA:TLH) (NYSEARCA:IEF) with higher prices and lower rates.
The dollar (NYSEARCA:UDN) (NYSEARCA:UUP) should also weaken with weak jobs growth.
Disclosure: I am short SPY. I wrote this article myself, and it expresses my own opinions. I am not receiving compensation for it (other than from Seeking Alpha). I have no business relationship with any company whose stock is mentioned in this article.
Additional disclosure: There is no guarantee analysis of historical data their trends and correlations enable accurate forecasts. The data presented is from sources believed to be reliable, but its accuracy cannot be guaranteed. Past performance does not indicate future results. This is not a recommendation to buy or sell specific securities. This is not an offer to manage money.