The purpose of this series is to highlight stocks that are undervalued, profitable, underperformed the market, and have a favorable technical outlook. The stock that I will be covering for my undervalued series this week is Rockwell Collins (NYSE:COL). Rockwell Collins's stock has dropped just under 4% in the last month and has underperformed the S&P 500 (NYSEARCA:SPY) year to date. I believe Rockwell Collins is a solid long-term choice to gain exposure to the growth in aircraft production from Boeing (NYSE:BA). According to the Boeing 787 order website, the 787 has a backlog of 833 planes, and in addition, Boeing also has a backlog of 3267 planes for the smaller Boeing 737. This represents a significant opportunity for Rockwell Collins because according to airframer.com Rockwell Collins supplies some important parts that are essential, and they are listed below.
Control stand with throttle
Speed break
Flap control modules
Pitch roll & yaw primary pilot controls
Interfaces to fly-by-wire system
Radio Communications Equipment
Core network & common data network
Flight deck display system
Crew alert system
Integrated Surveillance System
Cockpit voice & flight data recording system
Value
To value Rockwell Collins I will be using the DCF calculator from smartmoney.com, with data for earnings and growth coming from Zacks.com, benchmark data from longrundata.com, and CPI data from the BLS. The DCF table below shows shares of Rockwell Collins are undervalued by 31.59%, which represents a potentially quality price appreciation opportunity for shares of Rockwell Collins.
EPS [ttm]: $4.57
Long-term Growth Rate: 8.93%
Earnings grow for next: 5 years
Level off: to 1% after
Benchmark return: 10 yr annualized SPY return of 7.23%+1.4% inflation= 8.61% benchmark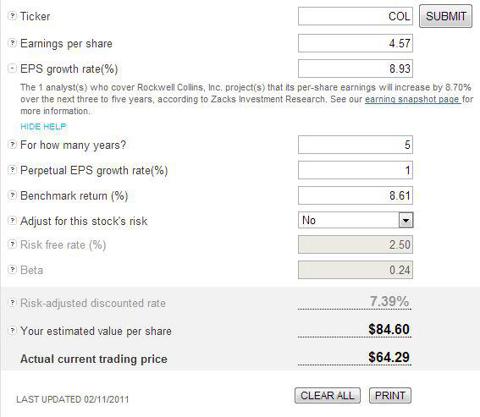 Technical Outlook
The chart below shows that shares of Rockwell Collins have been in a rising channel over the last year, and recently tested the bottom of the channel and bounced off. Longer-term you can see that Rockwell Collins has topped out at the $68 level 3 times over the last three years and failed to break through that level, meaning the $68 level is a significant level of resistance for Rockwell Collins. With the strength of the underlying business of Rockwell Collins, and shares undervalued, I believe the stock will breakout above the $68 level, and continue higher towards my estimated value of $84/share.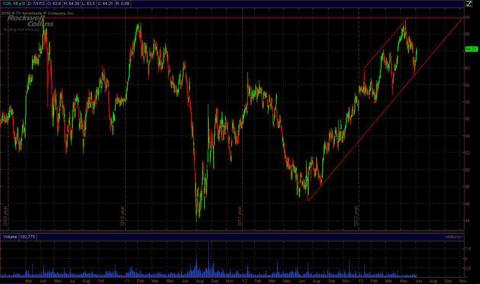 Catalyst
The biggest long-term catalyst for Rockwell Collins is the growth in aircraft production. In June Boeing raised their forecast for aircraft production over the next 20 years, to an estimate of $4.8 Trillion, in new planes that are to be purchased in that 20-year period. This represents a huge long-term opportunity for Rockwell Collins to supply key parts for the forecasted growth in new aircraft. For a shorter-term catalyst, Rockwell Collins is reporting earnings on July 19th, and I think based on the underlying strength of the fundamentals, shares are poised to continue higher and rise following the earnings report.
Risks
The biggest risk to Rockwell Collins is order cancellations for planes that they supply parts for. If the global economy slows, that could cause companies to cancel or delay orders for Boeing planes that Rockwell Collins supplies parts for. Another reason that companies might cancel or delay orders is if there is a significant increase in interest rates those companies who planned on borrowing money at a lower rate to finance the purchase of the planes, might not be able to do so at higher interest rates.
Closing thought
I believe shares of Rockwell Collins are poised to move higher from current levels, because the stock is undervalued, the underlying business is strong, and the stock recently bounced off a channel support, and is heading back towards long-term resistance where I think shares will breakout.
Disclosure: I have no positions in any stocks mentioned, and no plans to initiate any positions within the next 72 hours. I wrote this article myself, and it expresses my own opinions. I am not receiving compensation for it (other than from Seeking Alpha). I have no business relationship with any company whose stock is mentioned in this article.