As any investor knows, no investment is without risk. Great investors also know that achieving alpha requires finding and exploiting opportunities with asymmetric risk profiles. Coinstar (NASDAQ:CSTR) at current prices is such an opportunity, with core businesses being undervalued and potential revenue streams ignored.
A Sum-Of-The-Parts analysis, comparing the Coin and Redbox segments to companies with similar secular challenges, exposes this opportunity for upside with limited risk.
Coin Valuation
Coinstar's coin kiosks are a steady portion of the overall business, with revenue growth at 2.3% and 3.0% in 2011 and 2012 respectively and healthy EBITDA margins around 35%. While many investors point to this stability as a strength, it's important to remember two key points about this business:
Coin kiosks are in a long-term secular decline. A report published by Javelin Strategy & Research forecasted that the use of cash for POS purchases would drop from 27% in 2011 to 23% by 2017. While this is a gradual shift, it nonetheless tells us that our society's shift to electronic payments will inevitably cause declines in Coin.
Margins in the Coin business are compressing slightly. During the recent Investor Day in February, management explained that the new installations of coin kiosks in Canada would be "below productivity levels of the US," meaning lower revenues and margins. Furthermore, the gift card exchange business will put downward pressure on margins (source: Q4 2012 earnings call).
With these pressures in mind, the comparable companies selected for Coin are Diebold (NYSE:DBD) and NCR (NYSE:NCR). Both companies are heavily dependent on society's use of cash, since they provide ATMs and physical cash management services. Their EV / EBITDA multiples are calculated on consensus forecasts for 2013 and 2014 financials:

While these companies are similar to Coin in terms of a shared secular decline, analysts forecast higher growth for DBD and NCR than is expected for Coin. Furthermore, they have more than one business line and are therefore diversified to some extent. Thus, we apply a conservative 50% discount to the median EV / EBITDA multiples and end up with 4.3x and 4.0x for 2013 and 2014 EV / EBITDA respectively. This gives us a valuation of approximately $371 million:

Next up is the valuation of the Redbox business unit.
Redbox Valuation
Redbox makes up the lion's share of Coinstar's business, contributing 87% of revenues in 2012. Much of the debate on Coinstar centers on the role that Redbox will play as we transition into an increasingly online world with companies like Netflix (NASDAQ:NFLX). Consequently, the selected comparable companies are all well-known to be experiencing significant pressure from online substitutes. Barring unexpectedly successful diversification into new revenue streams, each of these businesses is expected to decline rapidly. This reflects market expectations of Redbox's current situation.
Again, the following EV / EBITDA multiples are calculated on consensus estimates for 2013 and 2014 financials: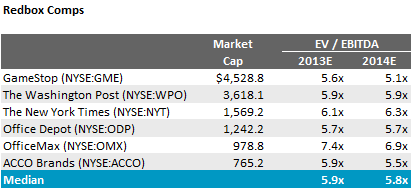 While Redbox has stronger operating metrics (margins and FCF yield) than several of these companies, we apply a 20% discount to the median multiples in the interest of being conservative. This gives us a valuation of approximately $2.1 billion.

With the two main segments valued, we can build up to a full company valuation.
Full Company Valuation
For a full valuation of Coinstar, we have four pieces: Coin, Redbox, New Ventures, and Corporate. The valuations of Coin and Redbox are complete, and New Ventures / Corporate are valued using the average multiple of Coin and Redbox:


We now have enough information to sum the parts for a full company valuation: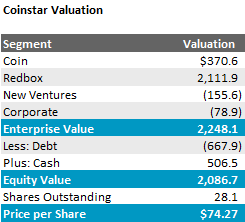 *Balance sheet data as of 3/31/2013
So, what does this mean for us?
At $74.27/share or a 23% premium to the closing price on 7/1/13, we can be comfortable knowing that Coinstar trades at a sizable discount to an extremely conservative valuation.
What's more is that this valuation, unlike an intrinsic valuation, is realizable, since it utilizes multiples observed in public markets.
We chose comparable companies that are facing the same secular headwinds and applied further discounts (50% and 20% for Coin and Redbox, respectively) to their multiples. Perhaps even more importantly, this valuation purposely leaves out potential upside from Coinstar's new business ventures like Rubi (coffee kiosks), Alula (gift card exchange), or Redbox Instant (online streaming).
In other words, at current prices, Coinstar's conservative SOTP valuation reveals limited fundamental downside, while any incremental success in new business ventures or less severe declines than expected in Coin and Redbox will reward shareholders to the upside.
Catalysts
There are several ways for this value can be unlocked:
Early indications of success in significant new business ventures, such as Redbox Instant or Rubi. This would likely occur over the next 12-18 months.
Better sustained penetration into the DVD rental market than expected. With the exit of B&M stores, this would likely occur over the next 6-9 months.
Increase in share repurchases or initiation of a dividend to return cash to shareholders, but only if it isn't done at the expense of investing in promising new ventures.
Risks to Thesis (Bear Case)
Coinstar's numerous short sellers argue that the business is fundamentally flawed and in rapid secular decline. In technology especially, trends move quickly - Redbox risks becoming irrelevant within a relatively short time frame. As substitutes like Netflix and Amazon increasingly gain share in the overall viewership of movies, this is a very real risk.
That being said, Coinstar's share price indicates that these expectations are already priced in. The Redbox comp group consists of businesses with similar pressure from the transition to online services and market expectations of deterioration in fundamentals. Their exposure to the same overriding decline driver would imply similar multiples. If anything, Coinstar's stronger operating metrics and brand name (Redbox) should command a premium.
However, with a median comparable multiple of 4.5x 2013E EBITDA as opposed to Coinstar's current trading multiple of 3.8x, the market appears to be unjustifiably discounting CSTR relative to its peers.
The short sellers' argument may be correct from a long-term business standpoint, but it lacks actionability in a market that has already priced in the worst possible outcome. In other words, the bear thesis has already run its course.
Other incremental risks:
Failure of all new business ventures AND inefficient use of cash in funding further New Ventures capex.
Faster deterioration in Redbox fundamentals than expected.
Unfavorable new contract terms with content publishers or retail stores.
Recommendation
Coinstar is a combination of steady cash-generating businesses and unproven new ventures. Current market valuations allow you to buy the cash-generating businesses for a discount to other companies with similar secular pressures and get the new ventures for free. By no means are the new ventures guaranteed to be successful, but the risk-reward profile is skewed in favor of long investors at this point in time.
Investors should consider buying CSTR with a 12-18 month time horizon in mind. The position should be exited if the stated incremental risks materialize or peer group multiples decline significantly.
Disclosure: I am long CSTR. I wrote this article myself, and it expresses my own opinions. I am not receiving compensation for it (other than from Seeking Alpha). I have no business relationship with any company whose stock is mentioned in this article.