My headline comes, with permission, from a note on my colleague and competitor Sy Harding's excellent blog. He was referring to the lunacy of Wall Street convincing us to ignore the fact that service companies are providing fewer services, getting less revenue, and declaring lousier earnings, while manufacturers are selling less of their product, getting less revenue, and declaring lousier earnings.
Otherwise-wise investors are taking the soma Aldous Huxley wrote so brilliantly about in 1932. And Wall Street is pushing the soma and an assortment of other make-us-forget drugs that all sound like, "Pssst. Hey, kid. Don't worry about earnings and revenues. Here's the game: we'll just keep reducing estimates to the point where the bar is lying on the ground, then we'll trumpet it as a majestic leap if corporate execs can manage not to trip over it. If they do, you buy. Got it?"
This is no longer about the market and one's bullish or bearish bias – it's now simply a reality check. The market will do what it can to surprise the greatest number. Thus has it always been. Because the greatest number have already acted on their beliefs, they aren't putting new money in to the latest direction. I expect markets to often surprise me, and have been nimble enough or (just as likely) lucky enough to position (often after more than one re-position) on the side of the angels.
I had to re-position just last week. Based upon fundamental analysis, technical analysis and contrary sentiment analysis, this market is overpriced so I was 10% long, 80% income, and 10% short. I covered half that short position at a loss. Why? Not because the fundamental, technical or sentiment indicators changed but simply because they don't matter right now.
This is no longer about the market and one man's zealous belief it will rise and another man's zealous belief it must fall. This is about unctuous deception and smarmy manipulation of news and corporate results. Let's take a quick look at how some of our best and brightest companies have done this quarter:
Disney's (NYSE:DIS) earnings -- down 26%
Exxon's earnings (NYSE:XOM) -- down 66%
ITT (NYSE:ITT) earnings -- down 10%
Kansas City Southern (NYSE:KSU) earnings -- down 87%
BASF (the world's largest chemical company) (OTCQX:BASFY) earnings -- down 74%
Aflac (NYSE:AFL) earnings -- down 35%
Avery Dennison's (NYSE:AVY) earnings -- down 50%
Cummins (NYSE:CMI) earnings -- down 81%
Parker Hannifin's (NYSE:PH) earnings -- down 80%
Smith International (SII) earnings -- down 87%
Canon (NYSE:CAJ) earnings – down 86%
Coach (NYSE:COH) (the luxury products bellwether) earnings -- down 27%
McDonald's (NYSE:MCD) (somewhat south of a luxury bellwether) earnings -- down 8%
UPS (NYSE:UPS) earnings -- down 49%
U.S. Bancorp (NYSE:USB) earnings -- down 77%
Whirlpool (NYSE:WHR) earnings -- down 32%
Caterpillar (NYSE:CAT) earnings -- down 65.5%
G.E. (NYSE:GE) earnings -- down 47%.
Nokia (NYSE:NOK) earnings -- down 66%
Marriott (NYSE:MAR) earnings -- down 77%
Harley Davidson (NYSE:HOG) earnings -- down 91%
Not a lot of green shoots there. These are not data-mined selections -- I just went to Bloomberg and took what was offered. So, if these companies, and most every other company in the country, aren't selling as much of their product or service, and if the economy is 75% consumer-driven, where's the beef? Where are the signs that consumers, who drive 75% of the economy forward, are doing any buying? Judging from the above, they certainly aren't buying motorcycles, hotel stays, appliances, fast food, luxury goods, cell phones, insurance, office machines or office supplies.

(Of course, with money lifted from the pockets of the frugal taxpayers who bought fuel-efficient automobiles all along, the guy that bought a Hummer with no money down can now receive $4500 to get his fuel-inefficient "clunker" off the road. Ain't social engineering with other people's money fun?)
So what's an investor to do in a year where Wall Street program traders are allowed to set their computers on "stun" the last half-hour of every trading day? Well, as John Maynard Keynes responded to a critic because he changed his position once on monetary policy, "When the facts change, I change my mind. What do you do, sir?"
When the facts change, and fundamental analysis, technical analysis and contrary sentiment analysis are in the short term overshadowed by Wall Street's program, algorithmic and flash trading schemes, "What do you do, sir?" Speaking only for myself, I take a small loss before it gets to be a big loss, and live to fight another day with 95% of the portfolio still intact.
I'll put that money in bond and municipal bond ETFs such as those written about here and in the follow-on article, and be prepared to re-initiate the full hedge when / if the next downtrend looks as if it may be a precipitous one. If that doesn't happen, there are still plenty of unloved sectors that haven't begun to move yet. Munis are one, slammed down because of their funding crisis (and I believe overly slammed.) Another is real estate. We advised selling all real estate holdings back in June 2005…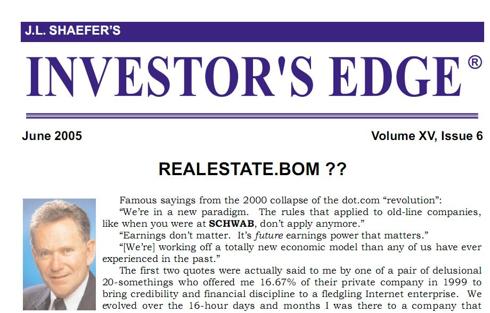 We repeated that advice exactly one year later for those who ignored our earlier advice…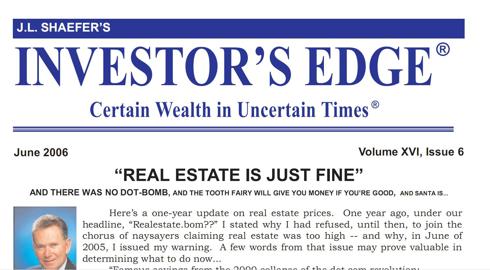 We've been out of real estate ever since but I recently advised clients to look at upscale apartment REITs. If people who still have jobs are forced out of their homes they will still try to find a nice place to live. Because real estate has been so completely wrung out, we're starting to nibble at some of these. In a see-saw year, we're OK with 80% of our portfolios getting after-tax yield on munis of 4-5% and before-tax yield on REITs of 6-8%. We're convinced both will come back – and will pay us nice dividends while waiting and nice capital gains when / if they recover...
Full Disclosure: We own some of the municipal bond ETFs in the referenced article, including PMF, HYD, MYC, PRB, MUS and MQT. We also just initiated initial positions in AVB and are currently reviewing AIV and MAA for possible inclusion.
The Fine Print: As Registered Investment Advisors, we see it as our responsibility to advise the following:. We do not know your personal financial situation, so the information contained in this communiqué represents the opinions of the staff of Stanford Wealth Management, and should not be construed as personalized investment advice.
Also, past performance is no guarantee of future results, rather an obvious statement if you review the records of many alleged gurus, but important nonetheless – especially so you are not over-impressed by the fact that our Investors Edge ® Growth and Value Portfolio has beaten the S&P 500 for 10 years running. What if this is the year we under-perform it?
It should not be assumed that investing in any securities we are investing in will always be profitable. We take our research seriously, we do our best to get it right, and we "eat our own cooking," but we could be wrong, hence our full disclosure as to whether we own or are buying the investments we write about.