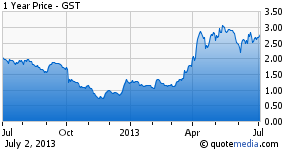 Gastar Exploration (NYSEMKT:GST) announced recently that it sold 76,000 net acres in Kingfisher and Canadian counties for $62 million. This acreage had no production and was considered non-core for the Hunton play. This is remarkable because Gastar paid $74 million for 157,000 net acres in the area. So Gastar basically got 81,000 net acres and $32.4 million in proved reserves for net $12 million.
Additionally an AMI was exercised and Gastar sold 12,800 net acres and $4.5 million of the proved reserves to its partners in that AMI for $12.1 million. So net of the sale of the 76,000 net acres and net of the sale to Gastar's AMI partners, Gastar got 68,200 net acres and $28 million in proved reserves from Chesapeake (NYSE:CHK) "for free".
This pretty much settles the question of whether or not Gastar got a great deal from Chesapeake. Even if the acreage were worthless, Gastar netted $28 million in proved reserves from a $74 million acquisition, or a 38% return on investment over a 3 month period (measured from the announcement of each transaction), or an annualized 152% return!
And if the acreage Gastar retained is worth at least what the acreage they sold is worth, which is likely since they deemed the acreage they sold to be "non core", at the $816/acre price Gastar sold the non core acreage for, the core 68,200 net acres would be worth $55.6 million. Added to the $28 million in proved reserves, this means Gastar got a $83.6 million return from a $74 million acquisition, or a 113% return in 3 months, or a staggering 452% annualized return!
Gastar stock has slowly ticked lower since it spiked on the back of the Chesapeake acquisition announcement in April. It appears attention had been redirected to peers like Rex Energy (NASDAQ:REXX) and Gulfport (NASDAQ:GPOR), which have been releasing results in the Utica and have been captivating research coverage. And larger caps like EQT (NYSE:EQT) and Magnum Hunter (MHR), which have put up excellent results in the Marcellus.
However, it seems like it is time for Gastar to come out of the penalty box, re-capture the attention of the sell-side, and trade up to peer multiples. Gastar's EV/EBITDA essentially just dropped a whole turn just from this one non-core asset sale. Management proved themselves yet again (quite the year so far for CEO Russ Porter). And perhaps now investors will feel comfortable bidding Gastar up to the low end of the Marcellus stock valuation range of 8x EV/EBITDA, the multiple REXX trades at, which would imply a much higher stock price than Gastar's current $2.76 price.
One drag on the stock has been liquidity and concern around the E Texas asset sale. This Hunton asset sale is unexpected, completely alleviates that concern, and is more accretive than the E Texas sale would have been because no production was sold along with it. And, if Cubic is unable to fund the acquisition by July 12th, Gastar will get to keep the $2.5 million deposit and then will be able to sell the assets to another buyer, likely for a similar amount to what Cubic bid. And perhaps Gastar will get a higher price since natural gas has traded up and since Gastar will no longer be perceived as a distressed seller.
And finally, as I mentioned in a previous article, Gastar's debt obligations are all fixed interest rate. This means that, unlike the MLPs like Kinder Morgan (NYSE:KMI) and Linn (LINE), Gastar's debt obligations are fixed, some are perpetually fixed (Gastar's perpetual preferred), and there is no yield sensitivity to interest rates either. As investors become more aware of interest rate risk, they may begin to shift away from yield oriented investments like the MLPs and back towards companies with fixed rate exposure like Gastar. LINE has already begun trading down, not just because of interest rates, and this kind of drop could be experienced by others.
Disclosure: I am long GST. I wrote this article myself, and it expresses my own opinions. I am not receiving compensation for it (other than from Seeking Alpha). I have no business relationship with any company whose stock is mentioned in this article. I am long Gastar and may buy or sell Gastar or any security of any company mentioned without further notice.