There's nothing like a good piece of news to spark buying interest in stocks. Even if the piece of news might not change the landscape of a company, nevertheless the market is the market and the market has the final word. And most of the time, the market will overreact or simply try to fool you, because in a funny way, the market is the devil in disguise.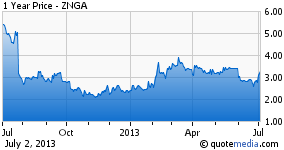 Zynga (NASDAQ:ZNGA) has had very nice rally over the last several days on news that Don Mattrick -- a 30-year video game executive with Microsoft Corp. and Electronic Arts -- became CEO, as founder Mark Pincus stays on as chairman.
If Mattrick is successful and revives Zynga is not the issue. The issue is the possibility of success. And that possibility alone is enough to drive up any stock. However in the case of Zynga, that possibility is simply an added bonus. Let me explain.
Like I have said on previous articles on Zynga, what is at play is not the social gaming business of the company. More or less, the current state of affairs in the social gaming landscape for Zynga is not rosy. The issue at hand is the real money gaming business.
The market will speculate and bid up the stock on the possibility the company will be successful in the real money gambling business in 2014 and 2015. That's where the money is for Zynga shareholders. Think of Zynga as an option, but with an ever increasing time value as we approach 2015.
However, the fact that Don Mattrick will lead the company till then changes things. The reason is that Don Mattrick has a record of success in this business. Granted Zynga is not Microsoft or Electronic Arts, however Don Mattrick is not just another CEO either.
While no one knows what's on Mattrick's mind and what actions he might take in order to revive Zynga's social gaming business, the important issue to note here is that the social gaming business is an added bonus at this point.
See, entering the gambling business does not require much brains. You hire a bunch of smart people to develop the platform (Zynga has already done that), you wait for the Federal Government to give the OK, you bid for a license, you win the license, you pray there will not be much competition and you start printing money. It's as simple as that.
Zynga has a list of potential gambling customers in the hundreds of millions and is one of the most recognized names on the Internet. Unless you are really incompetent and manage to screw things up, once you have a U.S. nationwide gambling license, you should do ok.
But social gaming is another story, because people get tired of playing the same games over and over and you have to keep coming up with new stuff that people will want to play.
That's where Mattrick comes in. He has been a gaming executive for a very long time and hopefully has a lot of experience with making games and thinking about what people want. I don't know what kind or rabbit he will pull out of the hat, but if anyone can do it, he is one of those who can.
So yes his appointment to the job of CEO changes things for Zynga, but we will have to wait and see what kind of rabbit he will pull out of the hat. However, the fact that he is someone who has increased possibilities to pull that rabbit, raises the value of Zynga. By how much is hard to tell and we will have to wait and see.
So I will reiterate on my previous recommendation for Zynga. That is, sell the stock if it rallies and to buy it back again on weakness. However, since Mattrick adds some value to Zynga, I will have to upgrade my selling points.
So instead of selling the stock at the $3.60 level, I recommend selling at the $4 level if it gets there, and buy it back again in another pullback. The stock should pull back again, because on the one hand Mattrick has not pulled any rabbits yet and any gambling revenues Zynga might have are still very far away.
Also, we are entering the second half of 2013, and sooner or later we will also have news on Zynga's gambling endeavors in the U.K. That should also spark some buying interest when announced.
Bottom line
Sell the stock if it approaches the $4 level and wait once again for a pullback. The pullback should happen, since the social gaming business is still in the red and any money from gambling is still far away.
Disclosure: I have no positions in any stocks mentioned, and no plans to initiate any positions within the next 72 hours. I wrote this article myself, and it expresses my own opinions. I am not receiving compensation for it (other than from Seeking Alpha). I have no business relationship with any company whose stock is mentioned in this article.