Additional Disclaimer here
Through our research, we believe that the RFS mandate will stay in place for the near-term. From recent government announcements and consumer polls, we believe not only that the RFS will remain, but that it will continue to support growth opportunities for biomass-based diesel producers such as Renewable Energy Group (NASDAQ:REGI), Syntroleum (NASDAQ:SYNM), and FutureFuel (NYSE:FF), and low carbon ethanol producers such as Pacific Ethanol (NASDAQ:PEIX).
There has been a lot of hyperbole and misinformation in the marketplace regarding the Renewable Fuel Standard (RFS). Many investors have inquired whether we believe the RFS should remain in its current form, be reformed or abolished entirely. As responsible and concerned investors, we can always pontificate on the merits of increasing the use of biofuels in the national transportation fuel pool. Reduced greenhouse gas emissions, increased energy security and rural economic development are the results of the many years of federal and state support for biofuel development and production. By no means are we, as investors, against Big Oil and obligated parties such as refiners. In fact, we see the oil and gas value chain as critical to the world economy and have investments in this sector.
In this article, we take an objective view and analyze data points to support our investment theses for biomass-based diesel and other biofuel producers. Our research leads us to conclude that RFS will remain in place in the near-term, allowing biomass-based diesel producers such as REGI, SYNM, and FF, and low carbon ethanol producers, such as PEIX, to benefit from the expanded biofuel demand. We encourage readers to conduct their own research and develop their own views.
RIN values suggest RFS will stay in place for the near-term
Since the publication of an earlier Seeking Alpha article, the value of renewable identification numbers (RINs) has steadily increased. RINs are 38 digit serial numbers assigned to every gallon of renewable fuel produced in the US. When the Energy Policy Act of 2005 became effective, the embedded Renewable Fuel Standard introduced RINs as a market mechanism to ensure compliance with the Renewable Volume Obligation (RVO) set by the US Environmental Protection Agency (EPA). Every year, obligated parties such as refiners and importers must demonstrate that renewable fuels comprise a predetermined percentage of their refined fuel volume. Under the RFS mandate, obligated parties are companies who produce or import petroleum gasoline or diesel fuel. Such companies can satisfy the RFS mandate either through purchasing RINs or physically blending renewable fuel into their products. RINs can be acquired through the purchase of physical fuel attached with RINs or directly purchased on the market through RIN-only transactions. Many investors have a difficult time understanding the purpose of RINs, but the concept is similar to carbon credits.
Increasing RIN values and a buoyant RIN market can be interpreted as validation that obligated parties expect the RFS mandates to stay in place. If the regulated parties took the view that the biofuel mandates were going away or to be significantly reduced, RINs would decline rapidly as there would be no compliance requirement. Figure 1 provides chart on the recent price trends of RINs. The strongest indicator that RFS is expected to stay in its current form is the increasing demand for RINs.
Figure 1: Increasing values shows continued demand for compliance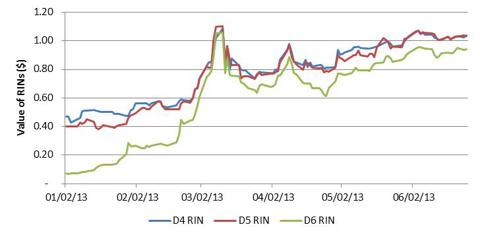 Source: OPIS
In addition to the RIN markets, recent government announcements and polls lend support for the RFS program.
Obama supports biofuel development and production, June 25, 2013
During President Obama's speech at Georgetown University in Washington, the President laid out the framework for his climate change plan, which provides support for the biofuels industry. The President's climate change speech can be found here (lengthy 6,000 words) and climate change action plan can be found here. The Administration continues to support the development and production of biofuels through the Renewable Fuel Standard. According to the President
"Biofuels have an important role to play in increasing our energy security, fostering rural economic development, and reducing greenhouse gas emissions from the transportation sector."
Obama's speech demonstrates clear support for the Renewable Fuel Standard, which will make it harder for the petroleum industry to abolish or reform the RFS mandates. Per the Agriculture Secretary, Tom Vilsack, "President Barack Obama's administration won't abandon the nation's ethanol program and will encourage Congress to maintain it." Even in the midst of one of the worst draughts in history last summer, lawmakers from both parties called for a temporary suspension or reduction of the ethanol program as corn prices skyrocketed and increased the cost of ethanol. Yet, the EPA declined the request despite such a controversial environment, indicating that it will hold fast on the RFS mandate. Furthermore, the USDA and market forecasts a very strong corn crop this year, which could result in lower corn and ethanol prices. This situation would address major points in the argument against the RFS mandate.
The House has a Republican majority, but changes to the RFS will need the support from both the Senate, with Democrat majority, and the White House. Given the strong support from the Democrats, we expect the RFS mandates for biofuels to stay in place.
US Supreme Court rejects challenges to E15, June 24, 2013
For obvious reasons, the Petroleum Industry has been a vocal opponent against the expansion of ethanol blends from 10% (10% ethanol gasoline blend) to blends of 15% (15% ethanol gasoline blend). US gasoline demand has declined since 2007, and many fear further declines. Displacing an additional 5% of gasoline with ethanol would have significant impact on petroleum companies such as Chevron, Valero (NYSE:VLO) and Tesoro (NYSE:TSO).
On June 24, 2013, the Supreme Court rejected a challenged to the EPA ethanol mandate, leaving in place a prior Appeals Court ruling that dismissed the challenges by trade associations representing the oil industry and other industry groups. Renewable Fuels Association CEO, Bob Dinneen, commented on the decision:
"I am pleased that today's Supreme Court action ends a long and drawn out petroleum industry effort to derail the commercialization of E15. The uncertainty created by this lawsuit has chilled commercial activity that would provide American consumers more affordable choices at the pump. With this decision, E15 can finally become a meaningful option for more Americans."
The petroleum industry and associated trade groups will face an uphill battle to block the use of higher blend of ethanol after the court's ruling. It means in the next few years, more drivers may have to fill up with E15 gasoline.
Poll shows overwhelming support for RFS, June 16, 2013
A Fuels America, conducted in June 2013, shows overwhelming support for RFS. Key results from the poll suggest that the general population supports the use of biofuels:
The poll showed that 80% of respondents think the nation should be using more renewable fuel and 73% support the RFS.
59% said they blame the oil industry for high gas prices.
Consumers want less oil and more renewable fuel: 75% of consumers want more renewable fuel options at gas stations
Renewable fuel is a boon to national security: 69% believe replacing oil imports with renewable fuel production is "critical" to national security.
Support for renewable fuel and the RFS is bipartisan: Liberals (83%), moderates (76%) and conservatives (60%) all support RFS.
The survey was conducted by an online panel by Research Now, an independent research company, commissioned by Fuels America. The sample was a representative audience of 1,000 adults (18+) nationwide yielding a margin of error of +/- 3.1%.
Disclosure: I am long REGI, SYNM, FF, PEIX. I wrote this article myself, and it expresses my own opinions. I am not receiving compensation for it. I have no business relationship with any company whose stock is mentioned in this article.