Egypt occupies the world's headlines today, but even more troubling for markets is the fact that Europe looks to be competing for ink and could become the story of focus for capital markets over the next week or two with Portugal and Greece in trouble right now. Another dose of Europe is not what this market needs right now and it is certainly not something that Europe wants or needs at this time. The situation in Portugal appears unavoidable, however the shenanigans which have surrounded the entire Greek bailout continue and will prove once again the pitfalls of the European Union's way of conducting bailout negotiations. Even children know that one should rip the band-aid off quickly rather than slowly.
Chart of the Day:
When M-1 fell below 1.0 during the 'Great Recession' few were surprised as it is the tendency of the measurement to fall during tough economic times and it was a very trying time where cash was king. Further, with the vast amounts of cash printed and injected into the economy by the Fed it led to further liquidity and less of a need for all money to circulate. One interesting fact we noticed the other day is that the M-1 remains below 1.0 right now and one has to wonder when we will tick back up. Obviously it will be as QE 3 is tapered off, but one would hope that a solid economic recovery would add to any rise in the number.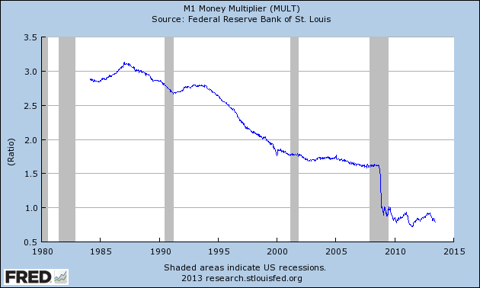 Click to enlarge
Source: St. Louis Fed
We have economic news due out today, and it is as follows:
MBA Mortgage Index (8:30 a.m. ET): N/A
Challenger Job Cuts (8:30 a.m. ET): N/A
ADP Employment Change (8:30 a.m. ET): 150k
Initial Claims (8:30 a.m. ET): 348k
Trade Balance (8:30 a.m. ET): -$40.8 Billion
Continuing Claims (8:30 a.m. ET): 2955k
ISM Services (10:00 a.m. ET): 54.0
Crude Inventories (10:30 a.m. ET): N/A
Natural Gas Inventories (12:00 p.m. ET): N/A
Asian markets finished lower today:
All Ordinaries -- down 1.72%
Shanghai Composite -- down 0.61%
Nikkei 225 -- down 0.31%
NZSE 50 -- down 0.17%
Seoul Composite -- down 1.64%
In Europe, markets are lower this morning:
CAC 40 -- down 1.74%
DAX -- down 1.71%
FTSE 100 -- down 1.62%
OSE -- down 1.02%
Financials
There is a lot of talk of how healthy America's banks are. This is true, they are very healthy and the best capitalized at this time. It is hard not to like the balance sheets at names such as US Bancorp (NYSE:USB), JP Morgan Chase (NYSE:JPM) or BB&T (NYSE:BBT), all names we like. Before jumping on the bandwagon which believes that regulations should be relaxed and we should go back to business as normal in the banking sector, readers need to recognize the facts here and understand that is going on.
The regulations which have been put in place are supposed to prevent another big speculative bubble from taking the banking sector under. It forces banks to take on less risk by keeping capital levels higher and having more stringent guidelines on what qualifies as the highest quality capital. It also insulates the banks from any downturn and allows them to better weather any storms. So for the talking heads jumping on Washington for making banks less competitive, shame on you. This is a designed speed bump to protect the financial sector from itself. A necessary evil if you will.
Yesterday Regions Financial (NYSE:RF) came very close to hitting the upper range of the trading range we have recommended for our readers who are traders. The high of the day was $9.94/share, just $0.06 from the $10/share area where we thought profits could be taken. As today looks to be a down day across the board here in the US, it does not appear likely that readers will get another chance today to sell trading positions, but we do like the idea of booking profits in order to be in cash right now. A lot is going on in the world which could severely impact share prices with very little notice.
Technology
Shares in Cree (NASDAQ:CREE) continue higher with a new 52-week high being reached in yesterday's trading as shares rose $2.44 (3.80%) to close at $66.64/share on volume of 2.97 million. The company's LED lighting fixtures appear to be gaining traction among consumers and with the recent sales at Home Depot we have noticed more and more consumers buying LEDs over the other options. It is not scientific polling or scientific research, but just what we have seen on the ground and if that is what is going on in our small metropolitan area, we can only imagine what is taking place in areas like Atlanta, New York City, Chicago, etc.
This is one of the best looking charts one can find. When they rise from the lower left to the upper right the chart generally portrays an investment one should want to be a part of. And that is the case with Cree right now.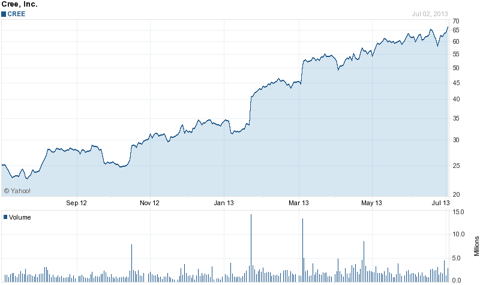 Click to enlarge
Source: Yahoo Finance
Disclosure: I have no positions in any stocks mentioned, and no plans to initiate any positions within the next 72 hours. I wrote this article myself, and it expresses my own opinions. I am not receiving compensation for it (other than from Seeking Alpha). I have no business relationship with any company whose stock is mentioned in this article.