Formerly known as the Minnesota Mining and Manufacturing Company, The 3M Company (NYSE:MMM) produces thousands of different products, ranging from post-it notes to car shampoos. (for a full list, click here).
In this article, I will be looking at MMM's performance over the past years, its balance sheet, and its valuation. For comparison, I will use General Electric (NYSE:GE) and Honeywell International (NYSE:HON).
We'll start by looking at MMM's revenue growth over the past 10 years. As the graph below shows us, the revenue has grown from $18.2 billion in 2003, to $29.9 billion in 2012. This gives 3M an average yearly revenue growth of 5.65%, which is a lot higher than GE's average growth of around 1%, and close to HON's 5.59%.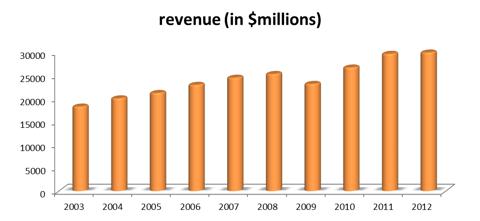 MMM's net income has grown at an even higher pace, increasing by 85% over the past 10 years, from 2.4 billion dollars to 4.4 billion. Honeywell outperformed MMM by a slight margin, with a net income growth of 121% in the same period. General Electric's net income was lower in 2012 ($13.6 billion) than it was in 2003 ($15.0 billion).
Earnings per share show a similar pattern: MMM's average EPS growth is at 8.55% compared to 10.2% for HON. GE's EPS growth was negative, its EPS dropped from $1.49 in 2003 to $1.29 in 2012. Analysts are quite positive about MMM's future earnings, with an average estimated EPS of $6.71 (6.2% higher than 2012's $6.32).
At current prices, MMM's dividend yield is 2.30%. Over the past 10 years, MMM's dividend has grown at an average annual rate of 6.7%. The payout ratio has gone down from 43.7% in 2003 to 37.3% in 2012. GE's payout ratio is a lot higher, at just over 50%. HON paid out 41.4% of its EPS as dividends.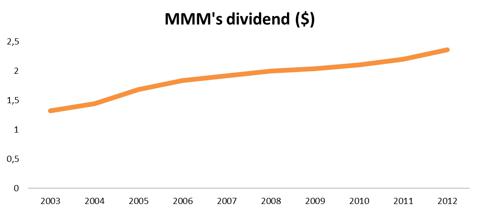 MMM has shown its commitment to returning money to shareholders not just by its long dividend history, but also by its share repurchases. Between 2003 and 2012, the total number of shares has gone from 795 million to 703 million, an 11.6% decrease. This is better than both HON and GE, as can be seen in the next graph.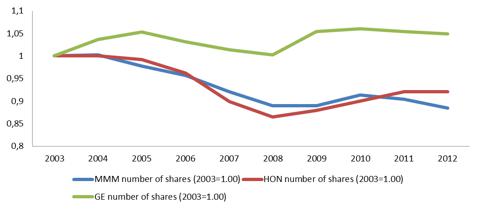 3M has a very solid balance sheet, with a current ratio (current assets divided by current liabilities), of around 2. This shows great short-term financial health.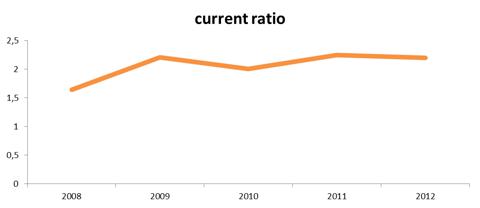 Despite its amazing performance over the last 10 years, MMM trades at a significantly lower price-to-earnings ratio than HON (17.2 vs. 20.1). At a p/e of 16.0, GE is even cheaper, but it has less impressive growth. 3M's current p/e is slightly higher than its 5-year average of 14.8, and only just below its 10-year average of 17.3. MMM is currently trading at a price per share of $108.73, which is slightly below its 52-week high of $113.25. I believe MMM's current price is a great opportunity to add a decent-yielding dividend aristocrat to my portfolio.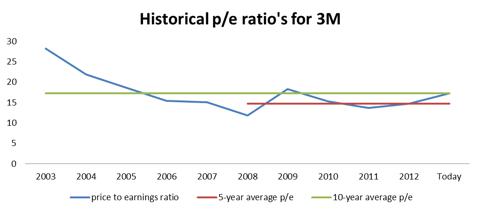 What's your view on MMM? Please comment below!
Disclosure: I have no positions in any stocks mentioned, but may initiate a long position in MMM over the next 72 hours. I wrote this article myself, and it expresses my own opinions. I am not receiving compensation for it (other than from Seeking Alpha). I have no business relationship with any company whose stock is mentioned in this article.