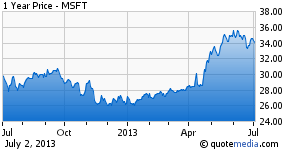 Microsoft's (NASDAQ:MSFT) Developer Conference was held last week and instead of holding it at the company's Redmond campus like previous years, it joins Apple (NASDAQ:AAPL) and Google (NASDAQ:GOOG) in holding developers events in San Francisco. One of the first announcements made was an update to Windows 8 that addresses a few of the many customer complaints about the operating system. In fact, the new Windows was so poorly designed for use on desktop computers, it is being blamed by some for the accelerated decline in PC sales this year. Microsoft hopes to change all that with the new Windows 8.1.
The new Windows 8.1 will lessen the reliance on separate boxes and screen slide ins, by making the traditional desktop more prominent. The old desktop screen will have an option to be the default start-up mode and the old start button will be brought back, however the start menu will still be different. Microsoft is hoping that improving its new operating system will slow the decline in PC sales and improve the overall computer market.
In the first three months of the year, PC shipments dropped 14%, the largest year over year drop ever. The Windows 8 operating system relies heavily on boxes and screen hotspots, making it ideal for touchscreens, but awkward and cumbersome on desktops. Whereas Apple has chosen a strategy of keeping different operation systems on its mobile touchscreens and its home computers allowing for each system to be optimize for its specific computing environment. As for touchscreen desktops, Apple's view is that consumers don't want to reach their arms up to a desktop screen to do every operation. An approach which seems to have benefited Apple PC sales as shipments have grown faster than non-Apple PCs in every quarter going back all the way to 2006.
That's not all Microsoft is planning in its effort to boost hardware sales. The company also announced it will include a keyboard cover for free with its Surface RT tablets, essentially cutting the products price by $120. Intel Corporation (NASDAQ:INTC) is also producing a new line of processors specifically designed to give Windows 8.1 machines longer battery life without a loss to the processing power. The company CEO Steve Ballmer has also promised 100,000 apps that will run on the new version of Windows by the end of the month, addressing customers' complaints that older software doesn't run on Windows 8. On a similar note, the company will also begin including Microsoft Outlook and Excel programs with the Surface RT free of charge.
Another potentially stock moving event for Microsoft this year is the release of its next generation console, the Xbox One. The company plans to begin selling the system this fall, around the same time Sony (NYSE:SNE) will begin selling its own next gen console, the Playstation 4. The current console, the Xbox 360, has been the number one selling console since its release in November 2005 to 2008 and from around 2010 until this year, however it debuted months in advance of the Playstation 3. This time Sony beat Microsoft in announcing the new consoles, will have more games at launch, and appears to have a less restrictive set-up when it comes to features like online gaming or selling used games. Nintendo's (OTCPK:NTDOY) next gen console, the Wii U, came out last year to dismal sales figures and was a huge disappointment for the company. Sales of the Wii U will decline sharply this fall and the console is unlikely to take any significant market share from Sony or Microsoft.
Microsoft stock has been steadily rising since April when the company reported better than expected earnings for its third fiscal quarter. Analysts had expected 68 cents per share and despite the worsening PC market, Microsoft managed to earn 72 cents per share. This was also 11 cents higher than the same period last year. Since April the stock has been up nearly 20% and has hit new 52-week highs several times.
The stock will be challenged during the second half of the year. Both back to school and the holiday shopping season are definitive times for PC sales and if the market continues accelerating its decline, Microsoft stock could come right back down to last year's levels. As it stands now IDC is predicting a 7.8% decline in shipments for 2013, with a 1.3% decline in 2014. However the major market analysts all differ significantly in their predictions, some by as much as 15%. The fact is that the PC market is at an unprecedented point in its history and we're going to have to wait for the second half of this year to get any meaningful insight into even the near term future of PC sales and a surprise in either direction will move Microsoft stock.
Another obstacle for the stock could be the launch of the Xbox one. When announcing the new consoles it seems Sony has done everything right and Microsoft has done everything wrong. If the Xbox slips down to the number two selling console, which I believe it will, earnings will be under pressure. But before all that Microsoft will report earnings for the current quarter on July 19th. The consensus estimate is for 75 cents a share, which may be difficult for the company to hit. The stock is definitely one to hold on to, but I'm avoiding buying more at these levels until I see how the PC market does in the fall after students are back in school and these changes to Windows begin to make it to the customer.
Disclosure: I am long MSFT, AAPL, GOOG, SNE. I wrote this article myself, and it expresses my own opinions. I am not receiving compensation for it (other than from Seeking Alpha). I have no business relationship with any company whose stock is mentioned in this article.