The news in Egypt is forcing oil prices higher and any prolonged price rises in the oil complex shall work its way down the supply chain and begin impacting refined products. That type of action is unneeded at this time as it could provide for a shock to the fragile recovery and push Europe, where a lot of the oil which passes through the Suez Canal ends up, even further into trouble.
We have a half day in trading today and a holiday tomorrow, but this situation warrants attention and so too does the activity in Brazil. It is like walking through a mine field right now and most certainly not fun. If one is buying this market, we would continue to allocate money towards the E&P companies in the Utica, Eagle Ford and Permian we have been discussing in detail over the past few months.
Chart of the Day:
Yesterday we highlighted a one year chart of oil and discussed the resistance around $100/barrel, today we wanted to show this two year chart as oil broke through $100/barrel quite easily on the unrest in Egypt. It appears that $105/barrel shall be the next point of focus for traders.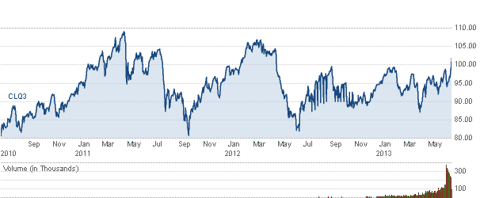 Source: CNBC
Commodity prices this morning are as follows:
Gold: $1246.30/ounce, up by $2.90/ounce
Silver: $19.52/ounce, up by $0.211/ounce
Oil: $100.95/barrel, up by $1.35/barrel
RBOB Gas: $2.8033/gallon, up by $0.02/gallon
Natural Gas: $3.625/MMbtu, down by $0.029/MMbtu
Copper: $3.143/pound, unch by $0.00/pound
Platinum: $1363.70/ounce, down by $4.10/ounce
Brazil
We have discussed the issues in Brazil already, but with tensions in Egypt escalating and the euphoria from winning the Confederations Cup waning, we could very well see Brazil flare up again. The uneasiness around the world has caused investors to continue to flee names in the countries which have had demonstrations and protests recently and this has hurt some of the biggest names in Brazil, most notably Vale (NYSE:VALE) and Petrobras (NYSE:PBR).
We are bullish all things housing and all things Utica right now, but we are certainly not bullish all things Brazilian.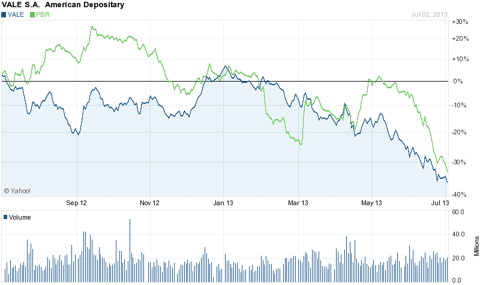 Source: Yahoo Finance
Both commodity plays hit fresh 52-week lows as the streets in Egypt filled yesterday with protesters...those protesting the government and those protesting the protesters who were protesting the government (yes, that happened!). Brazil has already had protests and even though the country leans socialist already with its current government and policies it has in place, one has to fear that Brazil begins down the path of Argentina, Venezuela, Ecuador and others. That would be very bad for Brazil and for the world recovery, but even worse for companies with valuable assets which the state might look to plunder, namely Vale and Petrobras. Continue to monitor these names carefully.
Oil & Natural Gas
It is not often one sees an SEC investigation into a company before it closes an acquisition, but with the amount of negative press Linn Energy (LINE) has been garnering from Barron's maybe it was to be expected. The announcement certainly caught many investors off guard when the company announced it on Monday and the news took Linn Energy down nearly 19%, LinnCo (LNCO) down over 16.5% and Berry Petroleum (BRY) down nearly 6%.
Many analysts turned their opinions to a more negative outlook than they previously had them after the news came out, as is to be expected but they were harsher in their judgment on Linn Energy and LinnCo than they were on Berry Petroleum, the company which is being purchased. We would be worried if we were Berry shareholders as this investigation could kill the proposed acquisition or delay it past the current quarter. We have no horses in this race and are glad, because when the feds come knocking we tend to start walking.
Disclosure: I have no positions in any stocks mentioned, and no plans to initiate any positions within the next 72 hours. I wrote this article myself, and it expresses my own opinions. I am not receiving compensation for it (other than from Seeking Alpha). I have no business relationship with any company whose stock is mentioned in this article.